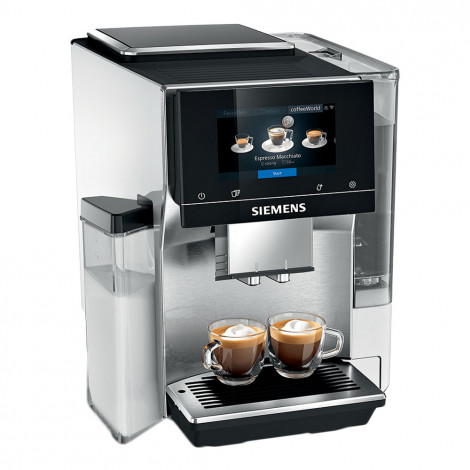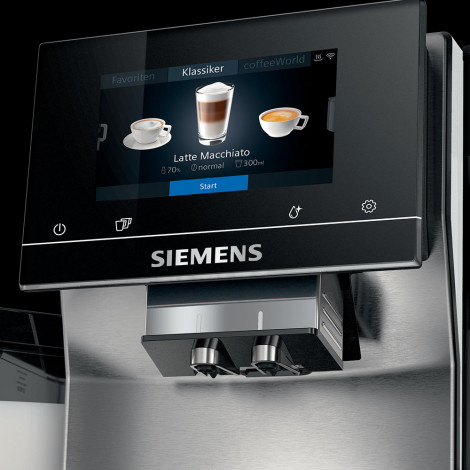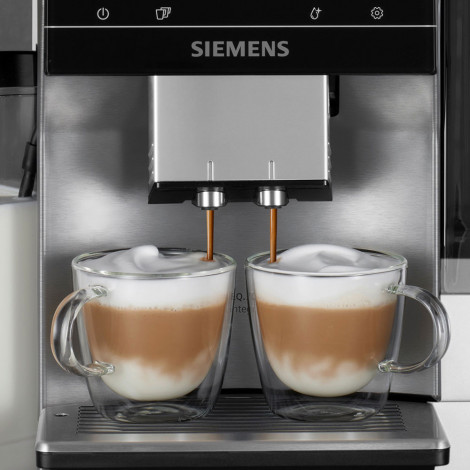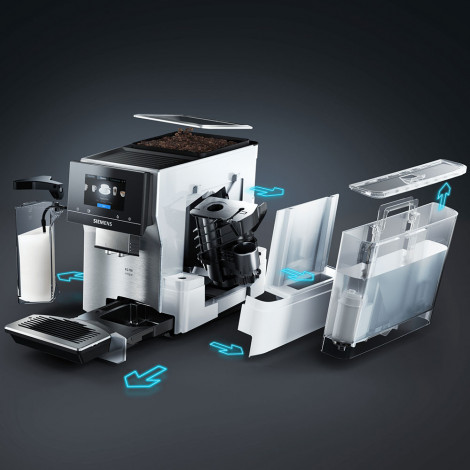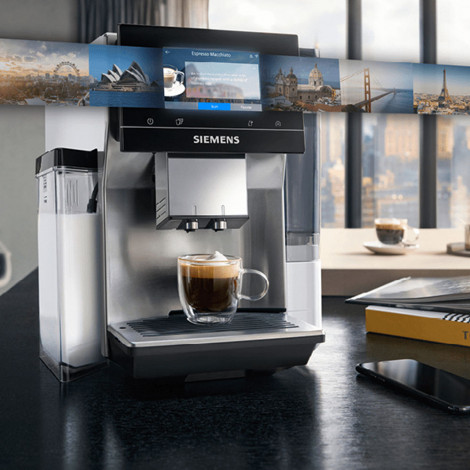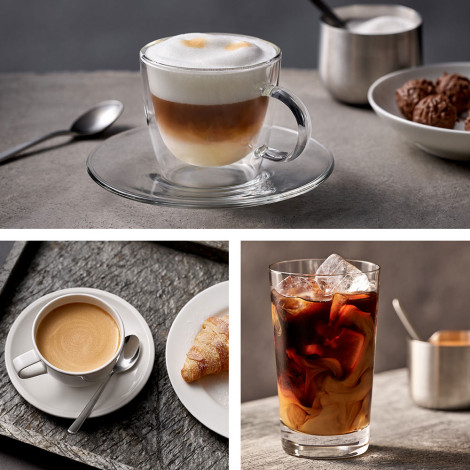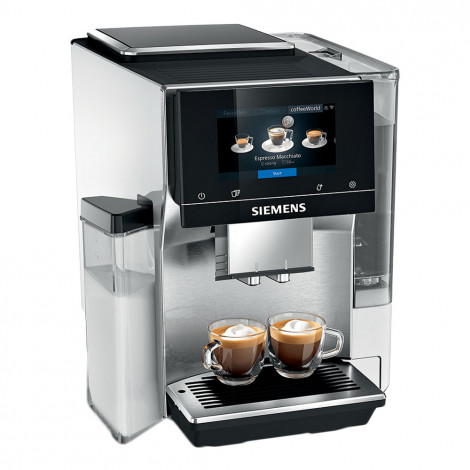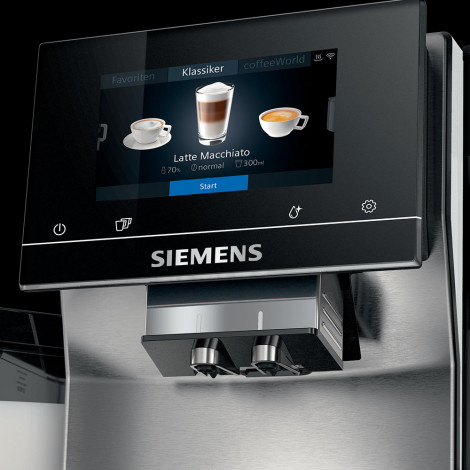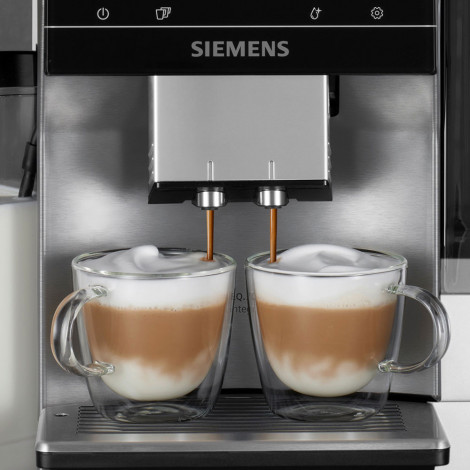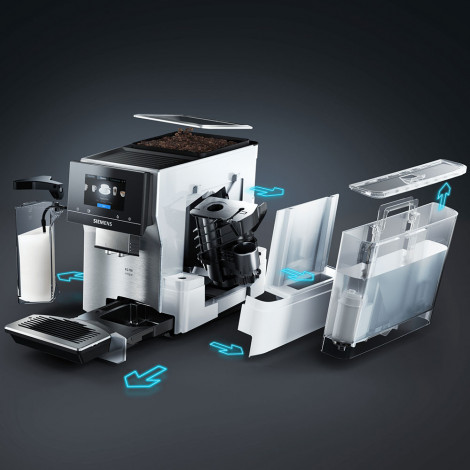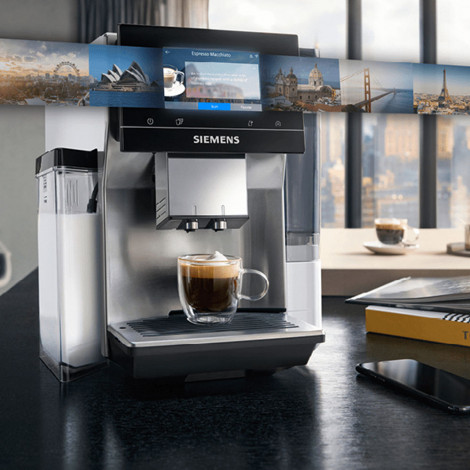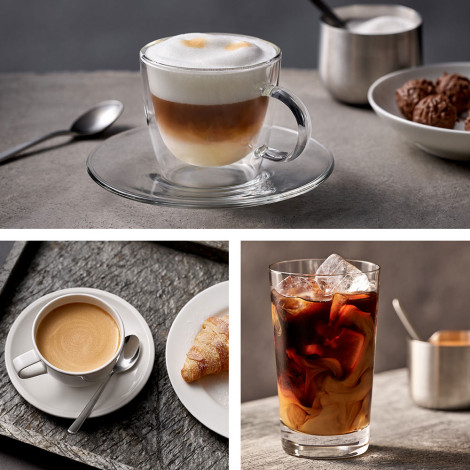 Coffee machine Siemens "EQ.700 TQ705R03"
By buying this coffee machine, you become eligible for the VIP membership program and discount vouchers with a total value of £50.
Become a member of COFFEE FRIEND'S VIP program and receive up to 5 vouchers of £10 each for your upcoming purchases at COFFEE FRIEND'S online store. More information will be provided via your personal e-mail address once you've completed your purchase. The offer applies exclusively to natural persons.
Delivery takes 1 - 3 working days * 96% of orders are delivered the next day.
About product
Discover the "EQ.700" bean-to-cup espresso machine and have access to almost limitless refinements to your favourite coffee. The innovative iSelect Display lets you choose the desired option from the machine's menu with a simple swipe. Moreover, the coffeeWorld feature offers a diverse selection of international coffee specialities for you to explore, while aromaSelect allows you to fine-tune these recipes to your personal taste. Well, are you ready for a whole new coffee experience with "EQ.700"?
SIEMENS COFFEEWORLD: INCREDIBLE VARIETY OF RECIPES
This Siemens model offers up to 30 drink recipes for you to choose from! 11 classic beverages can be found right on the menu: espresso, espresso doppio, caffé crema, caffé grande, caffé XL, cappuccino, latte macchiato, caffé latte, warm milk, milk foam and hot water. If that's not enough, the Siemens coffeeWorld feature brings the fantastic taste of additional 19 coffee specialities from 8 different countries right to your home: 9 of these are available directly in the appliance (ristretto, espresso macchiato, koffie verkeerd, flat white, americano, Wiener Melange, café au lait, Verlängerter and café con leche), while additional coffeeWorld beverages can be accessed via the Home Connect app.
INTUITIVE, EASY NAVIGATION WITH iSELECT DISPLAY
It's never been so easy to tailor your coffee to your personal taste and preferences. The intuitive operation of the iSelect display, coupled with its touch-and-slide functionality, makes it incredibly simple to swipe through the menu. Personalise your coffee with ease and elevate your coffee experience with the outstanding 5″ iSelect touch display.
AROMASELECT: THREE DIFFERENT AROMA SETTINGS
Taste is subjective. That's why Siemens created aromaSelect, which allows you to adapt the aroma of your coffee to your personal preferences. Choose one of the three available options: mild, balanced or distinctive. Each one differs subtly from the other two.
SAVE UP TO 20 INDIVIDUAL COFFEE CREATIONS
Thanks to the Favourites feature, you can save individual preferences for coffee and milk specialities, as well as create a list of up to 20 favourites. Simply select and save the desired coffee strength, cup size, aroma profile or milk quantity. You can change your personal settings at any time with the touch of a button.
PERFECTLY CONNECTED TO YOUR ESPRESSO MACHINE: HOME CONNECT
Control your espresso machine using any smart device and discover the exclusive world of the Home Connect app! Try coffeeWorld with its numerous unique specialities, or use coffeePlaylist to put multiple beverages into a list and have them brewed one after the other. With Home Connect, it's easy to become the perfect host.
INTELLIGENT STRENGTH ADJUSTMENT
"EQ.700" boasts special sensors that adapt the amount of beans ground for each beverage depending on the current parameters (quantity and strength), as well as the type of beverage selected. In other words, your coffee will always be as strong as you like!
AROMADOUBLE SHOT FOR EXTRA STRONG COFFEE
You can now enjoy extra strong coffee without compromising its aroma. With the aromaDouble Shot function, two single espressos are ground and brewed, as opposed to one large espresso. This automatic process ensures that there's no bitter aftertaste in the drink. Less water means less bitterness released, which guarantees that only the finest qualities of the beans will make it into your cup.
FINE GRIND AND RICH FLAVOUR WITH CERAMDRIVE
The high-quality ceramDrive grinder grinds the beans to an extremely even consistency, allowing all of the different tasting notes to develop during the brewing process and ultimately resulting in exceptionally aromatic coffee. Unlike steel grinders, ceramic ones are extremely durable and stay sharp for longer, meaning that premium-quality coffee is always guaranteed.
TWO CUPS AT THE SAME TIME: ONETOUCH DOUBLECUP
Whether it's strong espresso, creamy cappuccino, latte macchiato or caffé latte, the oneTouch DoubleCup feature will enable you to brew your beverage at the simple touch of a button. It gets even better though: you can prepare two cups at once too!
iAROMA SYSTEM: PERFECT INTERPLAY FOR PERFECT TASTE
Thanks to the iAroma System, the machine guarantees beverages of the highest quality. It's an elaborate technology where all of the components work together seamlessly to achieve the ultimate goal, which is your enjoyment.
INTEGRATED MILK CONTAINER WITH AUTOMILK CLEAN
Enjoying aromatic coffee specialities is a true delight – but cleaning the milk system surely isn't. That's why Siemens developed autoMilk Clean. This fully automatic steam cleaning system is activated after every drink, ensuring perfect hygiene and relieving you of the need to clean the milk system every day. Milk residue simply doesn't get a chance to develop, allowing you to just sit back and enjoy a cup of great coffee. This model features a milk system with an integrated milk container.
HYGIENE AND COMFORT WITH THE REMOVABLE BREWING UNIT
To ensure ultimate hygiene, the brewing unit is easy to remove, rinse under running water and replace. This guarantees a consistently great taste, prolongs the lifespan of the appliance and allows you to get back to savouring the pure aroma of the finest coffee specialities as soon as possible!
SMOOTH FUNCTIONALITY MEETS PERFECT SHAPE
The design of this model promises perfect functionality coupled with beautiful design. Thanks to its dynamic shape, you can place it just about anywhere. "TQ705R03" features an inox front design and a stylish white body.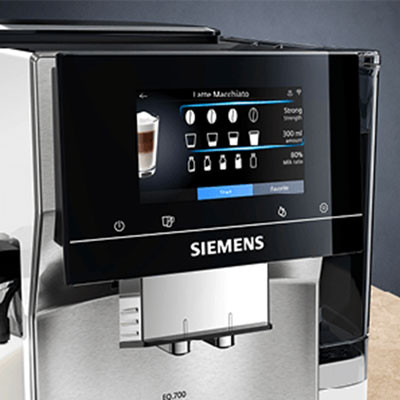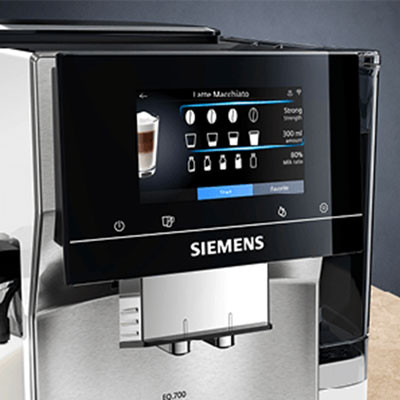 Preparable recipes
Americano
Cappuccino
Double espresso
Espresso
Espresso Macchiato
Flat white
Latte
Latte Macchiato
Ristretto
Caffè crema
Café au lait
Black coffee XL
Specifications
| | |
| --- | --- |
| Type | Automatic |
| Manufacturer | Siemens |
| Color | Stainless steel |
| Warranty | 24 months |
| Coffee machine uses | Coffee beans |
| Milk system type | Integrated milk tank |
| Burr type | Ceramic |
| Does coffee machine prepare hot water? | Yes |
| Does coffee machine prepare hot milk? | Yes |
| User-created recipes | 20 |
| Height-adjustable coffee spout | 14 cm |
| Power | 1500 W |
| Water pump pressure | 19 BAR |
| Country of Origin | European Union |
| EAN | 4242003859223 |
| Milk container | 0.7 l |
| Plug | EU plug (and certified UK conversion plug is included) |
| | |
| --- | --- |
| Coffee machine's screen | Colourful |
| Coffee machine's menu language | Chinese, Czech, Danish, Dutch, english, finnish, French, Greek, Hebrew, Italian, Norwegian, polish, Portuguese, russian, Slovakian, Spanish, Swedish, Turkish, Ukrainian |
| Control type | Touch screen |
| Smart app | Yes |
| | |
| --- | --- |
| Water tank | 2.4 l |
| Coffee bean tank | 350 g |
| Coffee grounds capacity (portions) | 12 |
| | |
| --- | --- |
| Number of black coffees prepared at once | 2 |
| Number of coffee with milk recipes prepared at once | 2 |
| Adjustable grinding level | 6 |
| Portion size | Programmable |
| Cup lighting | Yes |
| Coffee strength (levels) | 4 |
| Coffee temperature (levels) | 3 |
| | |
| --- | --- |
| Descaling program | Yes |
| Milk system cleaning program | Yes |
| Cleaning program | Yes |
| Automatic rinsing | Yes |
| | |
| --- | --- |
| Depth | 46.7 cm |
| Height | 38 cm |
| Width | 35.2 cm |
| Weight | 10.507 kg |
| | |
| --- | --- |
| Other | Hot milk, Hot water, Milk foam |
| Coffee | Americano, Black coffee XL, Café au lait, Café con leche, Caffè crema, Caffé grande, Cappuccino, Double espresso, Espresso, Espresso Macchiato, Flat white, Koffie verkeerd, Latte, Latte Macchiato, Ristretto, Verlängerter, Wiener melange |
| | |
| --- | --- |
| Package contains | (*The manufacturer reserves the right to change the items included in the set without prior notice*), Milk container, Water filter, Water hardness test strip |
Frequently Asked Questions
Ask your question about the product