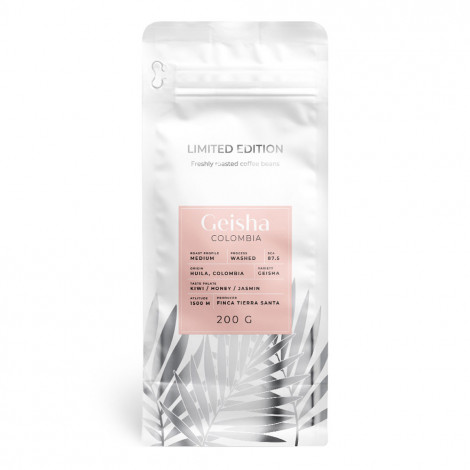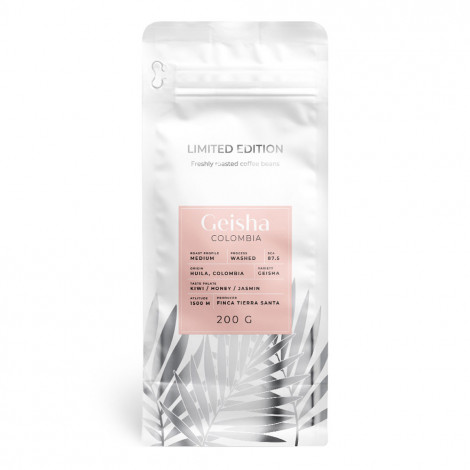 Specialty coffee beans "Colombia Geisha", 200 g
Coffee passport
Coffee origin region
Colombia
Coffee kind
Single origin
Taste guide
Honey
Jasmine
Kiwi
About product
These luxurious coffee beans belonging to the arabica subspecies called Geisha are an absolute must for coffee connoisseurs! Vivid, refreshing and sweet, this coffee is a true feast of fruity and flowery notes unveiled in a cup of coffee. The tropical kiwis play first fiddle here, notes of jasmine sound in the background, while the aftertaste of honey dances on the palette. You might even be compelled to wonder for a second: is this really coffee?
Ever since 2005, when the Geisha subspecies blew coffee connoisseurs away in the Best of Panama coffee competition, its popularity has only increased. Given the particularly vivid flavour palette (the extraordinarily rich notes of fruit and flowers are reminiscent of tea rather than coffee), Geisha definitely does deserve to be called the best. This subspecies, which is native to Ethiopia, was discovered in 1931, in the Ethiopian village of Gesha (this is why the beans are sometimes referred to as Gesha as well). Later on, the subspecies travelled all across Tanzania and Kenya until finally, in the 1950s, it reached Costa Rica and then Panama. It was here, in Panama, at the start of the 21st century, that the unique qualities of these beans were acknowledged by the rest of the world — afterwards, it didn't take long for them to spread across numerous other countries.
Today, we want you to meet the younger sister of Panama's Geisha — the Colombian Geisha, which has already been applauded by the audience of the world's coffee connoisseurs. Radically different from the traditional flavour profile characteristic of Latin American coffee, this species surprises, entices and tempts just as much as its famous precursor does.
The supply of this coffee is extremely low, so it belongs to the Limited Edition line.
Due to its exceptional quality and flavour, this coffee is marked as Specialty. The SCA has scored it 87.5 points out of 100.
COUNTRY: Colombia
REGION: Huila
FARM: Finca Tierra Santa
ALTITUDE: 1500 m
VARIETY: Geisha
PROCESS: Washed
ROAST LEVEL: Medium
TASTING NOTES: Kiwis, Honey, Jasmine
Ingredients: roasted coffee beans.
Storage conditions: keep sealed in a dark, dry and cool place.
Specifications
| | |
| --- | --- |
| Coffee type | Coffee beans |
| Coffee kind | Single origin |
| Manufacturer | Coffee Friend |
| Coffee origin region | Colombia |
| Roasting level | Medium |
| Country of Origin | Lithuania |
| EAN | 6468474034589 |
| Coffee beans type | Specialty coffee |
Frequently Asked Questions
Ask your question about the product