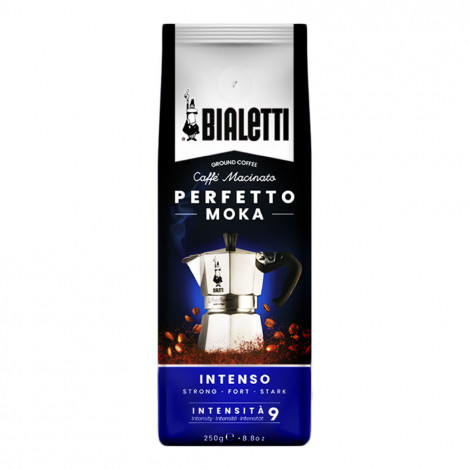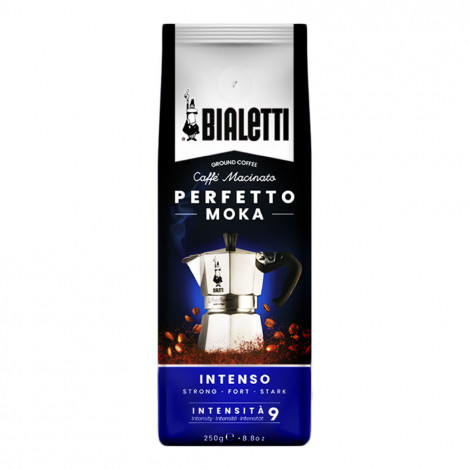 Ground coffee Bialetti "Perfetto Moka Intenso", 250 g
Fast delivery

E-SHOP ONLY
Delivery takes 1 - 3 working days * 96% of orders are delivered the next day.
Specifications
Coffee type
Ground coffee
Coffee origin region
India
About product
Created for moka pots!
The dark roast ground coffee blend Bialetti "Perfetto Moka Intenso" has been created for lovers of strong coffee. Indian robusta, which dominates the blend, provides it with a vigorous character. Notes of toasted bread and cocoa are unveiled in the prepared cup.
Variety: 70% Robusta / 30% Arabica
Predominant region: India
Roast profile: Dark
Intensity level: 9/10
As far back as 1933, "Bialetti" created the world's first moka pot, which quickly turned into the central symbol of early Italian mornings and became extremely popular all over the world. Now "Bialetti" presents some exciting news — a ground coffee line created specially for the moka pot. To ensure that coffee prepared in a moka pot has the perfect flavour, it's important to choose beans that suit this coffee preparation method, as well as pick the right roast and grind levels. Who could do this better than the creators of moka pots? Give it a try and see for yourselves!
Ingredients: ground roasted coffee.
Storage conditions: store in a dry, cool place.
Frequently Asked Questions
Ask your question about the product