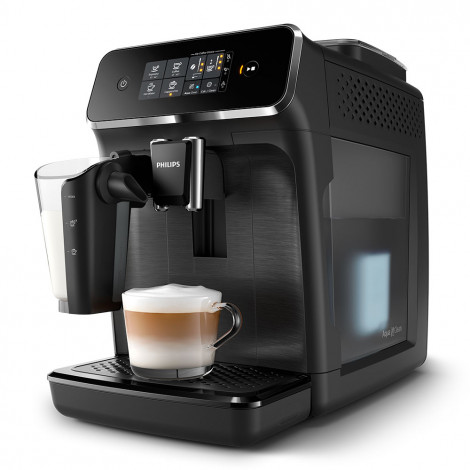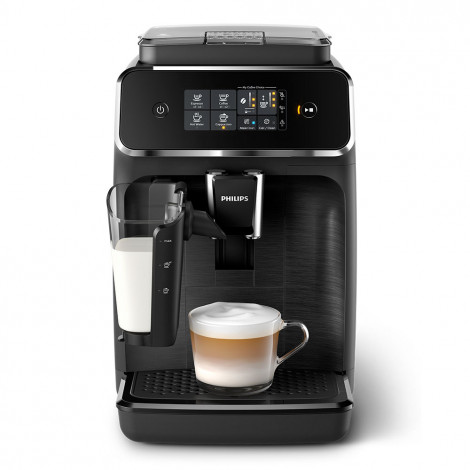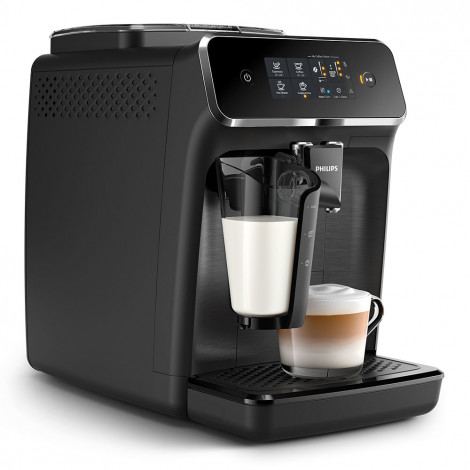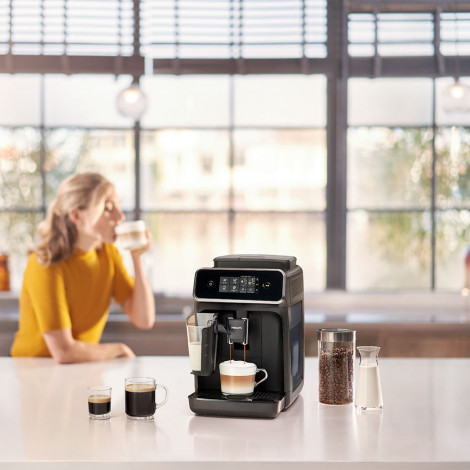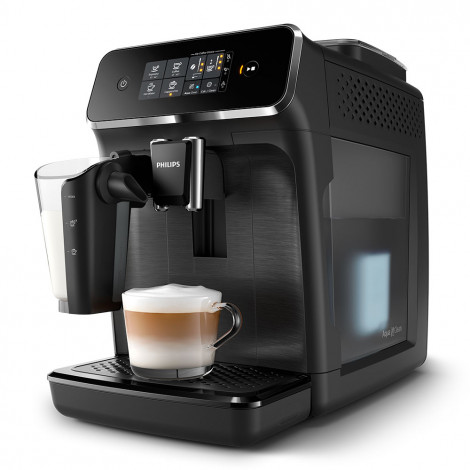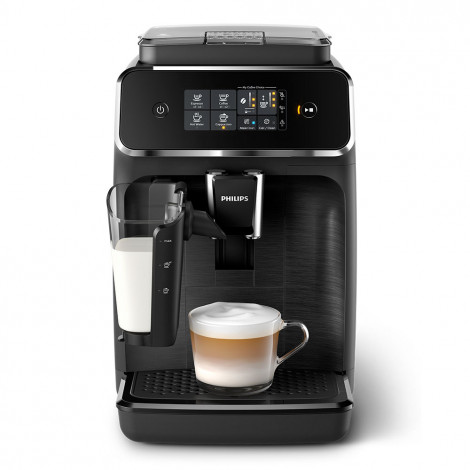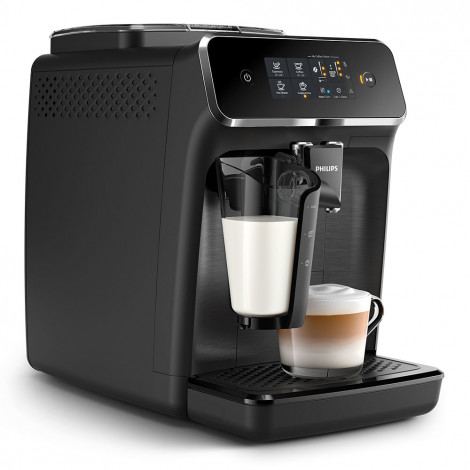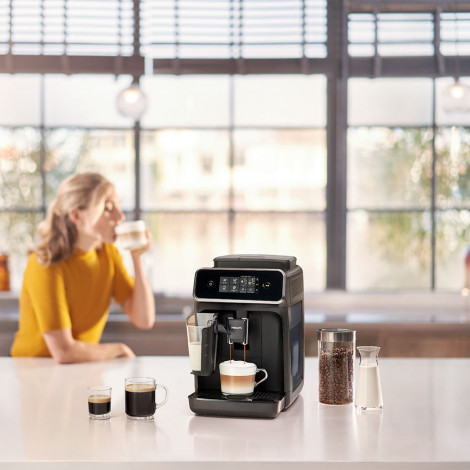 Coffee machine Philips "Series 2200 EP2230/10"
Become a member of Coffee Friend's VIP program and get 5 coupons, each worth €10, for your future purchases at Coffee Friend's e-store. You'll receive more information via e-mail after making the purchase. The offer applies to physical persons only.
Delivery takes 10 - 14 working days
About product
The fully automatic coffee machine "Philips Series 2200" allows you to prepare the three most popular coffee drinks from freshly ground coffee beans with a single touch. Lovers of milk-based drinks will be pleasantly surprised by the innovative automatic "Philips" milk system "LatteGo", which froths milk perfectly and is especially easy to clean. The coffee machine can be controlled and maintained with ease.
3 COFFEE DRINKS
With a single touch — espresso, black coffee and cappuccino. For tea lovers — the hot water function.
UNIQUE AUTOMATIC MILK SYSTEM LATTEGO
The "Philips LatteGo" system prepares milk foam that is perfectly silky. It mixes milk and air at an extremely high speed and pours frothed milk directly into the cup (with no spraying or splashing!). The milk container of the "LatteGo" system is extremely easy to clean: made up of only 2 parts (with no pipes or hidden elements), it can be disassembled in a flash and washed in as little as 15 seconds under a tap or in a dishwasher.
INTUITIVE TOUCH CONTROL
Intuitive touch display with easily recognisable function icons will allow you to easily choose your desired beverage, control the coffee machine and be notified when you need to replace the water filter or perform the descaling program.
COFFEE JUST THE WAY YOU LIKE IT: 12 GRIND LEVELS
You can adjust the grinding settings and choose from as many as 12 grind levels: from finest to coarsest.
CERAMIC GRINDER FOR MORE THAN 20 000 CUPS
The 100% ceramic grinder not only grinds coffee beans to perfection for every cup of coffee, but is also extremely durable (designed for no less than 20 000 cups).
IDEAL COFFEE TEMPERATURE, AROMA AND CREMA
The "Aroma Extract" system ensures the optimal coffee brewing process: coffee temperature is maintained at 90–98°C (perfect for brewing coffee) and the water flow is regulated so as to prepare delicious coffee every time.
MY COFFEE CHOICE: ADJUST COFFEE STRENGTH AND PORTION SIZE
"My Coffee Choice" function will allow you to easily adjust coffee strength and portion size (choose from 3 levels).
AQUA CLEAN WATER FILTER: UP TO 5000 CUPS WITH NO DESCALING
By using the "AquaClean" water filter and replacing it according to the instructions given by the coffee machine, you can prepare up to 5000 cups of coffee before running the descaling program.
PERFECT CLEANLINESS: REMOVABLE BREWING UNIT
The removable and easy-to-clean brewing unit (the most important part of a coffee machine) ensures perfect cleanliness of the coffee preparation system.
AIRTIGHT LID FOR PRESERVING COFFEE AROMA
The bean container is equipped with an additional lid. Not only does it help to preserve the aroma of coffee beans, but it also isolates the sound of grinding.
FOR YOUR CONVENIENCE — DISHWASHER-SAFE PARTS
For even more convenience, you can wash the milk container, drip tray and grounds container in a dishwasher.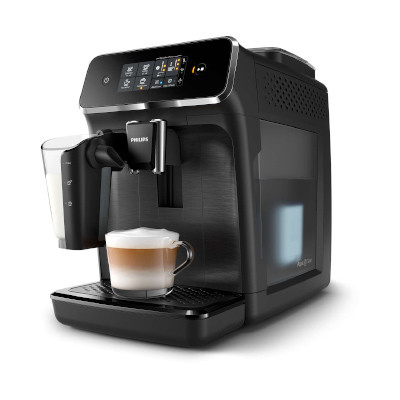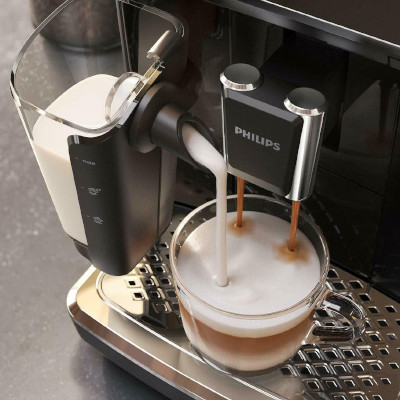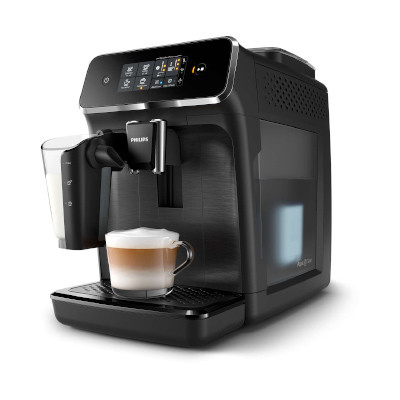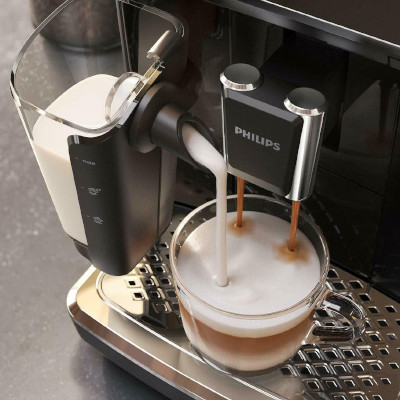 Preparable recipes
Black coffee
Cappuccino
Espresso
For the first cup of coffee
Delicious coffees for your new coffee machine! Here are some coffees that will go well with both black and milk-based coffee drinks.
Specifications
| | |
| --- | --- |
| Type | Automatic |
| Manufacturer | Philips |
| Color | Black |
| Warranty | 24 months |
| Coffee machine uses | Coffee beans, Ground coffee |
| Milk system type | Integrated milk tank |
| Burr type | Ceramic |
| Height-adjustable coffee spout | 150 mm |
| Power | 1500 W |
| Water pump pressure | 15 BAR |
| Country of Origin | Romania |
| EAN | 8710103886044 |
| Milk container | 260 ml |
| Plug | EU plug (and certified UK conversion plug is included) |
| | |
| --- | --- |
| Coffee machine's screen | None |
| Control type | Touch screen |
| | |
| --- | --- |
| Water tank | 1.8 l |
| Coffee bean tank | 275 g |
| Coffee grounds capacity (portions) | 12 |
| | |
| --- | --- |
| Number of black coffees prepared at once | 2 |
| Number of coffee with milk recipes prepared at once | 1 |
| Adjustable grinding level | 12 |
| Portion size | Programmable |
| Coffee strength (levels) | 3 |
| Coffee temperature (levels) | 3 |
| | |
| --- | --- |
| Depth | 43.3 cm |
| Height | 37.1 cm |
| Width | 24.6 cm |
| Weight | 8 kg |
| | |
| --- | --- |
| Other | Hot water |
| Coffee | Black coffee, Cappuccino, Espresso |
| | |
| --- | --- |
| Package contains | (*The manufacturer reserves the right to change the items included in the set without prior notice*), Brew group grease, Ground coffee dosing spoon, Milk container, Water filter, Water hardness test strip |
For coffee machine's maintenance
Proper care can increase the lifespan of your coffee machine. You will need these maintenance products to keep your machine preparing the best coffee.
Coffee machine's extras
These accessories will make coffee preparation process even more convenient and pleasant, and prepared coffee will surely be tastier.
Frequently Asked Questions
Does this coffee machine prepare cappuccino?
Yes, this coffee machine has an integrated milk container — you need to pour cold milk into it. When you press the cappuccino recipe, the machine froths milk foam all by itself and prepares the drink.
Is this answer useful?
0
0
How does the coffee machine "Philips Series 2200 EP2230/10" differ from "Philips Series 2200 EP2235/40"?
The specifications indicated by the manufacturer are identical in both cases. The only difference is the colour.
Is this answer useful?
0
0
Does this coffee machine prepare warm milk?
This coffee machine doesn't have a milk warming function, but it does have a cappuccino recipe — you can stop the preparation of this drink once the machine has dispensed milk foam.
Is this answer useful?
0
0
Ask your question about the product