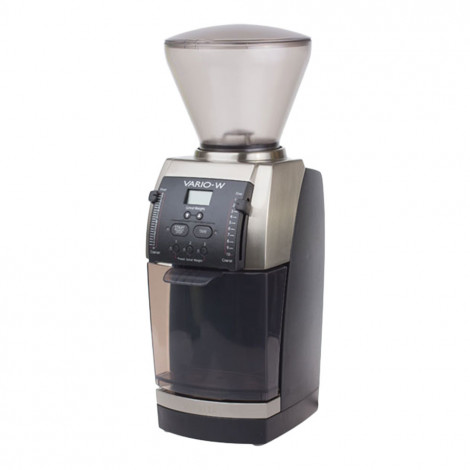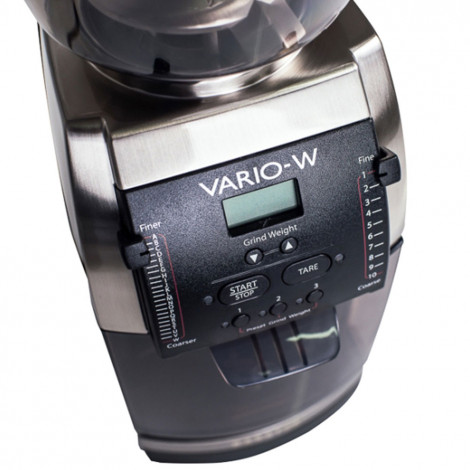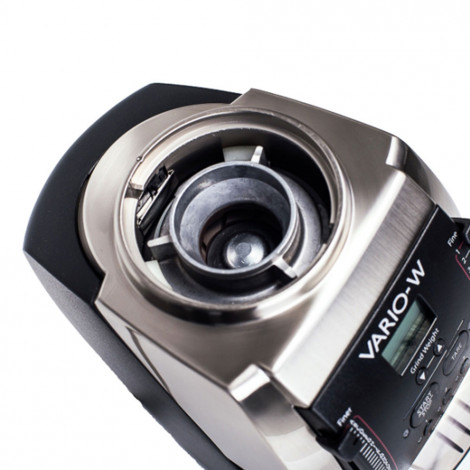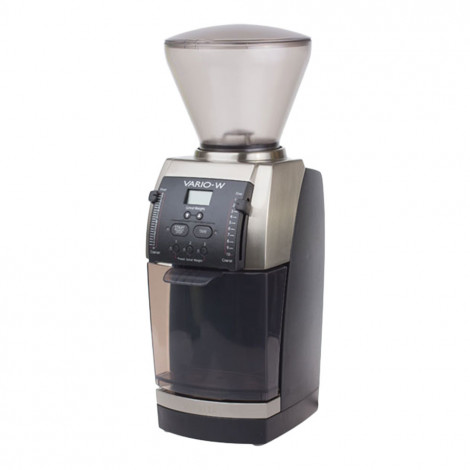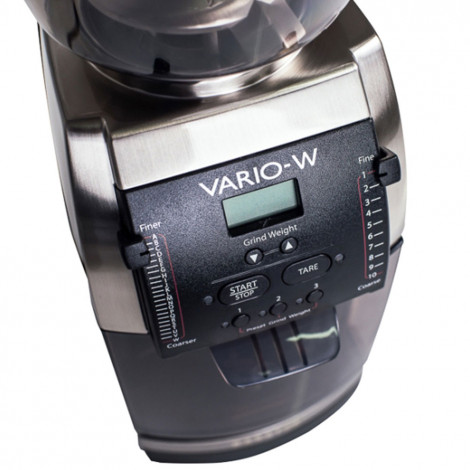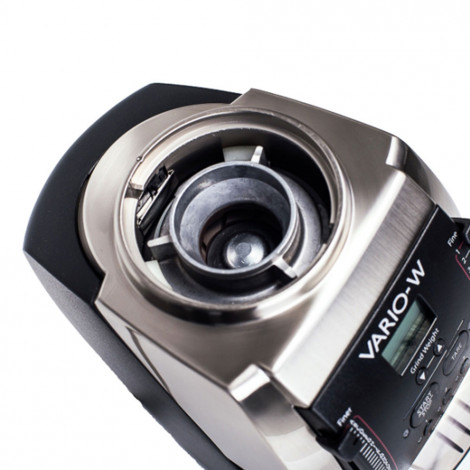 Coffee grinder Baratza "Vario-W"
Delivery takes 1 - 2 weeks
About product
Weight-based grinding makes it easier to brew that perfect cup of coffee. The groundbreaking Baratza "Vario-W" is a fully integrated real-time weight-based grinder. It has all the features of the "Vario", including small footprint, macro-/micro-adjustment, ceramic burrs and broad grinding range. However, "Vario-W" uses a weight-based dosing approach rather than a time-based approach. This professional-grade grinder will fit anywhere, from your kitchen to your office to your café. "Vario-W" was initially designed to be used in a manual brew bar of a café, eliminating the need to manually pre-weigh coffee beans. The built-in precision load cell provides accurate weighing, while grinding with the accuracy of 0.1 g. Three user-programmable buttons allow for repeatable, one-touch grinding. The design is beautiful as well as functional.
BURRS
The 54-mm professional ceramic flat burrs of the "Vario" series produce accurate grinding, high throughput and remain sharp twice as long as high-quality steel burrs. "Vario" grinds coffee beans at the speed of 1.6 g/s for espresso and 2.2 g/s for the French press. Broad grinding range (230 microns to 1150 microns) and bi-modal particle distribution are the hallmarks of superiority of the "Vario" burrs.
DIGITAL CONTROL PANEL
The front-mounted control panel with a LED display is simple and intuitive. Three programmable buttons allow the users to program the desired weight (+/- 0.1). Simply press the START button and "Vario-W" will automatically deliver precise dosing.
GRIND ADJUSTMENT
"Vario-W" offers macro- and micro-adjustment. The macro-adjustment arm moves from fine to coarse grinding in 10 distinct and repeatable settings. A secondary micro-adjustment arm further divides each of the 10 macro-steps into 20 distinct settings. These steps enable you to dial in the exact grind for the perfect shot.
LITTLE TO NO GROUNDS LEFT IN GRINDER
To maximise freshness, "Vario-W" minimises the amount of ground coffee left in the grinder.
BREWING METHODS
"Vario-W" is perfect for espresso and manual brewing methods.
MOTOR
A powerful, high-torque DC motor effortlessly drives the burrs. This motor turns slowly, resulting in cool, quiet operation, and allows for long grinding cycles. The circuitry is equipped with an automatically-resetting, thermal cut-off switch.
HOPPER
The hopper holds approximately 300 g of coffee. An innovative bean shut-off feature in the collar means no-mess, no-fuss hopper removal when changing beans. Bean "waste" (below the stopper) averages a surprisingly low 10 g once the hopper has been shut off (all weights depend on bean density).
CALIBRATION
"Vario-W" is calibrated at the factory to ensure accurate grinding range. If necessary, the burrs can be easily calibrated using the special calibration tool that comes with the grinder.
CLEANING
The burrs are easy to remove with no need for tools, making them particularly simple to clean.
Accessories (which may be purchased separately):
HOPPER EXTENDER
An extension that can add 275 g of capacity to the existing bean hopper. Several extenders can be added to get to the capacity you need.
STEEL BURRS
54-mm flat steel burrs are available for the "Vario" series. These steel burrs are designed to grind beans for all brewing methods, including espresso, manual brewing and much more. Broad grinding range (230 microns to 1150 microns) and narrow particle distribution (lack of fine particles) ensure the perfect flavour of the resulting drink.
Specifications
| | |
| --- | --- |
| Type | Grinders |
| Manufacturer | Baratza |
| Warranty | 24 months |
| Type of coffee grinder | Ceramic |
| Power | 180 W |
| Rotations per minute | 1350 |
| Country of Origin | United States of America |
| EAN | 838823009227 |
| Burr diameter | 54 mm |
| Efficiency | 1.6-2.2g/s |
| Plug | EU plug (and certified UK conversion plug is included) |
| | |
| --- | --- |
| Depth | 18 cm |
| Height | 36 cm |
| Width | 13 mm |
| Weight | 4.1 kg |
Frequently Asked Questions
Ask your question about the product