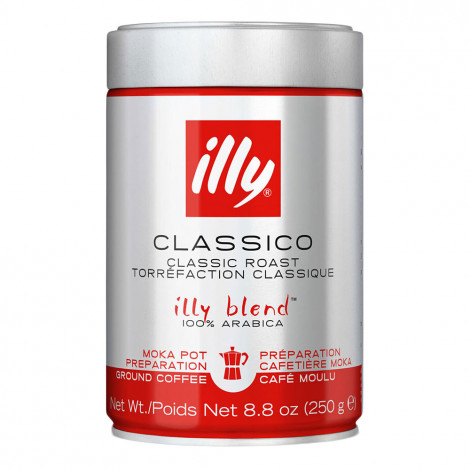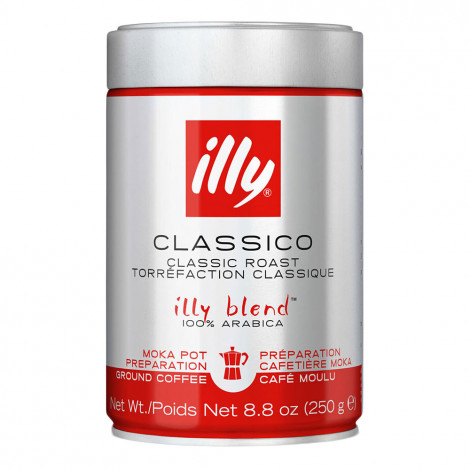 Ground coffee Illy "Classico Moka", 250 g
About product
"Illy Classico Moka" is a unique blend of 100% arabica coffee beans in the classic (medium) roast version, ground in a way that is suited perfectly for the moka pot brewing method. It's characterised by lingering sweetness, as well as delicate notes of caramel, orange blossom and jasmine.
Minuscule, two-chambered moka pots, which are easy to use and capable of producing full-bodied, rich, incredibly aromatic coffee, are an absolute favourite amongst Italians. While the name of these brewing devices is often confused with café mocha, they have nothing to do with chocolate syrup or cocoa powder and are instead named after the Yemeni city of Mocha, an early mecca for coffee connoisseurs.
As "Illy" has stated, "We could give you every region, roast and blend available, but we've chosen to provide you with the perfect one. We worked on our signature blend for eight decades — the result of these efforts is a product that we sincerely believe to be the culmination of what coffee can offer."
Ingredients: ground roasted coffee.
Storage conditions: store in a dry, cool place.
Specifications
| | |
| --- | --- |
| Coffee type | Ground coffee |
| Coffee kind | Mixture |
| Manufacturer | Illy |
| Roasting level | Medium |
| Country of Origin | Italy |
| EAN | 8003753915050 |
| Coffee beans type | 100% Arabica |
Frequently Asked Questions
Ask your question about the product