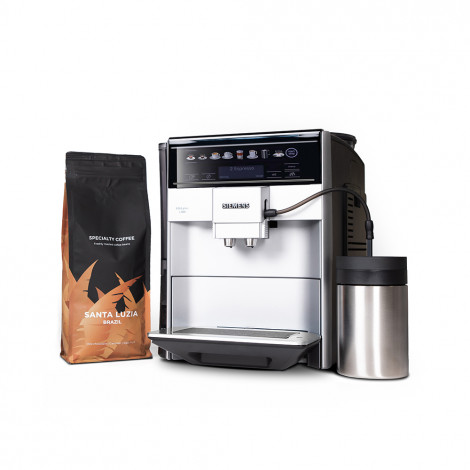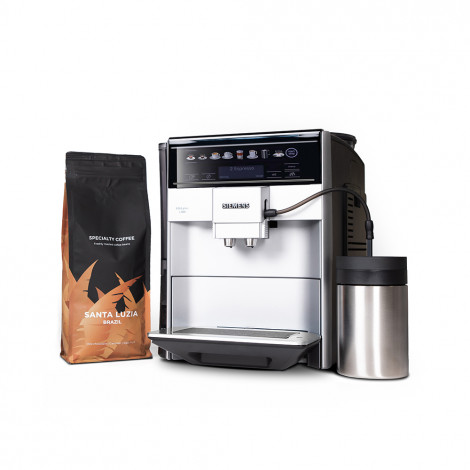 Coffee machine set Siemens "TE653M11RW + Brazil Santa Luzia"
Delivery takes 10 - 14 working days
About product
Coffee machine Siemens "TE653M11RW"
The bean-to-cup coffee machine Siemens "TE653M11RW" prepares all most popular coffee drinks just at your fingertips. The iAroma system ensures perfect taste. 2 users can save their own menu with their individual settings. Intuitive and simple operation, automatic maintenance programs make it easy to enjoy coffee every day.
8 COFFEE DRINKS AT ONE TOUCH
The coffee machine prepares espresso, black coffee, americano, espresso macchiato, flat white, cappuccino, latte macchiato and latte just at one touch.
2 USER PROFILES
2 users can program and save their own individual settings for different recipes.
AUTOMATIC AND EASY-TO-CLEAN MILK SYSTEM
The coffee machine has an extremely convenient milk system with an integrated milk tube that can be inserted directly into the milk package. The automatic milk system rinsing program autoMilk Clean effectively rinses the milk system after each beverage with milk. Convenient steel milk container is included. When not in use, it can be stored in refrigerator.
INTUITIVE CONTROL
Easily understandable touch icons and a text screen make it easy to operate the coffee machine.
AROMADOUBLE SHOT FUNCTION
Thanks to the "AromaDouble Shot" function, you can enjoy a cup of strong coffee without any bitterness. Your coffee will be prepared in two steps – double coffee grinding and double coffee preparation will provide the most optimal coffee flavour. This automatic process ensures no unpleasant bitterness in the drink.
iAroma SYSTEM FOR YOUR PERFECT COFFEE
iAroma system combines different elements making them work together, so that your coffee would have the most perfect aroma and taste. High performance, reliable ceramic grinder mildly grinds coffee beans to an even consistency preserving the best aroma and taste qualities. SensoFlow intelligent heater system ensures the optimal and equal beverage temperature. 19 bar pressure for the maximum coffee flavour extraction and density. High quality brewing unit is very quick and easy to clean.
SIMPLE MAINTENANCE
Integrated automatic maintenance programs allow you to simply enjoy your coffee.
Specialty coffee beans "Brazil Santa Luzia", 1 kg
This exceptional specialty coffee from Brazil is bound to be appreciated by the lovers of traditional coffee tasting notes. The balanced flavour of this coffee combines sweet hints of milk chocolate and caramel with refreshing, subtle aroma of ripe fruit.
"First, José bought a hat, then came the knee-high boots, then a truck, and finally, in 2004, he was able to realise his life-long dream of buying his first coffee plantation. All he ever wanted was to introduce the world to exceptional coffee originating from his native municipality of Campos Altos (located in the Brazilian region of Minas Gerais)."
José Maria de Oliveira spent his childhood playing in a small coffee plantation owned by his grandfather. José can remember clearly how, as a young boy, he used to pick coffee cherries and run around the coffee trees. However, tough times lay ahead, so his family was eventually forced to sell the farm and move to a different region. When he grew up, José left his home for a big city and pursued a pharmaceutical career, but he was never able to stop dreaming about Campos Altos and the exceptional coffee that grows there. Finally, José made a decision: one day, he was going to purchase some land in the region of Campos Altos and become a coffee farmer. Soon enough, he went back to his native land and set about continuing the coffee-growing tradition that was so sadly broken off in his childhood.
In 2014, José built his very own dry mill and decided to focus his attention on the quality and maximum traceability of his coffee. In 2015, he established two coffee companies: one, called Cafe Campos Altos-Coffee Export, was based in Brazil, while Our Coffees was located in Northern California. The clients were amazed: a coffee farmer who controls the export of his coffee is an extremely rare sight to behold.
During frequent trips to California, José developed close relationships with the best experts of the coffee industry and learned about the many innovations of the coffee realm, which he quickly applied in his own farms. José started focusing his attention on the highest quality specialty coffees and the quality of his products soon reached new heights. It is one of his unique farms — the Fazenda Santa Luzia — that this extraordinary Brazilian coffee originates from.
Due to its exceptional quality and taste, this coffee is marked as Specialty. The SCA has scored it 84 points out of 100.
COUNTRY: Brazil
REGION: Cerrado Mineiro, Minas Gerais
FARM: Fazenda Santa Luzia
ALTITUDE: 1200 m
VARIETY: Red Catuai
PROCESS: Natural
ROAST PROFILE: Medium
TASTING NOTES: Milk chocolate, Caramel, Ripe Fruit
Ingredients: roasted coffee beans.
Storage conditions: keep sealed in a dark, dry and cool place.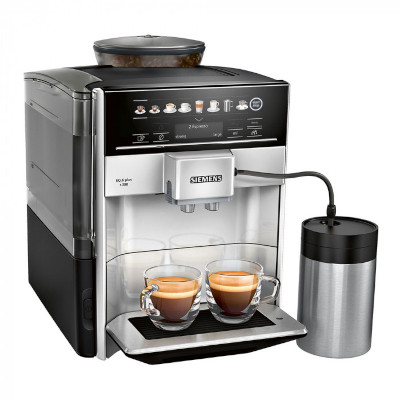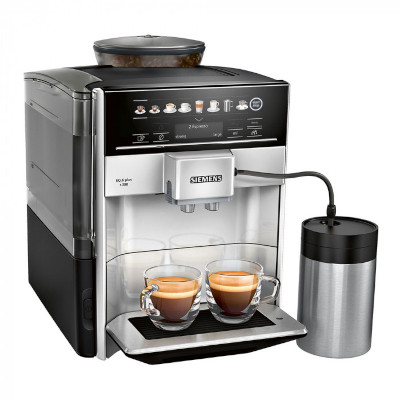 Preparable recipes
Americano
Cappuccino
Espresso
Espresso Macchiato
Flat white
Latte
Latte Macchiato
For the first cup of coffee
Delicious coffees for your new coffee machine! Here are some coffees that will go well with both black and milk-based coffee drinks.
Specifications
| | |
| --- | --- |
| Type | Automatic |
| Manufacturer | Siemens |
| Color | Black/Silver |
| Warranty | 24 months |
| Coffee machine uses | Coffee beans, Ground coffee |
| Milk system type | Automatic milk pipe system |
| Type of coffee grinder | Ceramic |
| User-created recipes | 2 |
| Height-adjustable coffee spout | 14 mm |
| Power | 1500 W |
| Water pump pressure | 15 BAR |
| Country of Origin | Slovenia |
| Plug | EU plug (and certified UK conversion plug is included) |
| | |
| --- | --- |
| Coffee machine's screen | Colourful |
| Coffee machine's menu language | Danish, Dutch, english, finnish, French, Italian, Norwegian, polish, russian, Spanish, Swedish |
| Control type | Touch buttons |
| | |
| --- | --- |
| Water tank | 1.7 l |
| Coffee bean tank | 300 g |
| Coffee grounds capacity (portions) | 10 |
| | |
| --- | --- |
| Number of black coffees prepared at once | 2 |
| Number of coffee with milk recipes prepared at once | 1 |
| Adjustable grinding level | 6 |
| Portion size | Programmable |
| Saved user profiles | 2 |
| Coffee strength (levels) | 7 |
| Coffee temperature (levels) | 3 |
| | |
| --- | --- |
| Descaling program | Yes |
| Milk system cleaning program | Yes |
| Cleaning program | Yes |
| Automatic rinsing | Yes |
| | |
| --- | --- |
| Depth | 46.5 cm |
| Height | 38.5 cm |
| Width | 28 cm |
| | |
| --- | --- |
| Other | Hot milk, Hot water, Milk foam |
| Coffee | Americano, Cappuccino, Double caffè crema, Espresso, Espresso Macchiato, Flat white, Latte, Latte Macchiato |
| | |
| --- | --- |
| Package contains | (*The manufacturer reserves the right to change the items included in the set without prior notice*), Ground coffee dosing spoon, Milk container, Milk system tube, Water filter, Water hardness test strip |
For coffee machine's maintenance
Proper care can increase the lifespan of your coffee machine. You will need these maintenance products to keep your machine preparing the best coffee.
Coffee machine's extras
These accessories will make coffee preparation process even more convenient and pleasant, and prepared coffee will surely be tastier.
Frequently Asked Questions
Ask your question about the product