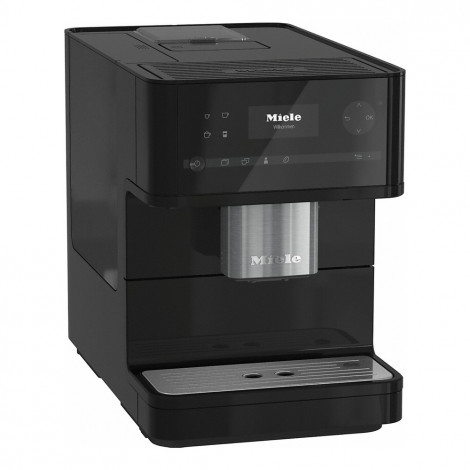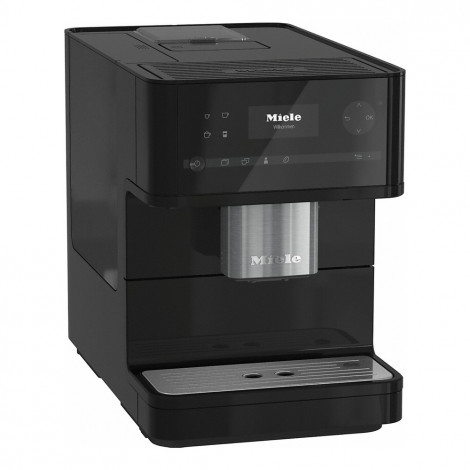 Coffee machine Miele CM 6150 OBSW Obsidian Black
EAN: 4002515768259
Product is no longer in production.
Become a member of COFFEE FRIEND'S VIP program and receive up to 5 vouchers of £10 each for your upcoming purchases at COFFEE FRIEND'S online store. More information will be provided via your personal e-mail address once you've completed your purchase. The offer applies exclusively to natural persons.

Coffee machine Miele CM 6150 OBSW Obsidian Black
In Stock
Suitable for this product
Maintenance products
Descaling tablets Miele
Made by special Miele technology, descaling tablets ensures precise cleaning of grease and limescale residues in your coffee machine. You can be sure, after the cleaning procedure there won't be any traces of chemicals left in your coffee machine.
Show more
Show less
Cleaning agent for milk pipework Miele
Milk pipework cleaner, 100 sachets.
For hygienically clean milk pipework in coffee machines.
- Highly effective cleaning, which also treats materials gently
- Easy to dispense thanks to pre-portioned sticks
- Effectively removes milk protein and fats
- Fine-tuned formula — Special Miele formula
- Optimum care for many years of reliability
Show more
Show less
Specifications
Coffee machine uses
Coffee beans, Ground coffee
Milk system type
Automatic milk pipe system
Does coffee machine prepare hot water?
Yes
Does coffee machine prepare hot milk?
Yes
Height-adjustable coffee spout
14 cm
Adjustable amount of coffee
Yes
Water pump pressure
15 BAR
Country of Origin
Germany
Plug
EU plug (and certified UK conversion plug is included)
Coffee machine's screen
Black/White
Coffee machine's menu language
english, german
Number of black coffees prepared at once
2
Number of coffee with milk recipes prepared at once
2
Milk system cleaning program
Yes
Other
Hot milk, Milk foam
Coffee
Black coffee, Cappuccino, Espresso, Latte, Latte Macchiato, Lungo, Ristretto
Preparable recipes
Black coffee
Cappuccino
Espresso
Latte
Latte Macchiato
Lungo
Ristretto
About product
EASY TO USE
The machine has installed "OneTouch" and "OneTouch for Two" programs so you could be able to prepare not only aromatic espresso, but also two milk based coffee drinks at the same time. Also, you are able to use ground coffee for coffee preparation. Without these, there's one more benefit – you can program machine's automatic turn on and turn off times.
CONICAL STEEL GRINDER
Seeking for the best coffee aroma, "Miele" has installed only the best conical coffee grinders. The beans, grinded by high quality steel grinder, preserve the aroma. In this way, the beans are grinded evenly and finely.
EXTREMELY EASY MAINTENANCE
It's easy to maintain hygiene with "ComfortClean" system. Most of the coffee machine's components, like water tank and grounds box, can be washed in a dishwasher. That helps to save the machine. The brewing unit can be called "the heart" of automatic coffee preparation. It is very easy to remove for cleaning.
Frequently Asked Questions
Ask your question about the product