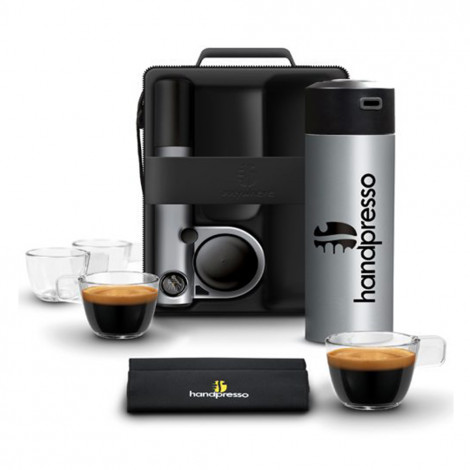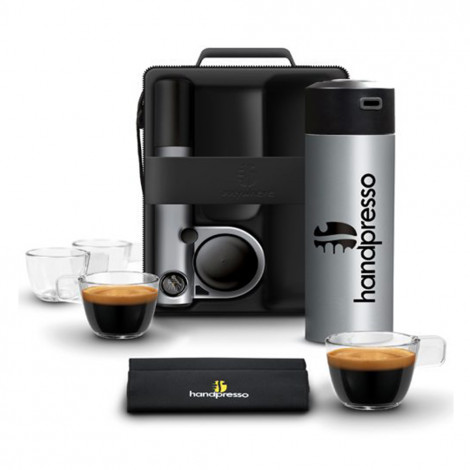 Coffee machine Handpresso Pump Silver set
Product is no longer in production.
Become a member of COFFEE FRIEND'S VIP program and receive up to 5 vouchers of £10 each for your upcoming purchases at COFFEE FRIEND'S online store. More information will be provided via your personal e-mail address once you've completed your purchase. The offer applies exclusively to natural persons.

Coffee machine Handpresso Pump Silver set
In Stock
Specifications
Coffee machine uses
Coffee pods, Ground coffee
Does coffee machine prepare hot water?
Yes
Water pump pressure
16 BAR
Plug
EU plug (and certified UK conversion plug is included)
Coffee machine's screen
None
Number of black coffees prepared at once
1
About product
Everything you need for a cup of espresso while travelling in one bag!
The bag includes:
– coffee machine Handpresso "Pump",
– thermos flask with built-in thermometer,
– 4 unbreakable espresso cups,
– napkin.
1. Coffee machine Handpresso "Pump"
IMPORTANT. Do not leave or keep the coffee machine in your car, if the temperature outside is below 0°C.
New Handpresso model – "Pump". A coffee machine for travellers or those who often enjoy picnics outdoors, but still want to enjoy great, delicious coffee.
COMFORT
Prepare coffee everywhere and always – this small machine will fit into a small travel bag.
16 BAR PRESSURE
With this machine you will get great espresso coffee. 16 bar pressure will make sure that you enjoy coffee just like from a café – fresh, delicious, great quality! And fits into a small travel bag!
NO BATTERIES OR ACCUMULATORS
Don't worry if you forgot to charge your machine–this machine does not use energy. Instead of energy you need to pump this machine – and very easily and quickly (it works just like bike pump) you will prepare the machine. Just a few minutes and you're enjoying great coffee!
2. Thermo-flask Handpresso "Pump"
This thermo-flask keeps the water hot for more than 3 hours. The termo-flask has a built-in thermometer which will allow you to monitor water temperature to make is it's suitable for your hot drink.
3. Cups Handpresso "Pump", 4 pcs.
Here are the cups that will make it easy to enjoy your espresso coffee during your trip. These cups are light, elegant and very sturdy, which makes it easy to bring them wherever you go.
Frequently Asked Questions
Ask your question about the product