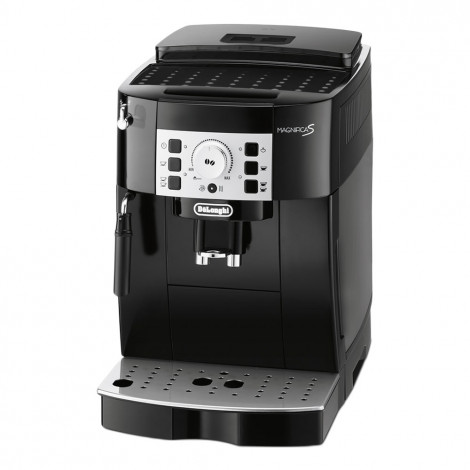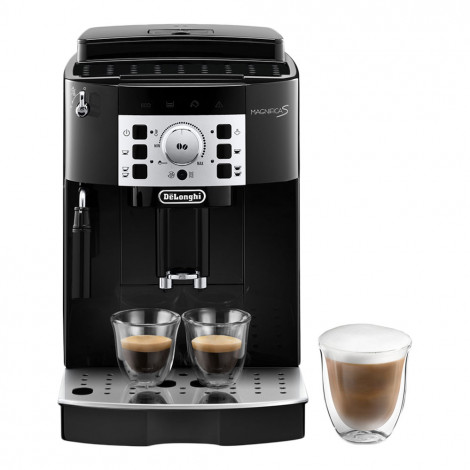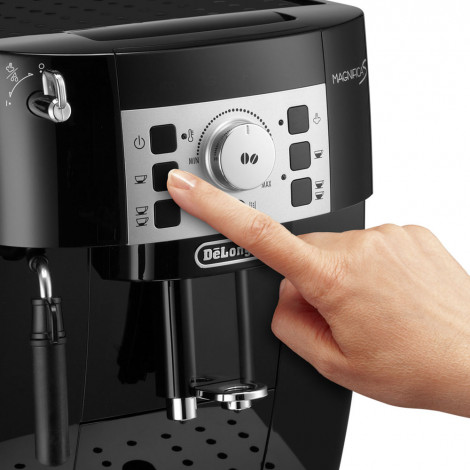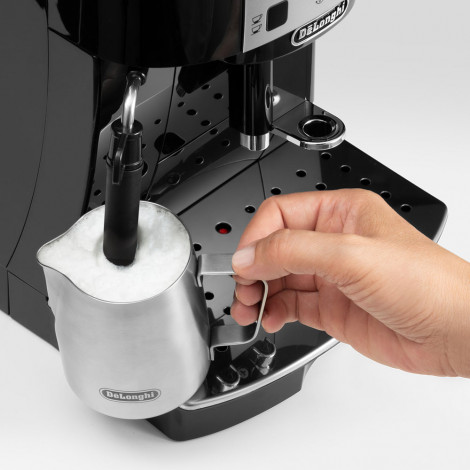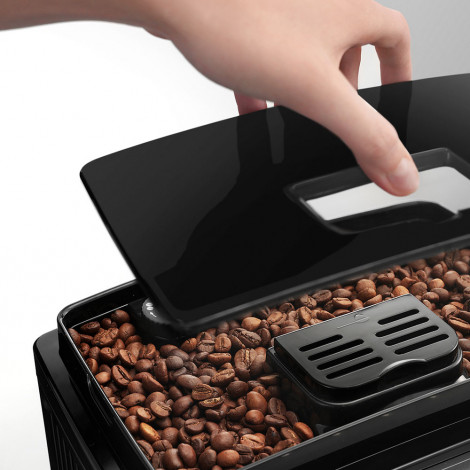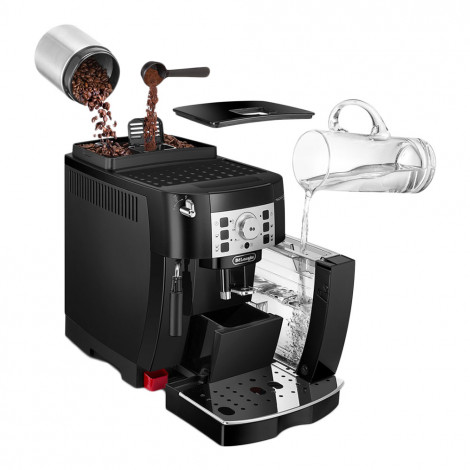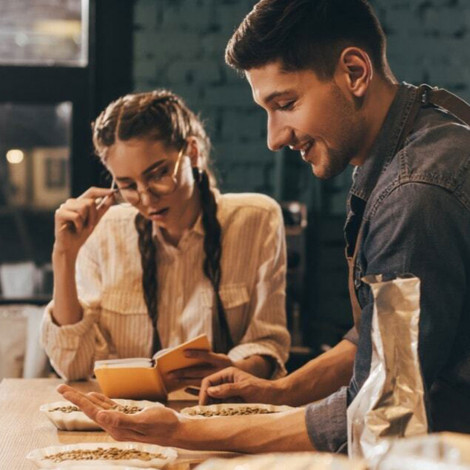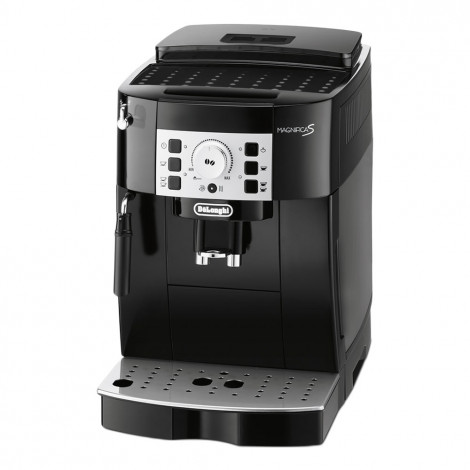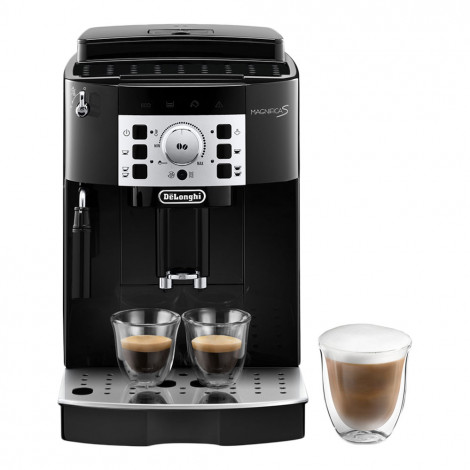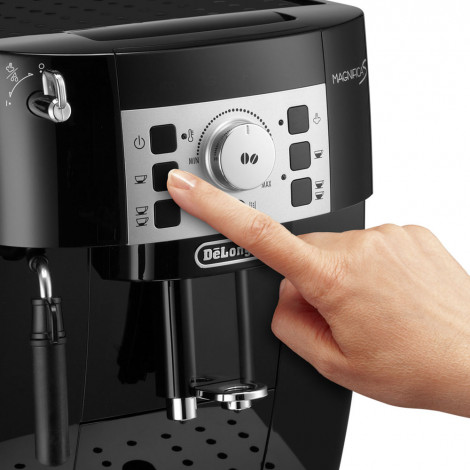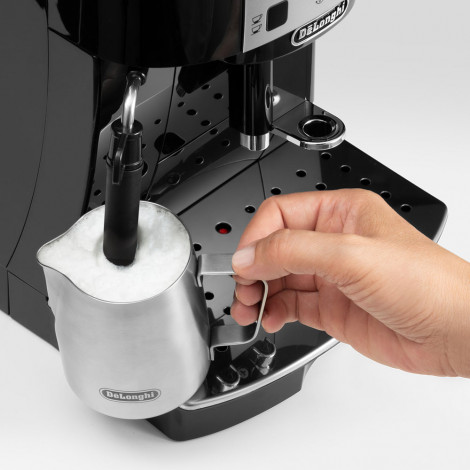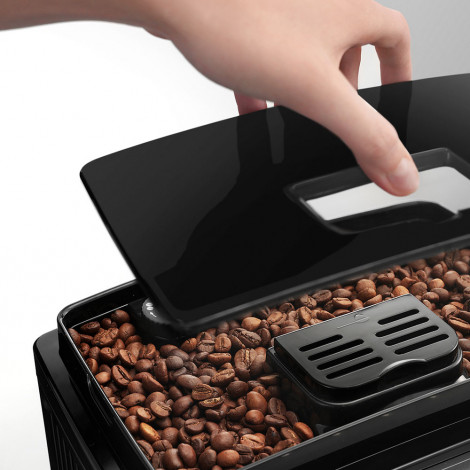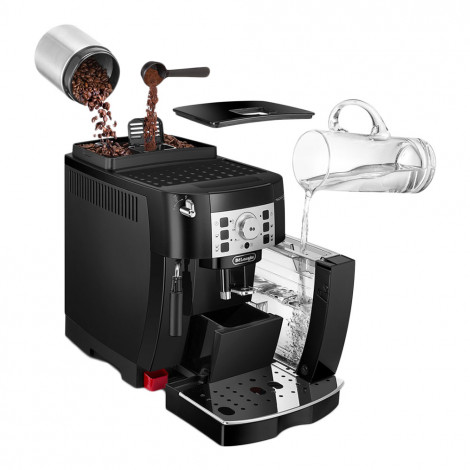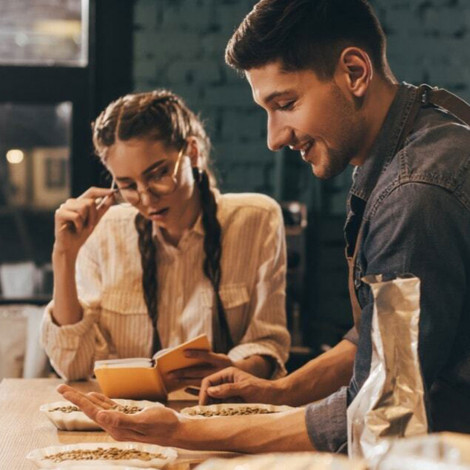 Coffee machine De'Longhi "ECAM 22.110.B"
By buying this coffee machine, you become eligible for the VIP membership program and discount vouchers with a total value of £50.
Become a member of COFFEE FRIEND'S VIP program and receive up to 5 vouchers of £10 each for your upcoming purchases at COFFEE FRIEND'S online store. More information will be provided via your personal e-mail address once you've completed your purchase. The offer applies exclusively to natural persons.
This product is out of stock, but you can get in touch to find out when it will be available or get an offer for similar product if interested.
About product
One of the most popular models of bean-to-cup De'Longhi coffee machines of all time. Freshly grinds coffee beans each time and makes espresso and long coffee at the touch of a button. Using the steam nozzle, you will froth the milk foam for milk-based drinks. Simple operation and maintenance allows you to enjoy coffee quickly and easily.
ESPRESSO AND COFFEE JUST AT YOUR FINGERTIPS

Use the buttons on the front to make espresso or long coffee (1 or 2 servings) at the touch of a button. You can program the portion size for each button individually. Turn the knob to set the desired coffee strength.
COFFEE FROM BEANS AND GROUNDED COFFEE

Make your favorite coffee from freshly grounded coffee beans and ground coffee. Using ground coffee prepare one serving at a time.
MILK FROTH FOR MILK-BASED DRINKS

Using the steam nozzle, you can very easily prepare a dense milk foam for milky drinks. All you have to do is to pour milk to the cup, dip the steam nozzle, select the steam function and turn the steam dial.
SIMPLE MAINTENANCE

The automatic descaling program, the possibility to use a water filter, rinsing program for the system of the coffee brewing and the removable coffee brewing unit ensure the cleanliness of the coffee machine and allows to drink always only a delicious coffee.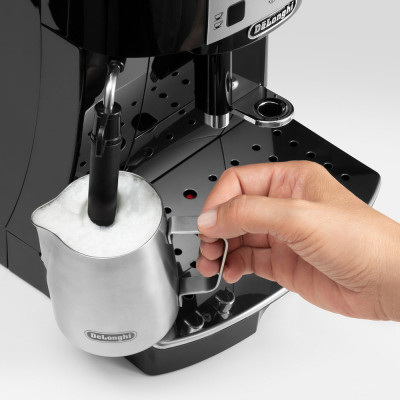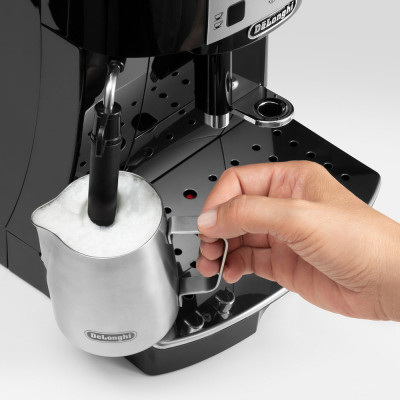 Preparable recipes
Black coffee
Espresso
Specifications
| | |
| --- | --- |
| Type | Automatic |
| Manufacturer | De'Longhi |
| Color | Black |
| Warranty | 24 months |
| Coffee machine uses | Coffee beans, Ground coffee |
| Milk system type | Manual frother |
| Burr type | Steel |
| User-created recipes | 2 |
| Height-adjustable coffee spout | 142 mm |
| Power | 1450 W |
| Water pump pressure | 15 BAR |
| Country of Origin | European Union |
| EAN | 8004399325050 |
| Plug | EU plug (and certified UK conversion plug is included) |
| | |
| --- | --- |
| Coffee machine's screen | Symbols |
| Coffee machine's menu language | english, german |
| Control type | Buttons |
| | |
| --- | --- |
| Water tank | 1.8 l |
| Coffee bean tank | 250 g |
| Coffee grounds capacity (portions) | 14 |
| | |
| --- | --- |
| Number of black coffees prepared at once | 2 |
| Adjustable grinding level | 13 |
| Portion size | Programmable |
| Coffee strength (levels) | 5 |
| Coffee temperature (levels) | 4 |
| | |
| --- | --- |
| Descaling program | Yes |
| Automatic rinsing | Yes |
| | |
| --- | --- |
| Depth | 43 cm |
| Height | 34 cm |
| Width | 23.8 cm |
| Weight | 10 kg |
| | |
| --- | --- |
| Other | Hot water, Steam |
| Coffee | Black coffee, Espresso |
| | |
| --- | --- |
| Package contains | (*The manufacturer reserves the right to change the items included in the set without prior notice*), Descaling liquid, Ground coffee dosing spoon |
Video
How to use a coffee machine?
How to descale the coffee machine?
Frequently Asked Questions
What coffee drinks can be prepared with this coffee machine?
You can make Espresso and black coffee at the touch of a button. Meanwhile, milky drinks such as Cappuccino or Latte Macchiato are prepared by additionally frothing the milk with an integrated steam frother.
Is this answer useful?
0
0
I've tried numerous types of milk, but I still can't froth proper milk foam with the help of this coffee machine. The machine dispenses hot air for 30–40 seconds only. What should I do?
In order to froth milk foam with the help of this coffee machine, you have to: 1. Press the steam button and wait for the temperature light on the screen to stop flashing; 2. Immerse the steam wand in a cup/glass with milk and rotate the knob in the upper left corner of the coffee machine; 3. Froth milk by slowly immersing the steam wand deeper into the milk; 4. Turn off the steam by rotating the knob once you've reached the desired result, but before the milk starts boiling. If you've gone through these steps in the correct order and you're still unable to froth milk foam, please contact us via phone (+370 699 44844) or e-mail ([email protected]) and inform us about a possible fault.
Is this answer useful?
0
0
I've lost the user manual of this coffee machine and now I need to descale it. How can I get a new manual?
Please contact us via phone (+441202029699) or e-mail ([email protected]) and we'll discuss the ways for us to send it to you!
Is this answer useful?
0
0
When I use ground coffee to make drinks, coffee is dispensed in little drops. What should I do? This wasn't the case when I used coffee produced by a different manufacturer.
When preparing drinks from pre-ground coffee, we recommend measuring the amount of coffee as accurately as possible — use a scoop that is included in the set. If you put too much coffee into the machine, it may not be able to brew the drink properly.
Is this answer useful?
0
0
Can I use this coffee machine without a water filter?
It's possible to use "De'Longhi" coffee machines without a water filter, but it's crucial to set the right water hardness based on the result of the water hardness test. You can find the test strip in the set of the machine or, alternatively, purchase it here: https://www.coffeefriend.co.uk/p/water-hardness-test/.
Is this answer useful?
0
0
Ask your question about the product