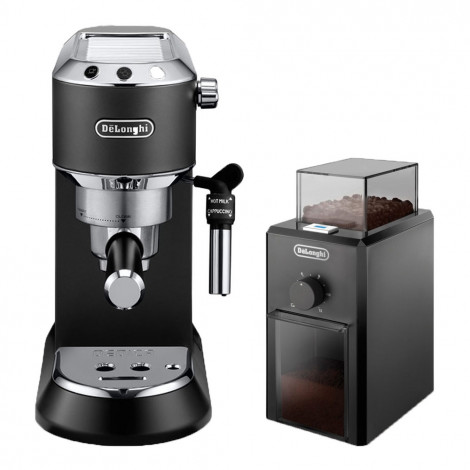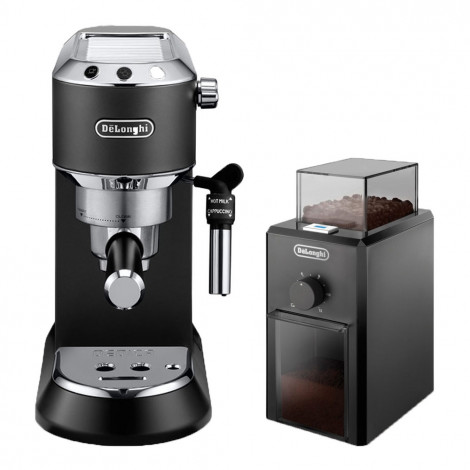 Coffee machine De'Longhi EC 685.B + KG79
Become a member of COFFEE FRIEND'S VIP program and receive up to 5 vouchers of £10 each for your upcoming purchases at COFFEE FRIEND'S online store. More information will be provided via your personal e-mail address once you've completed your purchase. The offer applies exclusively to natural persons.

Coffee machine De'Longhi EC 685.B + KG79
In Stock
Suitable for this product
Maintenance products
Water filter De'Longhi DLSC002
The package contains: One Water Softener Filter and Instructions.

The water filter reduces limescale, improving the quality of your coffee and machine performance.

- Reduces limescale
- Improves the quality of the coffee
- Improves machine performance
- Extends the working life of the machine
- Quick and easy to install

For optimal results we recommend the water filter cartridge is changed regularly (at least every 2 months.)

Compatible with:

- BCO 410/411/420/421/430/431/432
- COM 530/532
- EC 685/820/850/860/900/950/9335/9355/9665/9865
- ESAM 420/428/460/6600*/6620*/6650*/6700*/6704/6708/
6720/6750/6850/6900/ 6904 (*only 3rd series)
- ECAM - ETAM - EPAM - EXAM
Show more
Show less
Specifications
Coffee machine uses
Coffee pods, Ground coffee
Milk system type
Manual frother (professional)
Does coffee machine prepare hot water?
Yes
Height-adjustable coffee spout
12 cm
Water pump pressure
15 BAR
Plug
EU plug (and certified UK conversion plug is included)
Number of black coffees prepared at once
2
About product
Coffee machine De'Longhi "EC 685.B"
Modern design coffee machine De'Longhi "EC 685" – is an irreplaceable appliance for those who are seeking for the highest quality result, but simplicity at the same time. Just with three buttons you will be able to control all the functions of this coffee machine. Due to the electronic control system, you will be able to set the temperature and length of your beverages easily. The coffee machine will be ready to make the most delicious cup of coffee just in a few seconds.
EVEN MORE COFFEE BEVERAGES!
With this coffee machine you will be able to prepare not only espresso or coffee with milk, but also Latte Macchiato, Caffe Latte, Flat White, Lungo, Cappuccino, tea or hot milk.
POWER SAVING MODE
Do not worry if you forget to turn off the coffee machine – when it's not used in a while, it switches off automatically.
PROFESIONAL MACHINE
Metallic body with chrome finish and professional filter holder will make you feel like a true barista. Dripping protection will make sure that coffee doesn't go anywhere where it shouldn't.
POWER
This machine and powerful heating element and a special system, which will make sure your machine is always ready for work. Powerful 15 bar pressure will help develop amazing taste and aroma of any beans!
+ Coffee grinder De'Longhi "KG79"
Any coffee lover will appreciate this coffee grinder! Add beans, choose your preferred grinding level (depends on the coffee preparation method), set desired amount from 2 to 12 cups and press a button. In a few moments you will feel enchanting coffee aroma! It is very safe to use the coffee grinder because of the integrated "Dual Safe" system – it will automatically stop grinding once you take out the bean and ground coffee containers. This grinder is very easy to use and gives the pleasure of enjoying freshly ground coffee right at the comfort of your home!
Frequently Asked Questions
Ask your question about the product