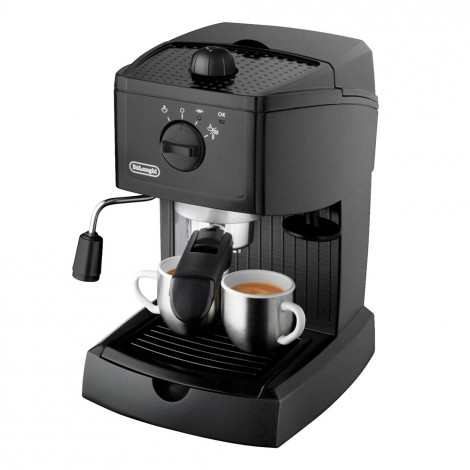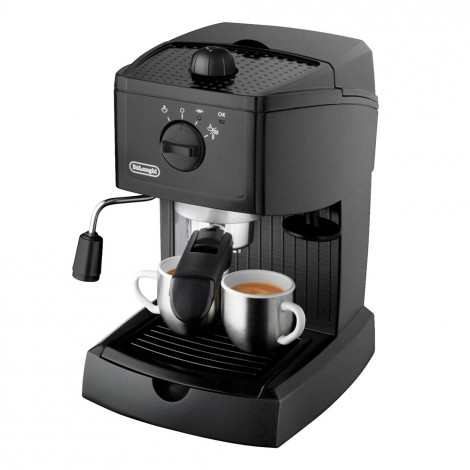 Coffee machine De'Longhi EC 146.B
Product is no longer in production.
Become a member of COFFEE FRIEND'S VIP program and receive up to 5 vouchers of £10 each for your upcoming purchases at COFFEE FRIEND'S online store. More information will be provided via your personal e-mail address once you've completed your purchase. The offer applies exclusively to natural persons.

Coffee machine De'Longhi EC 146.B
In Stock
Suitable for this product
Maintenance products
Universal espresso & coffee machine milk system cleaner Coffee Friend For Better Coffee, 500 ml
The universal milk system cleaner "For Better Coffee". Made of natural ingredients of the highest quality, this cleaner ensures ideal hygiene inside the milk system: it gets rid of any accumulated bacteria, milk fats and milk residue.
SUITED FOR THESE TYPES OF MACHINES:
- Bean-to-cup(De'Longhi, Nivona, Philips etc.)
- Semi-automatic(Bezzera, Rocket Espresso, Lelit etc.)
- Capsule(NESCAFÉ® Dolce Gusto®, Nespresso, Krups etc.)
- Pad(SENSEO etc.)
- Built-in(Bosch, Siemens etc.)
- Lever(Flair, La Pavoni, Elektra etc.)
How to use it?
1) Mix 10 ml of the cleaner with 100 ml of water.
Depending on the model of your coffee machine and the milk system type:
1) If your coffee machine is equipped with an integrated milk system cleaning program, simply follow the required procedure. If there's no integrated milk system cleaning program in your appliance, see the following instructions.
2) Coffee machine with a steam wand: make sure to regularly remove the steam wand, disassemble it and let it soak in the mixture for a while/wash it using the mixture.
3) Coffee machine with a milk tube: pour the mixture into an empty container, immerse the tube in it and activate the hot steam/milk function. Repeat the procedure using clean water.
4) Coffee machine with a milk container: pour the mixture into the milk container and activate the hot steam/milk function. Repeat the procedure using clean water.
Ingredients: contains carbonates, potassium hydroxide.
Storage conditions: store in a place inaccessible to children.
Additional information:
May cause severe skin burns and eye damage. Keep out of the reach of children. Do not inhale steam. Wear protective gloves/protective clothing/use eye (face) protection equipment. IF THE PRODUCT HAS BEEN INGESTED: rinse the mouth. DO NOT induce vomiting. IF THE PRODUCT HAS COME INTO CONTACT WITH SKIN (or hair): immediately take off/discard all contaminated clothing. Wash the skin with water/a jet of water. IF THE PRODUCT HAS COME INTO CONTACT WITH EYES: wash carefully with water for a few minutes. Remove contact lenses if there are any and if this can be easily done. Continue washing the eyes. Immediately call the POISON CONTROL AND INFORMATION CENTRE or contact your doctor. Keep locked away. Pour out the contents/throw out the container in accordance with current legislation.
Show more
Show less
Water filter De'Longhi DLSC002
The package contains: One Water Softener Filter and Instructions.

The water filter reduces limescale, improving the quality of your coffee and machine performance.

- Reduces limescale
- Improves the quality of the coffee
- Improves machine performance
- Extends the working life of the machine
- Quick and easy to install

For optimal results we recommend the water filter cartridge is changed regularly (at least every 2 months.)

Compatible with:

- BCO 410/411/420/421/430/431/432
- COM 530/532
- EC 685/820/850/860/900/950/9335/9355/9665/9865
- ESAM 420/428/460/6600*/6620*/6650*/6700*/6704/6708/
6720/6750/6850/6900/ 6904 (*only 3rd series)
- ECAM - ETAM - EPAM - EXAM
Show more
Show less
Descaling liquid De'Longhi EcoDecalk, 500 ml
Limescale is one of the most common causes of coffee machine failure, so it is very important to remove it in time! The new descaling liquid De'Longhi "Edodecalk" effectively removes limescale, which accumulates in the coffee machine's water system and prolongs the life span of your machine. Lab tests show that it's 3 times more effective compared to the traditional descalers. Take care of your machine and it will always please you with delicious coffee.
How to use it?
This descaler (500 ml) will last for five uses. One descaling program uses 100 ml of liquid, which should be mixed with water.
- If your machine is automatic (with the grinder), run descaling program (check how to in your machine's instruction). If your machine is half-automatic, then take off the coffee preparation handle, put empty dishes under the milk frother and under the coffee exit place.
- With five-minute pauses, release all the liquid four times through the milk frother and then repeat it with clean water.
- Clean the water tank thoroughly.
How often should you do this?
Well, that depends on how hard your water is. The harder it is, the more often you should descale (automatic machines allow you to program the hardness of water and calculates how often descaling should be done according to that).
* The design of the packaging may differ from the design shown in the picture.
Show more
Show less
Specifications
Coffee machine uses
Coffee pods, Ground coffee
Milk system type
Manual frother (non-professional)
Does coffee machine prepare hot water?
Yes
Water pump pressure
15 BAR
Plug
EU plug (and certified UK conversion plug is included)
Coffee machine's screen
None
Number of black coffees prepared at once
2
About product
This compact De'Longhi espresso coffee machine will prepare coffee from ground coffee beans and from coffee pods. Because of special filter, coffee will always come with thick, creamy foam. You can make not only espresso and black coffee (1 or 2 cups at a time), but also creamy milk foam for your cappuccino and latte macchiato. If you are annoyed with coffee grounds floating in your cup and you want to enjoy good quality, delicious coffee – this compact coffee friend is just for you.
THICK MILK FOAM FOR YOUR FAVOURITE DRINKS WITH MILK

Because of the advanced metallic milk frother, using steam and air, you will make milky foam of preferred thickness and temperature. Enjoy your favourite drinks with milk!
INCORPORATED TAMPER

Incorporated tamper makes it very easy to quickly tamp ground coffee in the portafilter, ensuring the perfect water flow during coffee preparation.
COMPACT MACHINE

This coffee machine takes up very little space and makes very good quality, delicious coffee.
Frequently Asked Questions
Ask your question about the product