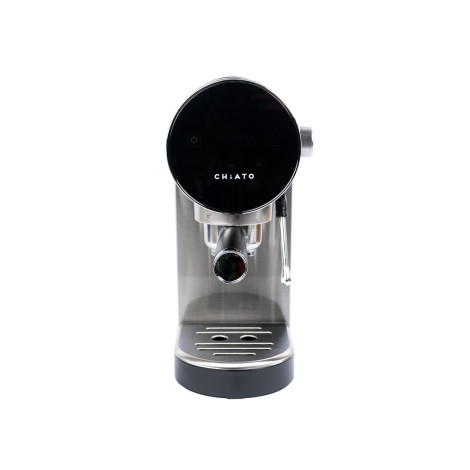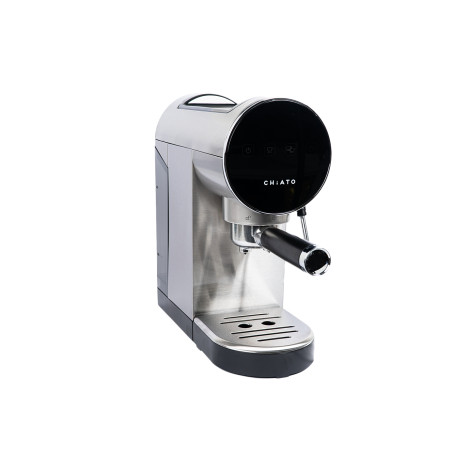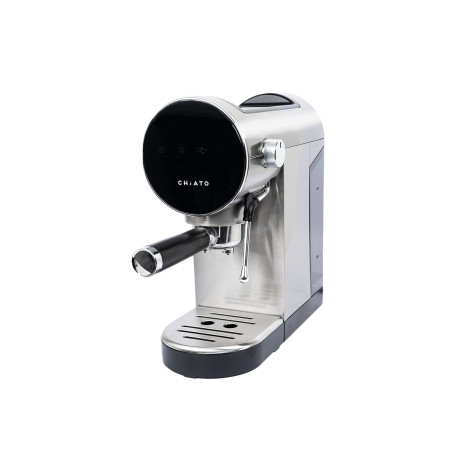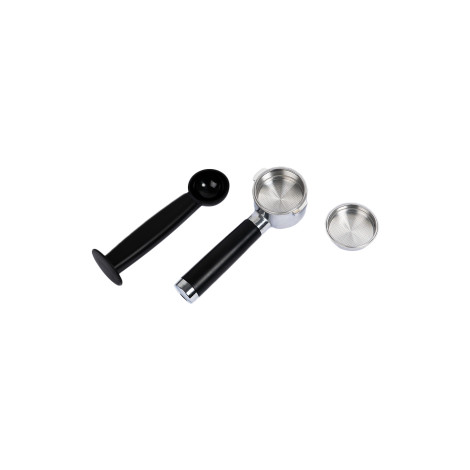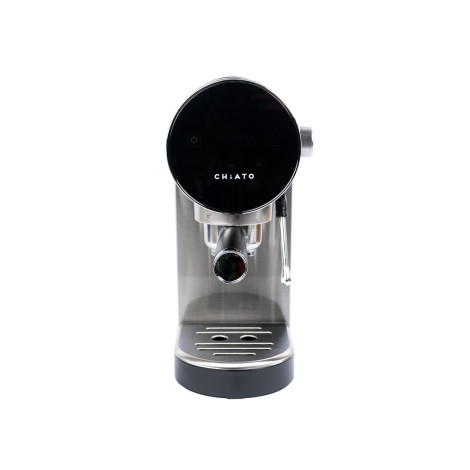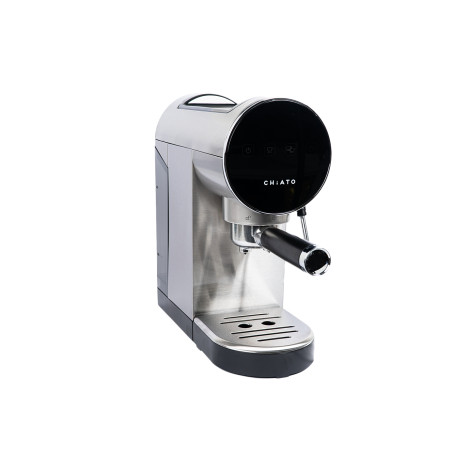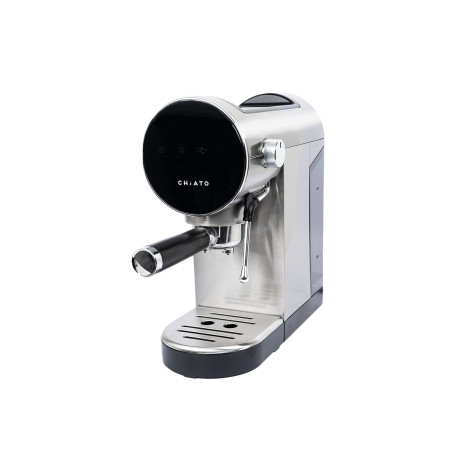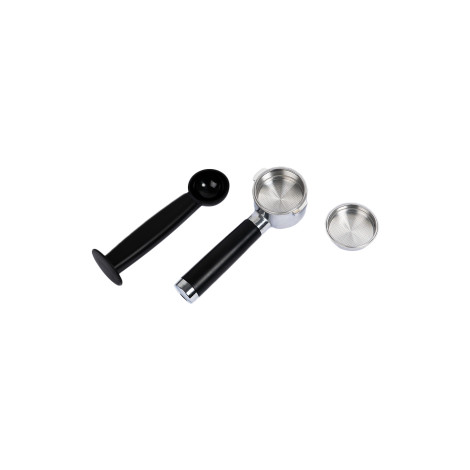 Coffee machine CHiATO Luna Style
Fast delivery

CHRISTMAS TOP

New
Delivery takes 1 – 3 working days
Any unwanted or unsuitable items bought between 24 November and 24 December 2023 can be returned until 31 January 2024.

All other return terms and conditions apply. This does not affect your statutory rights.
Become a member of COFFEE FRIEND'S VIP program and receive up to 5 vouchers of £10 each for your upcoming purchases at COFFEE FRIEND'S online store. More information will be provided via your personal e-mail address once you've completed your purchase. The offer applies exclusively to natural persons.

Coffee machine CHiATO Luna Style
In Stock
Specifications
Coffee machine uses
Ground coffee
Milk system type
Manual frother (semi-professional)
Does coffee machine prepare hot water?
Yes
Height-adjustable coffee spout
110 mm
Diameter of filter handle basket
52 mm
Water pump pressure
20 BAR
Connection to the mains water supply
No
Coffee machine's screen
None
Control type
Touch buttons
Number of black coffees prepared at once
2
Portion size
Programmable
About Chiato Luna Style CM-801B
The semi-automatic coffee machine CHiATO "Luna Style" invites you to dive deep into the pleasures of a quality cup of coffee! Using this stylish, compact and functional appliance, you'll prepare any espresso-based drink with ease: from the classic ristretto to the trendy flat white. If you catch yourself feeling particularly creative, you'll even be able to give latte art a try: the professional steam wand is perfect for experimenting with milk foam. You can take our word for it: the charming CHiATO "Luna Style" is guaranteed to make you enjoy the brewing process more than ever before.
20-BAR PRESSURE FOR FLAWLESS CREMA
With CHiATO "Luna Style", rich, foamy crema is an absolute guarantee! The coffee machine reaches a pressure of 20 bars during brewing, ensuring flawless consistency of your drink.
INNOVATIVE INSTANTANEOUS HEATING SYSTEM: MAKE YOUR DREAMS COME TRUE IN A FLASH
Thanks to the innovative instantaneous heating system (thermoblock), this coffee machine is ready to fulfil your brewing desires as soon as they arise, all while ensuring thermal stability of both coffee and steam.
PROFESSIONAL STEAM WAND SUITED FOR CREATING LATTE ART
Using CHiATO "Luna Style", you'll whip up gorgeous milk foam for your cappuccinos or lattes with ease and surprising speed. The professional steam wand this appliance is equipped with is also perfect for experimenting with latte art!
ROUND TOUCH-SENSITIVE LED CONTROL PANEL FOR INTUITIVE OPERATION
The coffee machine is easy to use thanks to the round touch-sensitive LED control panel (which, by the way, is the inspiration behind the charming name of this model, "Luna Style"). Just choose one of the four icons—on/off, 1-cup, 2-cup or steam—and discover the joys of simplicity.
PROGRAMMABLE PORTION SIZE FOR MAXIMUM COMFORT
For your convenience, both the 1-cup and the 2-cup buttons are programmable: you can choose how much coffee will be dispensed once you press either of them.
STAINLESS-STEEL PLATE FOR STORING AND HEATING CUPS
On top of the appliance, there's a special stainless-steel cup plate. Not only does it look beautiful, but it also keeps your cups warm for as long as the coffee machine is in operation—and a warm coffee cup is bound to make the drink you're sipping even more delicious!
SIP DELICIOUS COFFEE FROM YOUR FAVOURITE CUP
The removable drip tray lets you use taller cups or glasses too (up to 110-mm-tall without the tray, or up to 85-mm-tall with the tray inserted).
STYLISH AND COMPACT (AS LITTLE AS 12.5-CM-WIDE)
Made from stainless steel, the coffee machine boasts a stylish, modern look. There's no need to worry about lack of space either: at just 12.5-cm-wide, this appliance will find its place in pretty much any kitchen.
INCLUDED IN THE SET
The full set includes a 1-cup coffee filter, a 2-cup coffee filter and a convenient ground coffee measuring scoop with an integrated tamper.
BREW COFFEE USING "NESPRESSO" CAPSULES
A special capsule adapter (purchased separately) will enable you to brew drinks using Nespresso capsules.
***
CHiATO: is it a conversation, or is it a macchiato? We say it's both! A game that starts with a cup of coffee. Creamy, smooth, and with a bit of funk on top.
Prepare coffee the way you imagine it. It's your passion and your creation. Explore the world of coffee and experiment with the right tools. Dive deeper, and create experiences that linger like the aftertaste of your favourite coffee.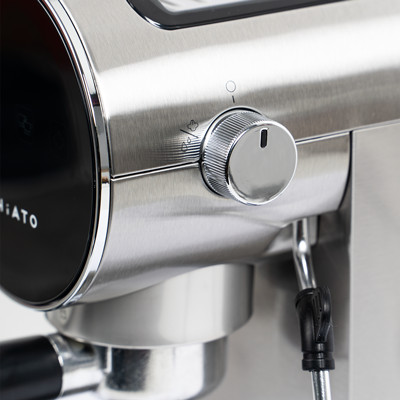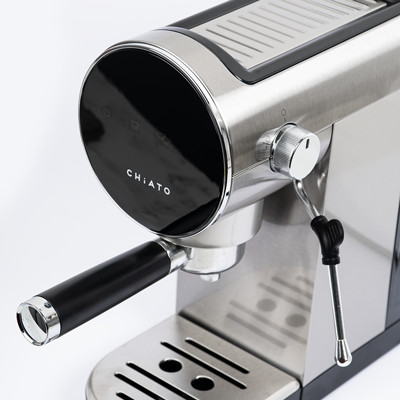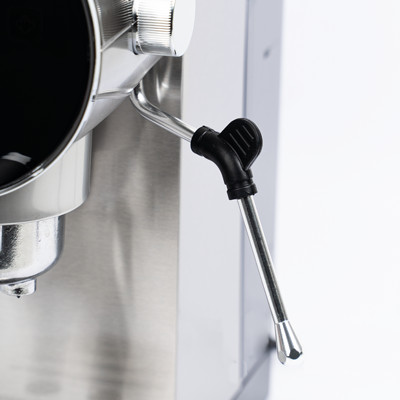 Frequently Asked Questions
Is the steam wand on this machine capable of creating professional milk foam, that is, the kind that can be used for latte art?
Yes, the construction of the steam wand and the power behind this coffee machine will let you whip up some milk foam suited well for latte art.
Is this answer useful?
0
0
Can this machine brew two servings of espresso at once?
Yes, this coffee machine does boast a special feature for brewing two servings at once (there's a dedicated button). In the set, you'll also find filters for either one or two servings.
Is this answer useful?
0
0
What kind of coffee can I use when brewing drinks in this machine?
This coffee machine is designed for finely ground coffee (the sort that's suited well for the espresso brewing method). TIP: coffee is at its best when it's brewed using freshly ground beans, which is why you might want to consider getting a coffee grinder and grinding your coffee beans right before brewing.
By the way, there's a Nespresso adapter you can purchase separately: it'll let you brew drinks using Nespresso capsules too.
Is this answer useful?
0
0
What sort of accessories should I get alongside this coffee machine?
To make your brewing rituals even more fun and convenient, consider getting the following accessories:
1) A special jug for frothing milk. You can find one here.
2) A separate tamper (the full set of this machine includes a plastic coffee scoop with an integrated tamper, but if you're looking to obtain more professional results, a separate, heavier tamper is needed). Look for it here.
3) Maintenance products. We suggest getting a maintenance set that includes everything you could need to keep your machine in great shape.
4) A coffee grinder (unless you have one already). Coffee is always at its best when it's brewed using freshly ground beans. You'll find a range of coffee grinders here.
5) Some delicious coffee. There's lots to choose from over here.
Is this answer useful?
0
0
Can I adjust the serving size so that it matches my cup?
Yes! You can adjust the brewing duration for both the 1-serving and the 2-serving button (meaning the length of time reserved for forcing water through the tamped coffee and into your cup).
Is this answer useful?
0
0
Ask your question about the product
Chiato Luna Style CM-801B reviews