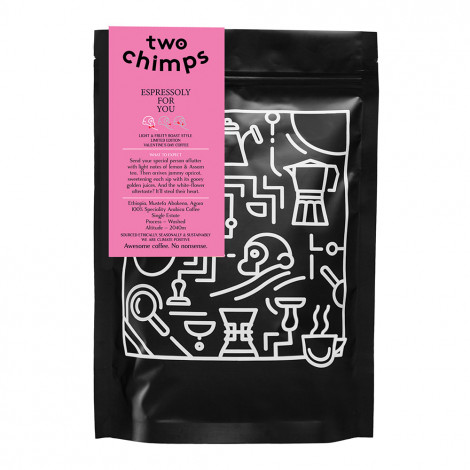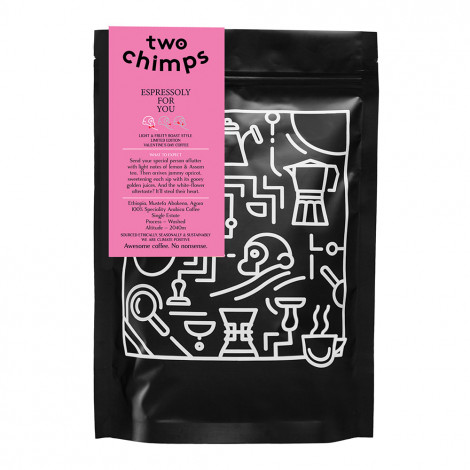 Coffee beans Two Chimps Espressoly for You, 250 g
Delivery takes 3 – 5 days * 90% of orders are delivered in 3 days.
Please note that coffees from different roasters will be sent separately. Delivery in the UK only.

Coffee beans Two Chimps Espressoly for You, 250 g
In Stock
Specifications
Coffee kind
Single-origin
Manufacturer
Two Chimps Coffee
Coffee origin region
Ethiopia
Country of Origin
Ethiopia
Coffee beans type
Specialty coffee
About product
Valentine's Day is around the corner, and you still haven't settled on the right gift for that special someone in your life?.. Well, how about this extraordinary limited-edition specialty coffee from Two Chimps? Greeting your loved one with subtle hints of lemon and black Assam tea, these beans will then surprise them with sweet, indulgent notes of juicy apricots. Finally, once's the cup's been finished, your Valentine will be presented with a light floral aftertaste… It's true what they say, after all: the best way to conquer someone's heart is to first conquer their palate!
All beans in this specialty blend come from the coffee estate managed by Mustefa Abakeno, a smallholder farmer growing coffee near Agaro, a town in Western Ethiopia. Given the fact that Mustefa's farm is located 2040 metres above sea level, it's no surprise that the beans produced by him and his associates are so full of flavour! A small wet mill set up by Mustefa himself and called Beshasha is nowadays used to process beans grown by Mustefa, as well as beans regularly brought in by his neighbouring farmers. Coffees grown on different farms are always stored and dried separately though, to ensure that they retain the coveted label of "single-estate coffee".
With the help of an experienced sourcing company called Falcon Coffees, Mustefa's produce has only been getting better lately. The company provides agronomy training for the farmers it works with, so an agronomist called Harun has been helping Mustefa improve his practices even further. Shade netting has been installed to cover Mustefa's drying beds during the hottest, sunniest hours, cherry selection has been implemented, measures have been taken to start monitoring the drying process closely from beginning to the very end… Care and attention like that can only signal genuine love for the occupation of coffee farming—and, believe us, you can taste this love in every sip!
This coffee is bound to turn out amazing regardless of your chosen brewing method, yet its light roast profile makes it suited particularly well for filter coffee makers and French presses. Feel free to experiment and discover your favourite brewing technique though!
ORIGIN: Agaro, Ethiopia
VARIETY: Mixed
ALTITUDE: 2040 m
PROCESS: Washed
ROAST PROFILE: Light
COFFEE TYPE: 100% specialty single-estate arabica
SCA SCORE: 88.25
FLAVOUR PALETTE: Lemon, Assam tea, Apricots, Floral
Ingredients: roasted coffee beans.
Storage conditions: once opened, keep sealed in a dark, dry and cool place.
Taste guide
Apricot
Floral
Fruit
Lemon
Coffee passport
Coffee origin region
Ethiopia
Coffee kind
Single-origin
Frequently Asked Questions
Ask your question about the product