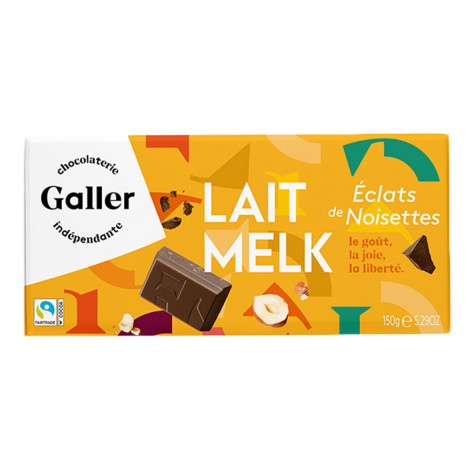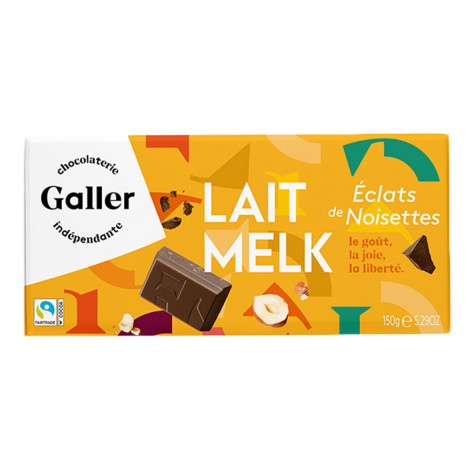 Chocolate Galler Lait Profond Eclats de Noisettes, 150 g
Product is no longer in production.

Chocolate Galler Lait Profond Eclats de Noisettes, 150 g
In Stock
Specifications
Total fat, of which saturated fat
22.3 g
Carbohydrates, of which sugars
41.9 g
Country of Origin
Belgium
Feature
Chocolate with additives
About product
Looking for an everyday treat to enjoy on your own or share with your loves ones? This uniquely sized chocolate tablet is the answer! 150 grams of pure pleasure, 150 grams of wonderful Galler chocolate. Roasted hazelnut chips lend this milk chocolate some extra crunchiness, while the bright-coloured packaging invites you to celebrate life — along with all of its delicious sweetness!
The Galler Chocolaterie was established in Liège (Belgium) in 1976. Ever since then, the famous chocolate artisans have been working day in and day out to cheer up the people all over the world — from regular citizens to the members of the Belgian royal family.
This tablet is made from 100% Fairtrade-certified cocoa.
Ingredients: sugar, whole milk powder, cocoa butter, cocoa paste, hazelnuts (7.4%), emulsifier: soy lecithin, natural vanilla flavouring. Cocoa solids: milk chocolate: no less than 34%. May contain traces of other nuts, eggs and cereals containing gluten.
Storage conditions: store at a temperature below +21 °C.
Frequently Asked Questions
Ask your question about the product