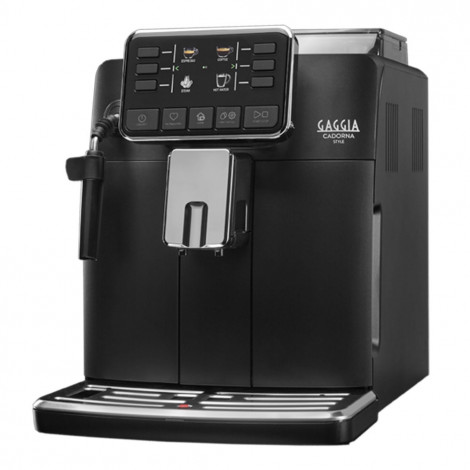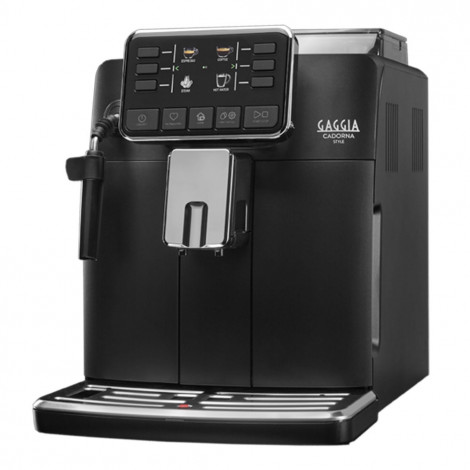 Coffee machine Gaggia "Cadorna Style"
By buying this coffee machine, you become eligible for the VIP membership program and discount vouchers with a total value of £50.
Become a member of COFFEE FRIEND'S VIP program and receive up to 5 vouchers of £10 each for your upcoming purchases at COFFEE FRIEND'S online store. More information will be provided via your personal e-mail address once you've completed your purchase. The offer applies exclusively to natural persons.
This product is out of stock, but you can get in touch to find out when it will be available or get an offer for similar product if interested.
Specifications
Coffee machine uses
Coffee beans, Ground coffee
Milk system type
Manual frother
Does coffee machine prepare hot water?
Yes
Height-adjustable coffee spout
115 mm
Water pump pressure
15 BAR
Plug
EU plug (and certified UK conversion plug is included)
Coffee machine's screen
Colourful
Coffee grounds capacity (portions)
10
Number of black coffees prepared at once
1
Number of coffee with milk recipes prepared at once
1
Milk system cleaning program
Yes
Coffee
Americano, Espresso, Lungo, Ristretto
Preparable recipes
Americano
Espresso
Lungo
Ristretto
About product
In the year of 1950, Gaggia found the fame in trendy coffee bars of Rome, Milan, and London. These coffee bars soon became icons of the '50s lifestyle. During 1977, the company began producing domestic espresso machines, and making coffee machines available for home use. Whether you want the simplicity of bean-to-cup or crave a domestic barista status, Gaggia is there to meet all of your expectations.
Coffee machine Gaggia "Cadorna Style" is made in Italy with deep passion for espresso and the desire to make high-quality coffee available at your fingertips.
6 DRINKS AT THE TOUCH OF A BUTTON
6 beverages just at the touch of a button: ristretto, espresso, espresso lungo, coffee, americano, hot water.
USER FRIENDLY COLOURFUL INTERFACE
Intuitive control, detailed wide screen and all the controls at a glance guides you through drink personalisation, brewing and cleaning functions. Preparing the perfect drink has never been easier.
4 PROFILES
Up to 4 users can create and save unique recipes to their own profiles. Adjustable temperarature, coffee strength, drink size and possibility to choose between ground coffee or coffee beans allows to create drinks perfect for each unique taste.
CLASSIC PANNARELLO
The perfect tool for perfect milky beverages. It dispenses steam to froth milk and prepares water for teas and infusions.
PRE-BREWING AND QUICK HEAT BOILER
A short pause between the first shower of hot water and the actual brewing is made during pre-brewing which provides exclusive body and flavour for every cup of espresso. The boiler can reach high temperatures extra quick due to its light aluminium and stainless steel body. Enjoy hot beverages as soon as you turned on your machine.
CERAMIC GRINDER
Silent, long-lasting and customisable grinder. Choose from 5 settings to customise the flavour of your coffee: from the coarsest grind for a lighter coffee, to the finest for a strong taste.
Frequently Asked Questions
Ask your question about the product