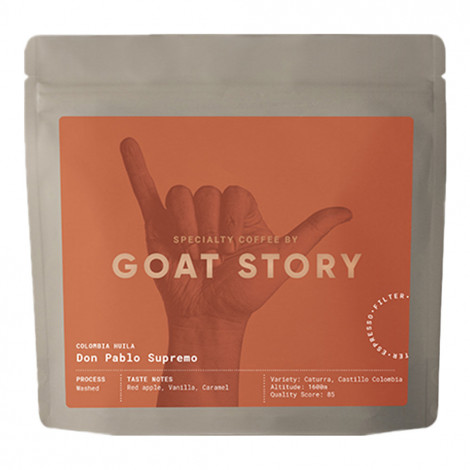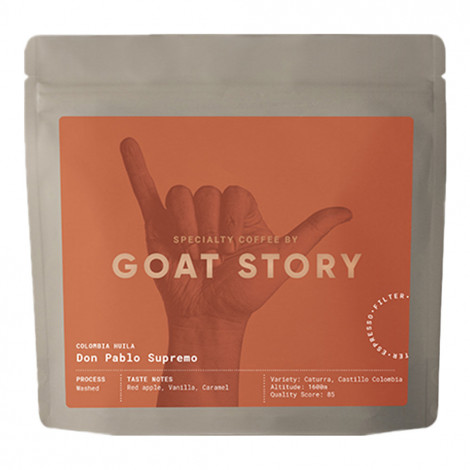 Specialty coffee beans Goat Story "Colombia Don Pablo", 250 g
This product is out of stock, but you can get in touch to find out when it will be available or get an offer for similar product if interested.
Coffee passport
Coffee origin region
Colombia, South America
Coffee kind
Single origin
Roasting level
Medium light
Taste guide
Biscuit
Caramel
Red apple
Vanilla
About product
According to Goat Story themselves, when picking coffee, they're always looking for the perfect flavour — and this Colombian variety definitely has it! Regardless of your preferred brewing method, you can treat yourself to a wonderful melange of red apples, caramel and vanilla. These flavours are sure to make you go and brew another cup before the aftertaste of the previous one even manages to leave your palate!
"Colombia Don Pablo" originates from the Huila region, one of the most renowned coffee regions in the country. The nitrogen-rich volcanic soil and ideal geographical conditions create coffee beans whose quality is pretty much unrivalled. In 2013, the Huila region was officially recognised for the delicate profile of its coffees, as well as its ideal geographical characteristics.
Perfect for: espresso
Also great for: pour-over (filter), French press, Aeropress, cold brew
Due to its exceptional quality and taste, this coffee is marked as Specialty. The SCA has scored it 85 points out of 100.
COUNTRY: Colombia
REGION: Huila
ALTITUDE: 1600 m
VARIETY: Caturra and Castillo Colombia
PROCESS: Washed
ROAST PROFILE: Light medium
TASTING NOTES: Red apples, Vanilla, Caramel, Juicy and Biscuity
Ingredients: roasted coffee beans.
Storage conditions: store in a dry, cool place.
Specifications
| | |
| --- | --- |
| Coffee type | Coffee beans |
| Coffee kind | Single origin |
| Manufacturer | Goat Story |
| Coffee origin region | Colombia, South America |
| Roasting level | Medium light |
| Country of Origin | Slovenia |
| EAN | 3830054683235 |
| Coffee beans type | 100% Arabica, Specialty coffee |
Frequently Asked Questions
Ask your question about the product