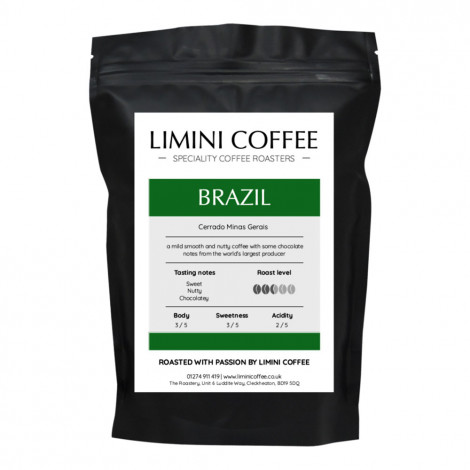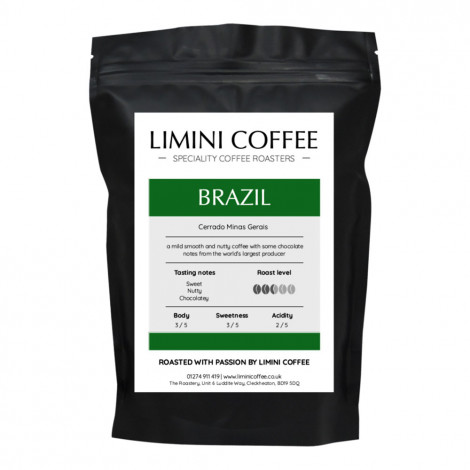 Coffee beans Limini Coffee "Brazil Cerrado Minas Gerais", 1 kg
Delivery takes working 1 - 5 days
Coffee passport
Coffee origin region
Brazil
Coffee kind
Single origin
Taste guide
Chocolate
Nuts
About product
A beautiful coffee from the famous coffee growing region of Cerrado Minas Gerais.
Brazilian coffee is usually a very balanced coffee and is therefore often used as a base for many blends. Limini's Brazilian coffee beans are roasted for a mild and easy-drinking flavour profile. Excellent as a filter coffee so try this in a V60 or Aeropress.

This is a naturally processed coffee of the varieties Mundo Novo, Catuai and Bourbon, which delivers a smooth mild drink with notes of nuts.
Origin: Brazil
Region: Cerrado Minais Gerais
Variety: Mundo Novo, Catuai and Bourbon
Coffee kind: 100% Specialty Arabica
Process: natural
Roasting level: medium
Taste notes: nuts, chocolate
Specifications
| | |
| --- | --- |
| Coffee type | Coffee beans |
| Coffee kind | Single origin |
| Manufacturer | Limini Coffee |
| Coffee origin region | Brazil |
| Roasting level | Medium |
| Coffee beans type | 100% Arabica, Specialty coffee |
Frequently Asked Questions
Ask your question about the product