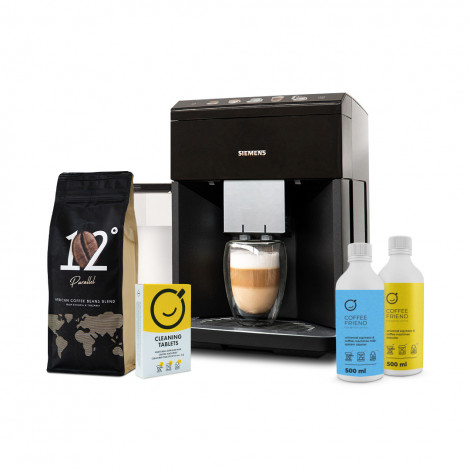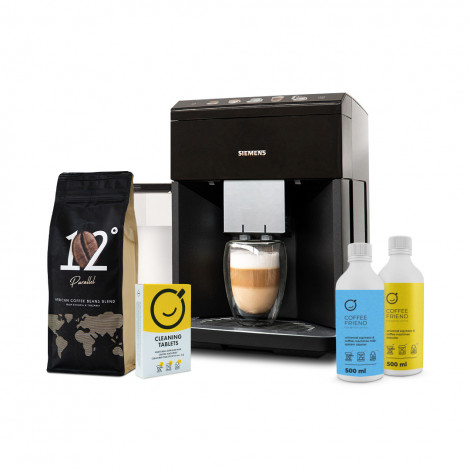 Coffee machine set Siemens "TQ505R09 + Parallel 12 + EcoDescaler + Milk system cleaner + Blister"
Delivery takes 2 - 3 weeks
About product
Coffee machine Siemens "TQ505R09"
The bean-to-cup coffee machine Siemens "TQ505R09" prepares up to 7 coffee drinks just at your fingertips. Due to the integrated One Touch Double Cup mode you can prepare 2 servings of every coffee beverage at once. The iAroma system ensures a perfect taste. Intuitive and simple operation, automatic maintenance programs make it easy to enjoy coffee every day.
7 COFFEE DRINKS AT ONE TOUCH
The coffee machine prepares classic coffee drinks: espresso, black coffee, cappuccino, latte macchiato, and recently very fashionable ones – espresso macchiato, flat white and americano, just at one touch of a button.
ONE TOUCH DOUBLE CUP FUNCTION
Prepare two servings of latte macchiato or two servings of cappuccino at once!
AUTOMATIC AND EASY-TO-CLEAN MILK SYSTEM
The coffee machine has an extremely convenient milk system. The integrated milk container can be comfortably stored in the refrigerator (when it is not in use). The unique automatic milk system rinsing program autoMilk Clean effectively rinses the milk system after each milky beverage prepared. Therefore, it is no longer necessary to do it manually every day.
INTUITIVE CONTROL
Easily understandable touch icons and a colourful screen make it easy to operate the coffee machine.
AROMADOUBLE SHOT FUNCTION
Thanks to the "AromaDouble Shot" function, you can enjoy a cup of strong coffee without any bitterness. Your coffee will be prepared in two steps – double coffee grinding and double coffee preparation will provide the most optimal flavour. This automatic process ensures no unpleasant bitterness in the drink.
iAroma SYSTEM FOR YOUR PERFECT COFFEE
iAroma system combines different elements making them work together, so that your coffee would have the most perfect aroma and taste. High performance, reliable ceramic grinder mildly grinds coffee beans to an even consistency preserving its best aroma and taste qualities. SensoFlow intelligent heater system ensures the optimal and equal beverage temperature. 15 bar pressure for the maximum coffee flavour extraction and density. High quality brewing unit is very quick and easy to clean.
SIMPLE MAINTENANCE
Easy maintenance and quick cleaning are ensured through the easily accessible service door from the front of the coffee machine. Combined Calc'n'Clean program allows to run both maintenance programs at once (thus saving your time).
Coffee beans "Parallel 12", 1 kg
Feel the exotic flavours of Africa inside your cup! "Parallel 12" is a blend of arabica beans grown in Ethiopia and Tanzania regions. Coffee from these regions is characterised by lightness, which is complemented by tropical aromas of berries, fruit, flowers and delicately scented wine.
"Parallel" coffee beans are made from specialty coffee beans that are mixed in a way to maintain the same wonderful taste every time. No added flavours.
The Coffee Belt, or the Bean Belt, is a horizontal strip of land between the Tropics of North and South. Located between 25°N and 25°S, the Coffee Belt surrounds the Equator, passing through Central and South America, Asia, and Africa.
Countries that lie within the belt are characterised by ideal for coffee plantations. Which is why, we created the coffee bean blend from specialty coffee beans by Parallel – for an always perfect coffee taste.
Depending on the continent, we took a subtraction of the highest north and the lowest south parallel of the coffee belt and obtained new coffee blends by Parallels – 12 Ethiopia and Tanzania, 17 India and Papua New Guinea, and 36 El Salvador and Brazil.
Universal descaler for coffee machines "EcoDescaler", 500 ml
EcoDescaler is a descaler for coffee machines made of natural, high-quality ingredients. Descaler not only removes limescale, but also ensures that your coffee machine runs smoothly. Keep in kid-friendly places. If the liquid get's in contact with skin—immediately wash with soap and water. If the liquid get's into your eyes—carefully rinse it out using plain water. Then call the Poison Control and Information Center or visit your doctor (show this package or bottle).
Instructions: 1) Pour 100 ml of EcoDescaler liquid into an empty water tank of your coffee machine; 2) After the first step, pour the additional amount of water which is written in the instructions (if it's not written, pour 1 liter of water); 3) Start the descaling program; 4) After the descaling program, rinse the coffee machine's water tank with clean water and turn on the rinse program.
For 5 descaling operations.
Universal milk system cleaner, 500 ml
Universal coffee machine milk system cleaner. This cleaner is made of natural, highest quality ingredients, and will ensure perfect hygiene in your coffee machine's milk system.
It's recommended to wear protective gloves and glasses, or a mask when using the product. Keep out of reach of children. If the liquid gets in contact with skin—immediately wash with soap and water. If the liquid gets into your eyes—carefully rinse it out with running water and seek medical attention (show this package).
Mix 10 ml of cleaner with 100 ml of water.
Disassemble milk frother and clean it using the mixture or pour the mixture into milk container and press "Steam" button. Repeat the procedure with clean water afterwards.
Universal cleaning tablets "Blister"
In order to fully take advantage of your coffee machine, you should clean it regularly.
INSTRUCTION FOR AUTOMATIC COFFEE MACHINES:
If your coffee machine has an automatic cleaning program:
1. Put the "Blister" tablet into the right place and follow the manufacturer's instructions.
If your coffee machine does not have an automatic cleaning program, but has ground coffee slot:
1. Put the "Blister" tablet into the ground coffee slot and place a cup under the coffee spout.
2. Press the button, which prepares coffee from pre-ground beans.
3. When half of the cup is filled with water, turn the machine off and give some time for the cleaning tablet to do its magic.
4. Turn the machine on and finish coffee making process.
5. Repeat this process at least three times, but without the extra cleaning tablet. It's crucial to clean the system from chemicals properly.
6. Take out the coffee making mechanism and carefully rinse it with clean water.
7. Before using the machine, make two cups of coffee. Choose the preparation method from pre-ground beans, but don't use the actual pre-ground coffee.
8. When you want to clean the drip tray, put the "Blister" tablet into the tray, fill two thirds of it with hot water, wait 30 minutes and carefully clean it.
If your machine does not make coffee from pre-ground beans:
1. Put "Blister" cleaning tablet in the cup and fill it with hot water.
2. Take off coffee filter holder and with the mixture carefully wash the holder and its spouts as well as coffee filters.
3. Give some time or the mixture to do its magic –leave it on for at least 5 minutes. Later repeat the procedure at least 3 times.
4. Carefully rinse all washed mechanisms with clean water and put them all back into place.
5. When you want to clean the drip tray, put the "Blister" tablet into the tray, fill two thirds of it with hot water, wait 30 minutes and carefully clean it.
For the first cup of coffee
Delicious coffees for your new coffee machine! Here are some coffees that will go well with both black and milk-based coffee drinks.
Specifications
| | |
| --- | --- |
| Type | Automatic |
| Manufacturer | Siemens |
| Color | Black |
| Warranty | 24 months |
| Coffee machine uses | Coffee beans, Ground coffee |
| Milk system type | Integrated milk tank |
| Type of coffee grinder | Ceramic |
| Height-adjustable coffee spout | 11 mm |
| Power | 1500 W |
| Water pump pressure | 15 BAR |
| Country of Origin | Slovenia |
| Milk container | 0.5 l |
| Plug | EU plug (and certified UK conversion plug is included) |
| | |
| --- | --- |
| Coffee machine's screen | Colourful |
| Coffee machine's menu language | Czech, Danish, Dutch, english, finnish, French, Italian, polish, russian, Slovakian, Spanish, Swedish |
| Control type | Touch buttons |
| | |
| --- | --- |
| Water tank | 1.7 l |
| Coffee bean tank | 270 g |
| Coffee grounds capacity (portions) | 8 |
| | |
| --- | --- |
| Number of black coffees prepared at once | 2 |
| Number of coffee with milk recipes prepared at once | 2 |
| Adjustable grinding level | 3 |
| Portion size | Programmable |
| Cup lighting | Yes |
| Coffee strength (levels) | 5 |
| Coffee temperature (levels) | 3 |
| | |
| --- | --- |
| Descaling program | Yes |
| Milk system cleaning program | Yes |
| Cleaning program | Yes |
| Automatic rinsing | Yes |
| | |
| --- | --- |
| Depth | 42.8 cm |
| Height | 37.3 cm |
| Width | 24.9 cm |
| | |
| --- | --- |
| Other | Hot water, Milk foam |
| Coffee | Americano, Caffè crema, Cappuccino, Espresso, Espresso Macchiato, Flat white, Latte Macchiato |
| | |
| --- | --- |
| Package contains | (*The manufacturer reserves the right to change the items included in the set without prior notice*), Milk container, Water hardness test strip |
For coffee machine's maintenance
Proper care can increase the lifespan of your coffee machine. You will need these maintenance products to keep your machine preparing the best coffee.
Coffee machine's extras
These accessories will make coffee preparation process even more convenient and pleasant, and prepared coffee will surely be tastier.
Frequently Asked Questions
Ask your question about the product