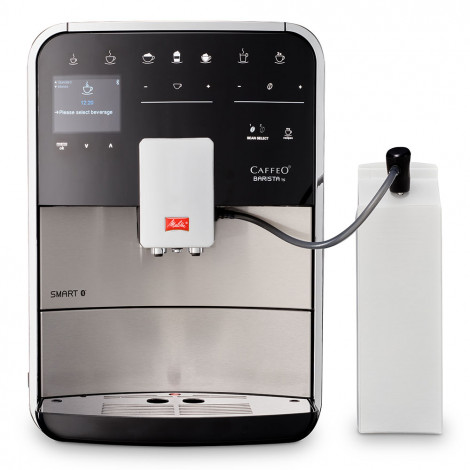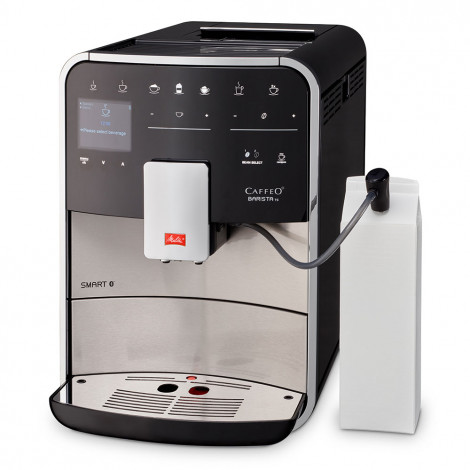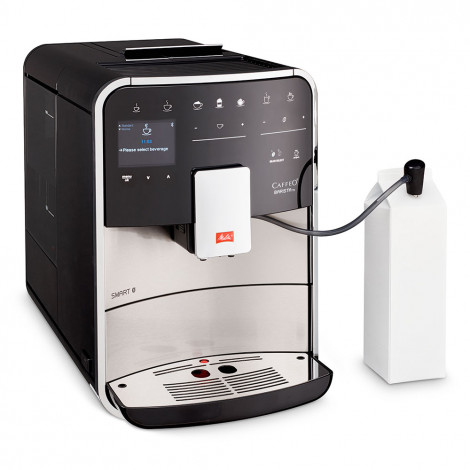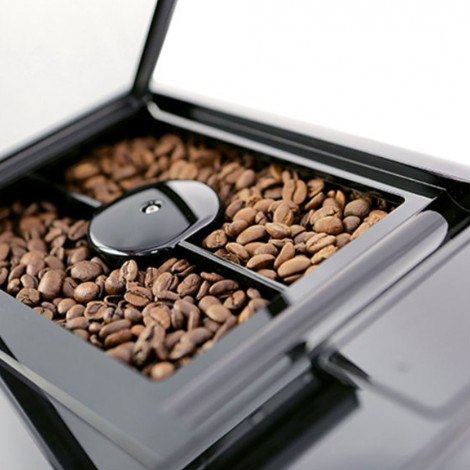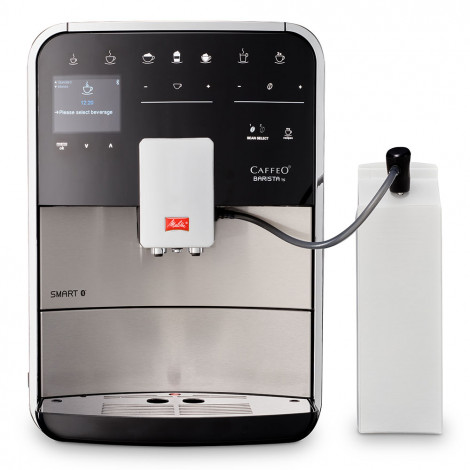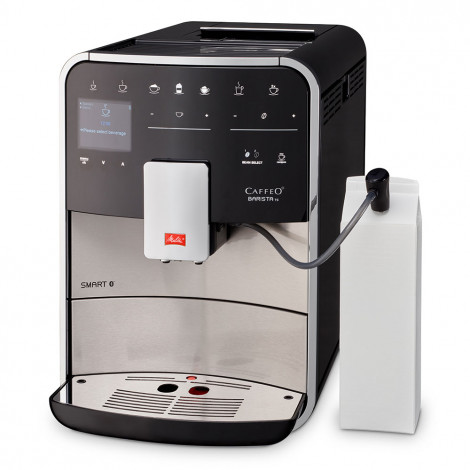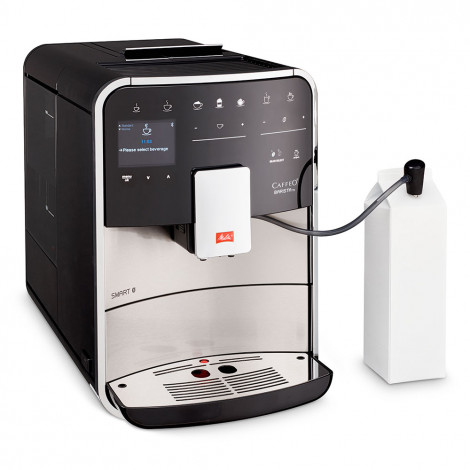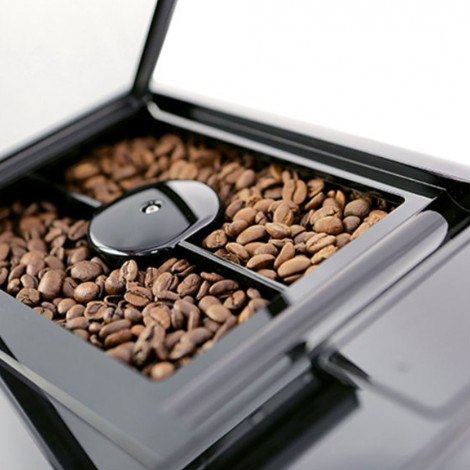 Coffee machine Melitta "F86/0-400 Barista TS Smart Plus"
By buying this coffee machine, you become eligible for the VIP membership program and discount vouchers with a total value of £50.
Become a member of COFFEE FRIEND'S VIP program and receive up to 5 vouchers of £10 each for your upcoming purchases at COFFEE FRIEND'S online store. More information will be provided via your personal e-mail address once you've completed your purchase. The offer applies exclusively to natural persons.
This product is out of stock, but you can get in touch to find out when it will be available or get an offer for similar product if interested.
About product
The bean-to-cup coffee machine Melitta "Barista TS Smart Plus" is smart, extremely functional and capable of preparing as many as 21 different coffee drinks. You can enjoy two milk-based beverages at once. Two separate bean containers make it possible to use two types of coffee beans (you can even program certain recipes to use a specific bean variety). 8 user profiles allow you to create 8 individual menus. A convenient control screen, the ability to operate the coffee machine via a smart app and automated maintenance programs make using this coffee machine a real pleasure. The preparation of milk-based drinks is now even easier thanks to the new Melitta milk lance, which can be immersed straight in a milk carton and left there for future use. Once you take the milk out of the fridge, all that's left for you to do is connecting the tube to the lance. There's no need to worry about maintaining the milk container anymore!
21 COFFEE RECIPES WITH A SINGLE TOUCH
With the touch of the desired recipe icon, you'll be able to prepare 4 classic coffee drinks: espresso, black coffee, cappuccino and latte macchiato. Moreover, the additional drink menu includes 17 trendy beverages: from americano to flat white or espresso doppio and even such exclusive recipes like red eye, black eye or dead eye.
OPERATION VIA THE MELITTA® CONNECT SMART APP
Control the coffee machine directly from your smart device using the Melitta® Connect smart app. You'll be able to program and save individual settings, as well as adjust coffee drink recipes. Training programs will assist you when performing maintenance programs.
8 USER PROFILES
As many as eight different users will be able to create their own separate menus, as well as program coffee drink recipes to their liking and save them.
TWO BEAN CONTAINERS FOR DIFFERENT TYPES OF BEANS
The coffee bean container is divided into two sections, so two different types of beans can be used. You can even program certain recipes to use a specific bean variety!
TWO PORTIONS OF MILK-BASED DRINKS AT ONCE
In addition to brewing two servings of black coffee at once, this coffee machine is able to prepare two portions of your chosen milk-based beverage simultaneously.
AUTHENTIC COFFEE PREPARATION PROCESS
Coffee drinks are prepared according to authentic recipes, adding ingredients in a certain order. For example, when preparing latte macchiato, espresso is added after milk and milk foam, while in the case of cappuccino, this order is reversed.
SPECIAL FEATURE FOR FANS OF INTENSE COFFEE
Before brewing, select the IntenseAroma function to make the prepared coffee even thicker and stronger (this is done without changing the amount of ground coffee or water).
COLOUR DISPLAY
Thanks to the colour display and clear touch icons, the coffee machine is extremely easy to operate.
WHISPER-QUIET COFFEE GRINDER
Whether it's early morning or late evening, you can use this coffee machine without worrying about the sound of grinding possibly waking your loved ones up. This is one of the first coffee machines on the market to receive the Quiet Mark award.
EASY MAINTENANCE
Automatic rinsing, cleaning and descaling programs help ensure perfect hygiene. There's a possibility of using a water filter as well (if you replace it regularly, you'll only have to descale your coffee machine once or twice a year).
MELITTA MILK LANCE FOR MORE CONVENIENT PREPARATION OF MILK-BASED DRINKS
Using the new Melitta milk lance, you'll be able to prepare the perfect milk foam of an ideal temperature with even more ease. Immerse the lance in a milk carton, connect the milk tube and prepare the desired drink. This tool is extremely practical: you can leave the lance inside the carton and use the milk for other purposes without even being aware of the lance hidden inside the packet! Once you're ready to make drinks, you can connect the lance to the tube and start frothing milk foam in mere seconds. Not only is this extremely convenient (there won't be any additional dishes for you to wash), but it also improves the quality of your milk foam.
Preparable recipes
Americano
Cappuccino
Double espresso
Espresso
Espresso Macchiato
Flat white
Latte
Latte Macchiato
Long black
Lungo
Ristretto
Caffè crema
Americano extra shot
Café au lait
Double ristretto
Latte Macchiato triple shot
Latte macchiato extra shot
Dead Eye
Red Eye
Black Eye
Specifications
| | |
| --- | --- |
| Type | Automatic |
| Manufacturer | Melitta |
| Warranty | 24 months |
| Coffee machine uses | Coffee beans, Ground coffee |
| Milk system type | Automatic milk pipe system |
| Burr type | Steel |
| Does coffee machine prepare hot water? | Yes |
| Does coffee machine prepare hot milk? | Yes |
| User-created recipes | 21 |
| Height-adjustable coffee spout | 140 mm |
| Power | 1450 W |
| Water pump pressure | 15 BAR |
| Country of Origin | Germany |
| EAN | 4006508224029 |
| Plug | EU plug (and certified UK conversion plug is included) |
| Second coffee bean tank | 135 g |
| | |
| --- | --- |
| Coffee machine's screen | Colourful |
| Coffee machine's menu language | Danish, Dutch, english, estonian, finnish, French, german, Italian, Korean, latvian, lithuanian, Norwegian, polish, russian, Spanish, Swedish, Turkish, Ukrainian |
| Control type | Touch buttons |
| Smart app | Yes |
| | |
| --- | --- |
| Water tank | 1.8 l |
| Coffee bean tank | 135 g |
| Coffee grounds capacity (portions) | 16 |
| | |
| --- | --- |
| Number of black coffees prepared at once | 2 |
| Number of coffee with milk recipes prepared at once | 2 |
| Adjustable grinding level | 5 |
| Portion size | Programmable |
| Adjustable milk foam volume | Yes |
| Saved user profiles | 8 |
| Cup lighting | Yes |
| Coffee strength (levels) | 5 |
| Coffee temperature (levels) | 3 |
| | |
| --- | --- |
| Descaling program | Yes |
| Milk system cleaning program | Yes |
| Cleaning program | Yes |
| Automatic rinsing | Yes |
| | |
| --- | --- |
| Depth | 467 mm |
| Height | 372 mm |
| Width | 259 mm |
| Weight | 10.8 kg |
| | |
| --- | --- |
| Other | Hot milk, Hot water, Milk foam |
| Coffee | Americano, Americano extra shot, Black Eye, Café au lait, Caffè crema, Cappuccino, Dead Eye, Double caffè crema, Double espresso, Double ristretto, Espresso, Espresso Macchiato, Flat white, Latte, Latte Macchiato, Latte macchiato extra shot, Latte Macchiato triple shot, Long black, Lungo, Red Eye, Ristretto |
| | |
| --- | --- |
| Package contains | (*The manufacturer reserves the right to change the items included in the set without prior notice*), Cleaning tablets, Ground coffee dosing spoon, Milk lance, Milk system cleaner, Water filter, Water hardness test strip |
Frequently Asked Questions
Ask your question about the product