Coffee machine Delonghi "Primadonna S Evo ECAM 510.55.M"
Delivery takes 2 - 3 weeks
About product
The bean-to-cup coffee machine De'Longhi "PrimaDonna S Evo ECAM 510.55.M" with a classic design and metal body freshly grinds coffee beans each time and prepares up tp 13 coffee drinks at the touch of a button. Use the My Menu feature to create and save your own separate menu for all drinks to your liking. Thanks to the LCD screen, touch-sensitive icons and control via the smart app, it is a real pleasure to use the coffee machine. Simple maintenance will allow you to enjoy coffee quickly and easily.
13 COFFEE BEVERAGES AT ONE TOUCH
Prepare not only the most popular traditional beverages like espresso, black coffee, cappuccino, latte or latte machiatto, but enjoy such recently fashionable recipes as: flat white, cappuccino doppio or slow-brewed long coffee. Adjust the settings for each coffee beverage to your liking: change the strength of coffee and the portion size (amount of milk and coffee). You can change the temperature of the drinks in the general menu.
"MY MENU" FUNCTION
By pressing the "My Menu" button, program all drinks according to your individual taste (it's like a separate individual menu). Change the coffee strength and portion size (amount of coffee and milk).
CONTROL VIA SMART APP
Coffee machine can also be controlled using the De'Longhi "Coffee Link" application. Create drinks and adjust their settings directly from your smart device. The smart app provides the user with tips and suggestions for maintaining the coffee machine.
LCD SCREEN AND TOUCH ICONS
Using a LCD screen and touch-sensitive icons, you can conveniently control your coffee machine.
19 BAR PRESSURE
This coffee machine uses a pressure of 19 bar to prepare coffee beverages, so that the prepared coffee has much more aroma and body.
AUTOMATIC MILK SYSTEM "LATTECREMA"
Dur to the separate milk preparation system, the coffee machine is always ready to make the perfect milk foam. The switch on the integrated milk container allows you to select the desired consistency of milk. The "Clean" function ensures the cleanliness of the milk system. When the milk container is not in use, store it comfortably in the refrigerator. All parts are dishwasher safe.
THERMAL MILK CONTAINER
One of the secrets for a perfect milk froth is cold milk. In the new double-walled thermal milk container, the milk stays cold longer.
SIMPLE MAINTENANCE
The automatic descaling program, the possibility to use a water filter, rinsing programms for the systems of the coffee brewing and milk preparation, the removable coffee brewing unit ensure the cleanliness of the coffee machine and allows to drink always only a delicious coffee.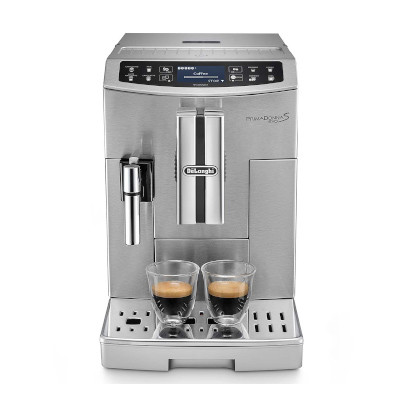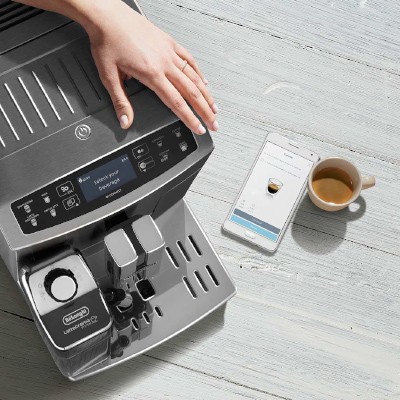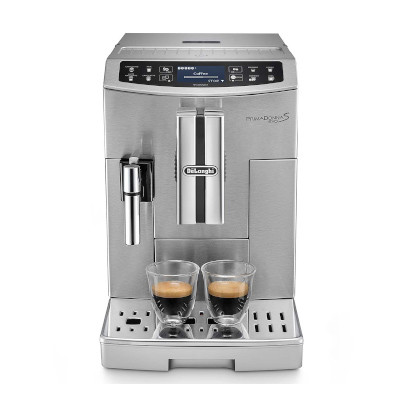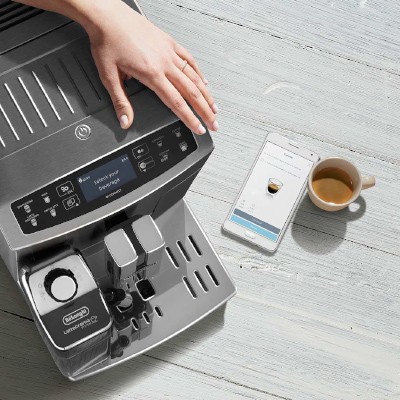 Specifications
| | |
| --- | --- |
| Type | Automatic |
| Manufacturer | De'Longhi |
| Color | Stainless steel |
| Warranty | 24 months |
| Coffee machine uses | Coffee beans, Ground coffee |
| Milk system type | Integrated milk tank |
| Type of coffee grinder | Steel |
| User-created recipes | 12 |
| Height-adjustable coffee spout | 142 mm |
| Power (EU and UK conversion plug) | 1450 W |
| Water pump pressure | 19 BAR |
| Country of Origin | Italy |
| EAN | 8004399331679 |
| | |
| --- | --- |
| Coffee machine's screen | Black/White |
| Coffee machine's menu language | Czech, Dutch, english, finnish, French, german, Italian, Norwegian, polish, russian, Swedish, Ukrainian |
| Control type | Touch buttons |
| Smart app | Yes |
| | |
| --- | --- |
| Water tank | 1.8 l |
| Coffee bean tank | 250 g |
| Coffee grounds capacity (portions) | 14 |
| | |
| --- | --- |
| Number of black coffees prepared at once | 2 |
| Number of coffee with milk recipes prepared at once | 1 |
| Adjustable grinding level | 13 |
| Portion size | Programmable |
| Adjustable milk foam volume | Yes |
| Cup lighting | Yes |
| Coffee strength (levels) | 5 |
| Coffee temperature (levels) | 4 |
| | |
| --- | --- |
| Descaling program | Yes |
| Milk system cleaning program | Yes |
| Automatic rinsing | Yes |
| | |
| --- | --- |
| Depth | 47 cm |
| Height | 35 cm |
| Width | 23.8 cm |
| Weight | 11.5 kg |
| | |
| --- | --- |
| Other | Hot milk, Hot water, Milk foam, Steam |
| Coffee | Black coffee, Cappuccino, Cappuccino doppio, Cappuccino mix, Double espresso, Espresso, Espresso Macchiato, Flat white, Latte, Latte Macchiato, Long black, Lungo, Ristretto |
| | |
| --- | --- |
| Package contains | Cleaning brush, Descaling liquid, Ground coffee dosing spoon, Hot water tap / manual milk frother, Milk container, Water filter, Water hardness test strip |
Frequently Asked Questions
Coffee machine signals that the grounds container is full, although it is empty.
This happens when the grounds container was emptied out when coffee machine is switched off. The system doesn't recognise that the grounds were thrown away. Now, when the appliance is switched on, remove the drip tray together with the grounds container and reinsert it.
Is this answer useful?
2
0
How to regulate the grinding level?
You can find the grinding adjustment knob in the bean container.
For the courser grinding level: while the grinder is in motion, dial it by one notch towards number 7 (at once only by one notch).
For the finer grinding level: whilr the grinder is in motion, dial it by one notch towards number 1 (at once only by one notch).
It is very important to regulate the grinder only when the grinder is grinding, otherwise you can damage the grinding mechanism. Result of your adjustment can be felt only after a few drinks.
Is this answer useful?
1
0
The coffee machine doesn't froth a good milk froth anymore.
1. Make sure that milk you are using is fresh and at refrigerator temperature (when the milk is finished and you are pouring the new one, please clean the milk container throughly before adding the new milk).
2. Clean the milk system. Perform milk system cleaning program using milk system cleaning liquid (see user manual). Disassemble the milk system and clean it manually. If needed, soak all parts in the solution with the milk system cleaning liquid.
Is this answer useful?
0
0
Ask your question about the product