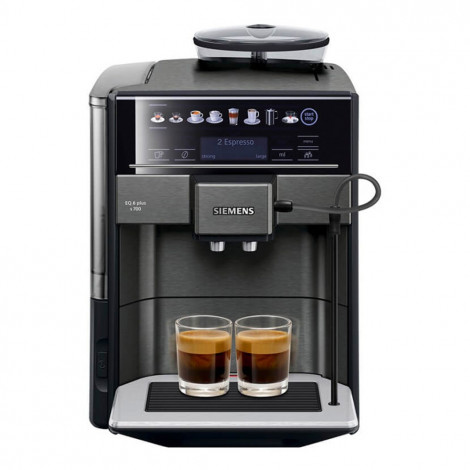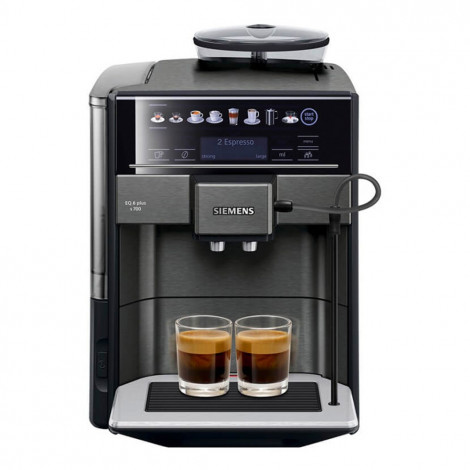 Coffee machine Siemens "TE657319RW"
This product is out of stock, but you can get in touch to find out when it will be available or get an offer for similar product if interested.
About product
The bean-to-cup coffee machine Siemens "EQ6 Plus s700" prepares all most popular coffee drinks just at your fingertips. Moreover, it prepares americano, cortado and flat white. Due to the integrated One Touch Double Cup mode you can prepare 2 servings of every coffee beverage at once. The iAroma system ensures perfect taste. 4 users can save their own menu with their individual settings. Intuitive and simple operation, automatic maintenance programs make it easy to enjoy coffee every day.
9 COFFEE DRINKS AT ONE TOUCH
The coffee machine prepares espresso, black coffee, americano, cortado, cappuccino, flat white, latte macchiato, espresso macchiato and latte just at one touch.
ONE TOUCH DOUBLE CUP FUNCTION
Prepare two servings of latte macchiato or two servings of cappuccino at once!
4 USER PROFILES
4 users can program and save their own individual settings for different recipes.
AUTOMATIC AND EASY-TO-CLEAN MILK SYSTEM
The coffee machine has an extremely convenient milk system with an integrated milk tube that can be inserted directly into the milk package. The automatic milk system rinsing program autoMilk Clean effectively rinses the milk system after each beverage with milk.
INTUITIVE CONTROL
Easily understandable touch icons and a text screen make it easy to operate the coffee machine.
19 BAR PRESSURE
When preparing coffee, this coffee machine uses increased pressure, so prepared coffee is even more aromatic and dense.
AROMADOUBLE SHOT FUNCTION
Thanks to the "AromaDouble Shot" function, you can enjoy a cup of strong coffee without any bitterness. Your coffee will be prepared in two steps – double coffee grinding and double coffee preparation will provide the most optimal coffee flavour. This automatic process ensures no unpleasant bitterness in the drink.
iAroma SYSTEM FOR YOUR PERFECT COFFEE
iAroma system combines different elements making them work together, so that your coffee would have the most perfect aroma and taste. High performance, reliable ceramic grinder mildly grinds coffee beans to an even consistency preserving the best aroma and taste qualities. SensoFlow intelligent heater system ensures the optimal and equal beverage temperature. 19 bar pressure for the maximum coffee flavour extraction and density. High quality brewing unit is very quick and easy to clean.
SIMPLE MAINTENANCE
Integrated automatic maintenance programs allow you to simply enjoy your coffee.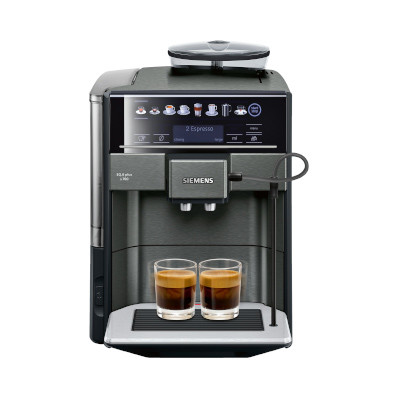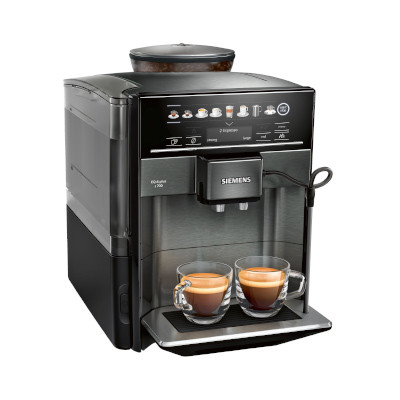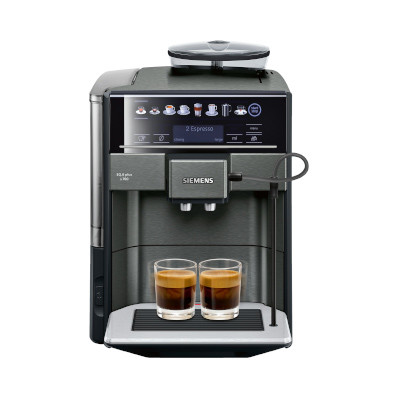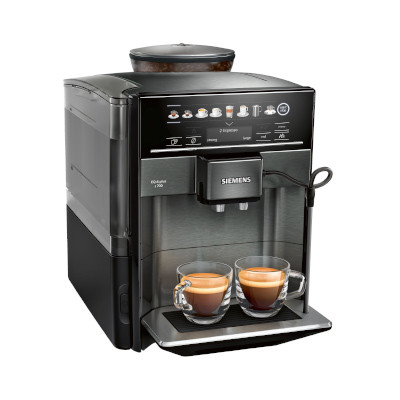 Preparable recipes
Americano
Black coffee
Cappuccino
Espresso
Espresso Macchiato
Flat white
Latte
Latte Macchiato
Cortado
For the first cup of coffee
Delicious coffees for your new coffee machine! Here are some coffees that will go well with both black and milk-based coffee drinks.
Specifications
| | |
| --- | --- |
| Type | Automatic |
| Manufacturer | Siemens |
| Warranty | 24 months |
| Coffee machine uses | Coffee beans, Ground coffee |
| Milk system type | Automatic milk pipe system |
| Type of coffee grinder | Ceramic |
| User-created recipes | 4 |
| Height-adjustable coffee spout | 14 cm |
| Power | 1500 W |
| Water pump pressure | 19 BAR |
| Country of Origin | Slovenia |
| EAN | 4242003806371 |
| Plug | EU plug (and certified UK conversion plug is included) |
| | |
| --- | --- |
| Coffee machine's screen | Colourful |
| Coffee machine's menu language | Danish, Dutch, english, finnish, French, Italian, polish, russian, Spanish, Swedish |
| Control type | Touch buttons |
| | |
| --- | --- |
| Water tank | 1.7 l |
| Coffee bean tank | 300 g |
| Coffee grounds capacity (portions) | 10 |
| | |
| --- | --- |
| Number of black coffees prepared at once | 2 |
| Number of coffee with milk recipes prepared at once | 2 |
| Adjustable grinding level | 6 |
| Portion size | Programmable |
| Saved user profiles | 4 |
| Cup lighting | Yes |
| Coffee strength (levels) | 7 |
| Coffee temperature (levels) | 3 |
| | |
| --- | --- |
| Descaling program | Yes |
| Milk system cleaning program | Yes |
| Cleaning program | Yes |
| Automatic rinsing | Yes |
| | |
| --- | --- |
| Depth | 46.5 cm |
| Height | 38.5 cm |
| Width | 28 cm |
| Weight | 9.6 kg |
| | |
| --- | --- |
| Other | Hot milk, Hot water, Milk foam |
| Coffee | Americano, Black coffee, Cappuccino, Cortado, Espresso, Espresso Macchiato, Flat white, Latte, Latte Macchiato |
| | |
| --- | --- |
| Package contains | (*The manufacturer reserves the right to change the items included in the set without prior notice*), Ground coffee dosing spoon, Milk system tube, Water filter, Water hardness test strip |
For coffee machine's maintenance
Proper care can increase the lifespan of your coffee machine. You will need these maintenance products to keep your machine preparing the best coffee.
Coffee machine's extras
These accessories will make coffee preparation process even more convenient and pleasant, and prepared coffee will surely be tastier.
Frequently Asked Questions
After removing the drip tray and before putting it back, water appeared inside the coffee machine.
The drip tray may have been removed too early. After preparing the last drink, wait a few seconds before removing the drip tray.
Is this answer useful?
4
0
The coffee machine prepares hot milk but is not frothing a good milk foam.
1. Rinse the milk system and clean it thoroughly by hand (see user manual).
2. Check that all parts of the milk system are connected correctly.
3. Make sure there is enough milk in the milk container or milk package.
4. Use only chilled milk of suitable fat content (3-3.5%).
5. If the first steps did not work, perform an additional descaling program. The limescale residue may have reduced water/steam supply (this has a direct effect on milk frothing).
Is this answer useful?
3
0
The coffee brewing unit can not be removed.
Possibly the brewing unit has not fully returned to its position where it could be removed. Switch the coffee machine off and on again (via the button on the back of the coffee machine).
Is this answer useful?
1
0
Ask your question about the product