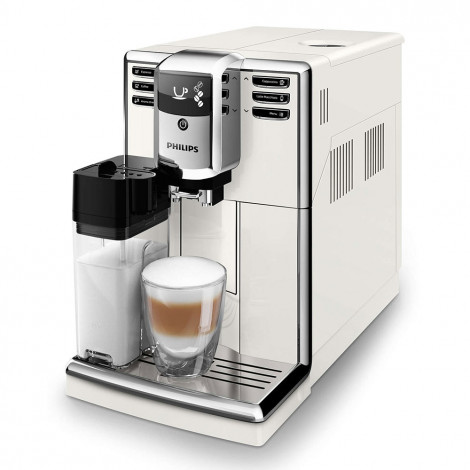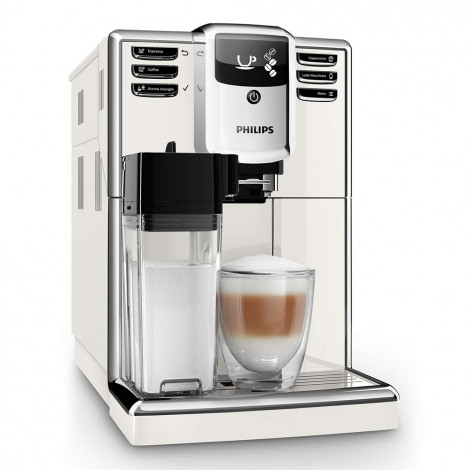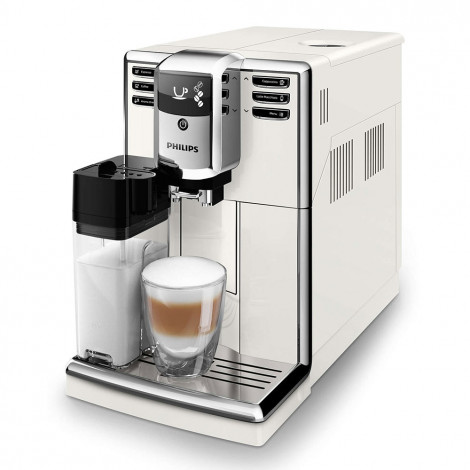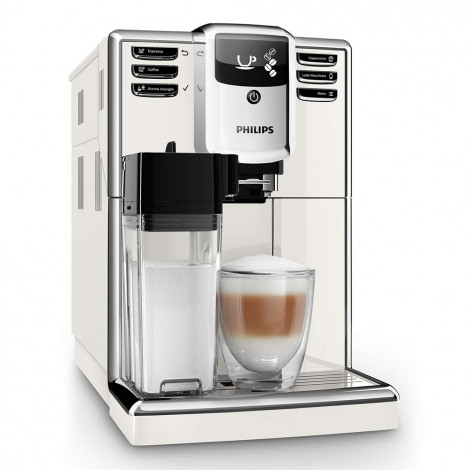 Coffee machine Philips "Series 5000 OTC EP5361/10"
By buying this coffee machine, you become eligible for the VIP membership program and discount vouchers with a total value of £50.
Become a member of COFFEE FRIEND'S VIP program and receive up to 5 vouchers of £10 each for your upcoming purchases at COFFEE FRIEND'S online store. More information will be provided via your personal e-mail address once you've completed your purchase. The offer applies exclusively to natural persons.
Product is no longer in production.
Specifications
Coffee machine uses
Coffee beans, Ground coffee
Milk system type
Integrated milk tank
Adjustable beverage amount
Yes
Does coffee machine prepare hot water?
Yes
Does coffee machine prepare hot milk?
Yes
Adjustable coffee strength
Yes
Height-adjustable coffee spout
150 mm
Water pump pressure
15 BAR
Country of Origin
European Union
Plug
EU plug (and certified UK conversion plug is included)
Coffee machine's screen
Black/White
Coffee grounds capacity (portions)
15
Number of black coffees prepared at once
2
Number of coffee with milk recipes prepared at once
1
Other
Hot water, Milk foam
Coffee
Americano, Black coffee, Cappuccino, Espresso, Flat white, Latte Macchiato
Preparable recipes
Americano
Black coffee
Cappuccino
Espresso
Flat white
Latte Macchiato
About product
Philips "Series 5000" is a fully automatic espresso machine which allows you to make up to 5 different coffee drinks with a velvety milk foam of your chosen temperature. The convenient and easy to use coffee machine allows you to control the intensity, milk and coffee volume, and temperature of the drink – all of this to create an individual experience.
Enjoy 5 different coffee drinks, including Cappuccino. With the help of lightweight aluminium and stainless steel Thermoblock, an ideal cup of coffee at the right temperature will be guaranteed everytime.
The new "Aroma" protective seals will preserve your favourite coffee bean aroma for a longer time – fresh taste everyday.
Personalize your coffee volume with a memory function that allows you to enjoy your coffee coffee just the way you like it.
Enjoy the velvety milk foam that is whipped twice and served at a chosen temperature. Milk foam is made in a special milk container, which can be stored inside the fridge to preserve freshness for a longer time.
100% CERAMIC GRINDER
100% ceramic grinder is strong and durable. It will grind your coffee beans precisely and make sure you're left with the most delicious coffee drink. Unlike grinders from other materials, a ceramic one saves beans from over roasting. This grinder also has even 5 different grinding settings which will allow you to grind favourite coffee beans from the finest grind for impeccable espresso to coarse grind for a lighter coffee drink. Preparing coffee according to individual preferences has never been so easy!
EASY CARE
"AquaClean" water filter gives you a chance to use all of your automatic coffee machine's possibilities. This filter allows you to prepare up to 5000 cups of coffee without descaling. When "AquaClean" filter is integrated, notes about descaling are deactivated automatically. It's recommended to change the filter every 3 months.
You will be able to clean the milk system quickly and thoroughly after every cup of coffee with the one-touch cleaning system.
Easily removable brewing unit allows you to clean it under the tap – quick and convenient.
Frequently Asked Questions
Ask your question about the product