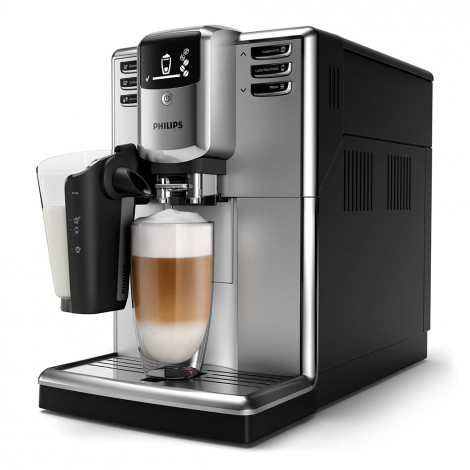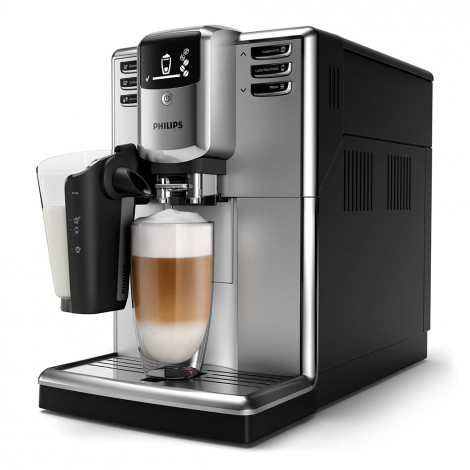 Coffee machine Philips "Series 5000 LatteGo EP5333/10"
By buying this coffee machine, you become eligible for the VIP membership program and discount vouchers with a total value of £50.
Become a member of COFFEE FRIEND'S VIP program and receive up to 5 vouchers of £10 each for your upcoming purchases at COFFEE FRIEND'S online store. More information will be provided via your personal e-mail address once you've completed your purchase. The offer applies exclusively to natural persons.
Product is no longer in production.
Specifications
Coffee machine uses
Coffee beans, Ground coffee
Milk system type
Integrated milk tank
Adjustable beverage amount
Yes
Does coffee machine prepare hot water?
Yes
Does coffee machine prepare hot milk?
Yes
Adjustable coffee strength
Yes
Height-adjustable coffee spout
150 mm
Water pump pressure
15 BAR
Country of Origin
European Union
Plug
EU plug (and certified UK conversion plug is included)
Coffee machine's screen
Black/White
Coffee grounds capacity (portions)
15
Number of black coffees prepared at once
2
Number of coffee with milk recipes prepared at once
1
Other
Hot water, Milk foam
Coffee
Americano, Black coffee, Café au lait, Cappuccino, Espresso, Flat white, Latte Macchiato
Preparable recipes
Americano
Black coffee
Cappuccino
Espresso
Flat white
Latte Macchiato
Café au lait
About product
New and comfortable design of Philips coffee machine with "LatteGo" milk system will let you enjoy your favourite coffee with only a press of a button. Maintenance will become a pleasure, since this coffee machine has exceptionally easy cleaning method.
Make aromatic coffee beverages like Espresso, Black Coffee, Cappuccino and Latte Macchiato with a single touch of a button. "LatteGo" system allows you to easily top any of your drinks with silky smooth milk froth. The system is easy to set up and can be cleaned in less than 15 seconds.
A VARIETY OF COFFEE BEVERAGES
Customized to milk-based coffee fanatics, Philips coffee machine will let you enjoy 8 beverages at your fingertips, including Café au lait. This coffee machine will also let you individually adjust and save your favourite coffee drinks. Adjust the volume, 5 aroma strength and 5 grinder settings to make your coffee more special. Use the new "LatteGo" frother to create a silky smooth milk froth with high speed technology.
Whether you crave an espresso, regular coffee or any milk-based drinks, your Super-automatic machine delivers a perfect result straight in your cup, with no hassle and in no time! 8 beverages: Espresso, Hot water, Cappuccino, Coffee, Milk froth, Latte Macchiato, Café' au Lait, Americano. Enjoy a wide variety of drinks to suit any occasion.
UNIQUE DESIGN MILK STORAGE
"LatteGo" milk storage for easy and convenient storage in the fridge or on the counter. High speed frothing chamber with 2 parts, no-pipe milk system. 2 part milk system has no pipes or hidden parts and can be cleaned in as little as 15 seconds under tap!
The "LatteGo" frother mixes milk and air at high speed in the round frothing chamber, so each cup of coffee you prepare will be topped with a silky and smooth milk foam layer.
100% CERAMIC GRINDER
100% ceramic grinder is strong and durable. It will grind your coffee beans precisely and make sure you're left with the most delicious coffee drink. Unlike grinders from other materials, a ceramic one saves beans from over roasting. This grinder also has even 5 different grinding settings which will allow you to grind favourite coffee beans from the finest grind for impeccable espresso to coarse grind for a lighter coffee drink. Preparing coffee according to individual preferences has never been so easy!
EASY CARE
Auto-rinse will keep your coffee machine clean after every cup of coffee.
"AquaClean" water filter gives you a chance to use all of your automatic coffee machine's possibilities. This filter allows you to prepare up to 5000 cups of coffee without descaling. When "AquaClean" filter is integrated, notes about descaling are deactivated automatically. It's recommended to change the filter every 3 months.
"LatteGo" is dishwasher safe – to save your time and ensure hygienic cleaning.
Frequently Asked Questions
Instead of dispensing milk foam, my coffee machine dispenses water in small drops. What should I do?
This problem can be the result of a couple of issues: 1. There are limescale deposits in the coffee machine, so the milk and water systems aren't working properly. Descale your coffee machine; 2. The milk system is blocked. Disassemble and wash the milk container. If this doesn't help, please get in touch with us for warranty/non-warranty service via phone (+441202029699) or e-mail ([email protected]).
Is this answer useful?
0
0
Ask your question about the product