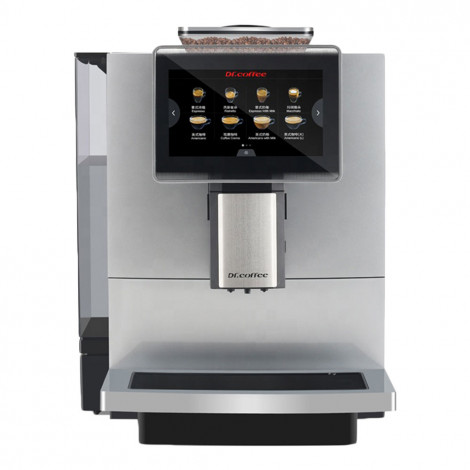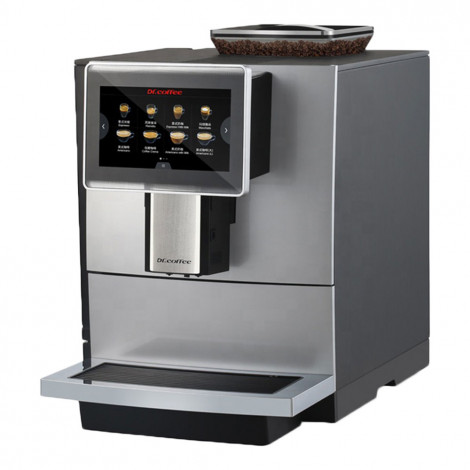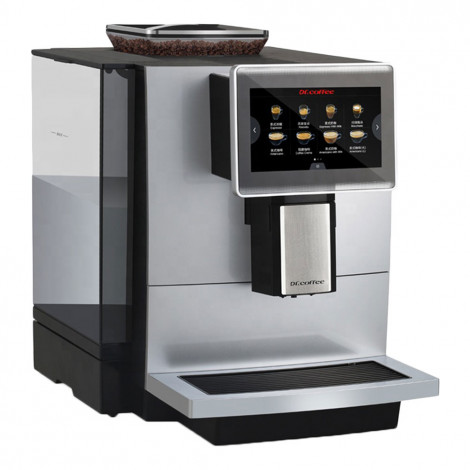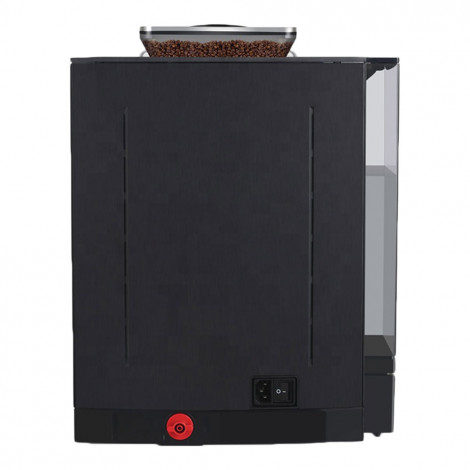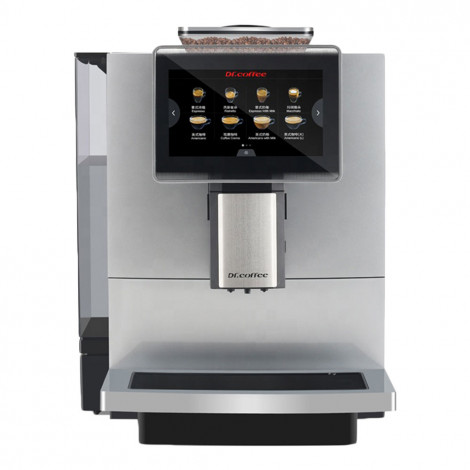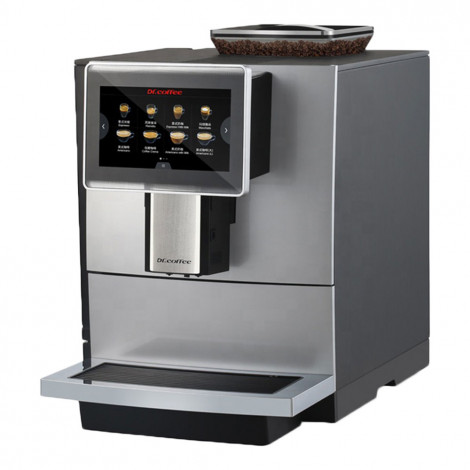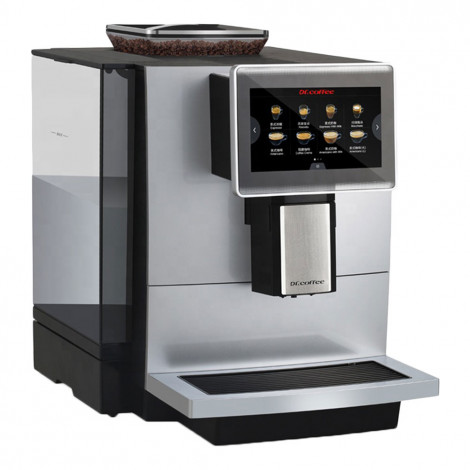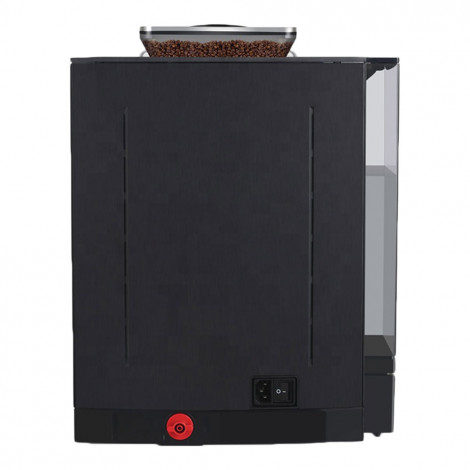 Coffee machine Dr. Coffee "F10 Silver"
By buying this coffee machine, you become eligible for the VIP membership program and discount vouchers with a total value of £50.
Become a member of COFFEE FRIEND'S VIP program and receive up to 5 vouchers of £10 each for your upcoming purchases at COFFEE FRIEND'S online store. More information will be provided via your personal e-mail address once you've completed your purchase. The offer applies exclusively to natural persons.
This product is out of stock, but you can get in touch to find out when it will be available or get an offer for similar product if interested.
About product
Stylish, compact and cost-effective, this bean-to-cup coffee machine can just about rival professional appliances found in cafés with the number of functions it offers. Ceramic grinder burrs and a patented brewing system with two separate heating elements enable everyone to experiment as much as they wish, surprising their house guests or employees with new, undiscovered flavours. An interactive 7″ touch panel lets you select the desired beverage from as many as 24 options, adjust ratios and froth milk just the way you like it. The elegant, silent Dr. Coffee "F10" is suited perfectly for offices, conference rooms and halls characterised by numerous different interiors.
EXCEPTIONAL BREWING SYSTEM
With 5 pre-infusion modes and a particularly wide dosing range (from 7 to 16 grams), the patented brewing system helps the unique aroma of your coffee unfurl to the fullest, while the 19-bar extraction system ensures excellent espresso covered with a layer of fragrant, gold-coloured crema.
CERAMIC GRINDER TO ACCENTUATE UNIQUE FLAVOURS
The innovative coffee grinder with flat ceramic burrs and a lifespan of as many as 500 kg ensures consistent grinding and makes the unique flavours of your coffee even more vivid.
CONVENIENT 7″ TOUCH PANEL
With the help of a convenient 7″ colour touch panel, you'll select the desired beverage with a single touch. Adjusting the amount of coffee beans, changing the brewing duration or temperature and creating, as well as saving, your own recipes will be just as easy.
FLAWLESS MILK-BASED BEVERAGES
Enjoy flawless milk foam produced with the help of an innovative high-temperature milk frothing system! The built-in rinsing function enables you to clean the milk system with extreme ease afterwards as well.
HAVE WATER SUPPLIED VIA A WATER TANK OR AN EXTERNAL RESERVOIR
Choose your water supply method, adapting your new machine to its unique location and your individual needs! There's an option of using a 4-litre water tank or an external water reservoir.
PRESERVE THE FLAVOUR AND AROMA OF THE BEANS FOR LONGER
The bean container boasts an airtight lid that prevents moisture and other factors from affecting the flavour and aroma of your beans.
PRODUCTIVITY OF DR. COFFEE "F10"
– Recommended output: 30 servings per day
– Capacity of the bean container: 500 g
– Capacity of the grounds container: 50 servings (1 serving = 10 g of coffee)
– Capacity of the water tank: 4 l
– Hourly espresso (50 ml) output: single – 70 servings, double – 100 servings
– Hourly americano (240 ml) output: single – 50 servings
– Hourly cappuccino (180 ml) output: single – 50 servings, double – 60 servings
– Hourly hot water output: 15 l
CONFIGURATION OF DR. COFFEE "F10"
– 2 water supply options
– Patented brewing system
– Ceramic coffee grinder with flat burrs
– 7″ colour touch panel with an option of ad display
– Coffee based on individual settings
– 24 beverages to choose from
– Programmable recipes
– Hot water
– Milk system rinsing function activated with a single touch
– Milk foam adjustment (duration, temperature)
Preparable recipes
Americano
Black coffee
Cappuccino
Espresso
Latte
Latte Macchiato
Ristretto
Specifications
| | |
| --- | --- |
| Type | Automatic |
| Manufacturer | Dr. Coffee |
| Color | Silver |
| Warranty | 12 months |
| Coffee machine uses | Coffee beans |
| Milk system type | Automatic milk pipe system |
| Burr type | Ceramic |
| Does coffee machine prepare hot water? | Yes |
| User-created recipes | 24 |
| Height-adjustable coffee spout | 16 cm |
| Power | 1450 W |
| Water pump pressure | 19 BAR |
| Country of Origin | China |
| Connection to the mains water supply | No |
| Recommended num. of cups per day | 30 |
| Voltage | 220 V |
| Plug | EU plug (and certified UK conversion plug is included) |
| | |
| --- | --- |
| Coffee machine's screen | Colourful |
| Coffee machine's menu language | Hebrew, Japanese |
| Control type | Touch screen |
| | |
| --- | --- |
| Water tank | 4 l |
| Coffee bean tank | 500 g |
| Coffee grounds capacity (portions) | 50 |
| | |
| --- | --- |
| Number of black coffees prepared at once | 2 |
| Number of coffee with milk recipes prepared at once | 2 |
| Portion size | Programmable |
| Adjustable milk foam volume | Yes |
| | |
| --- | --- |
| Descaling program | Yes |
| Milk system cleaning program | Yes |
| Cleaning program | Yes |
| Automatic rinsing | Yes |
| | |
| --- | --- |
| Depth | 50 cm |
| Height | 43 cm |
| Width | 34 cm |
| Weight | 15 kg |
| | |
| --- | --- |
| Other | Hot water |
| Coffee | Americano, Black coffee, Cappuccino, Espresso, Latte, Latte Macchiato, Ristretto |
| | |
| --- | --- |
| Package contains | (*The manufacturer reserves the right to change the items included in the set without prior notice*), Brew group grease, Milk system tube, User manual |
Frequently Asked Questions
Ask your question about the product