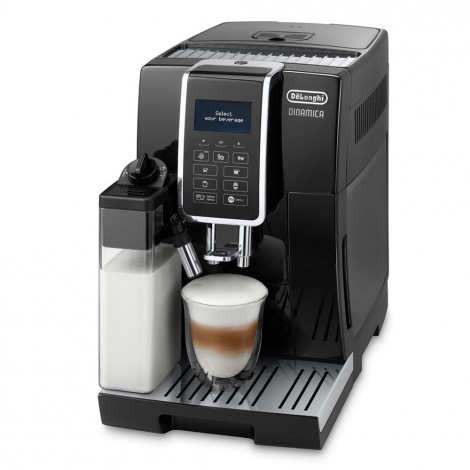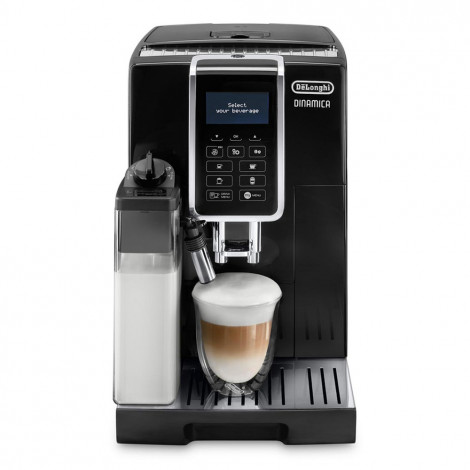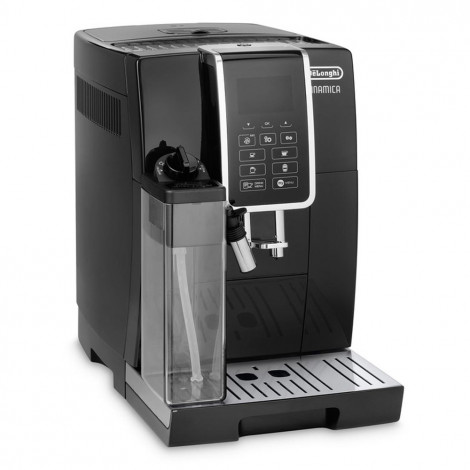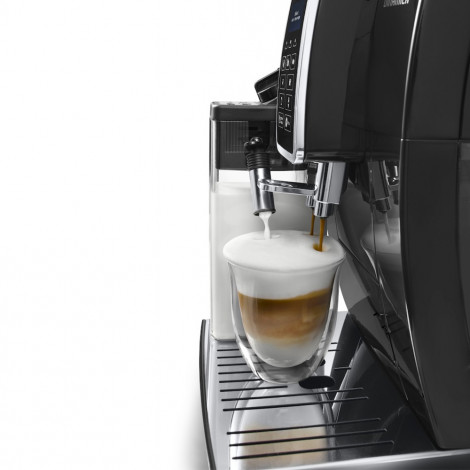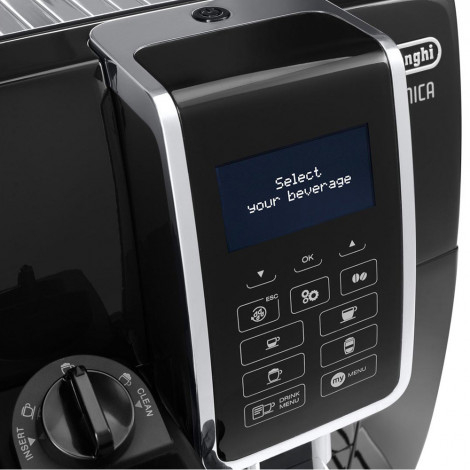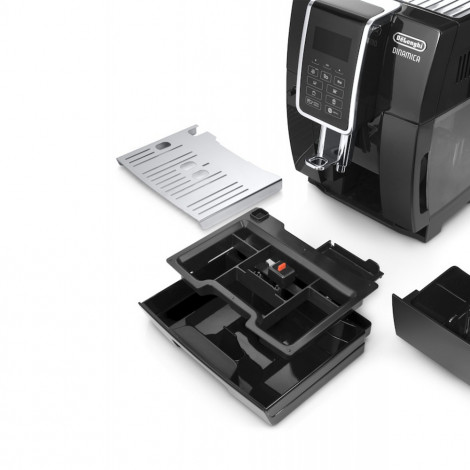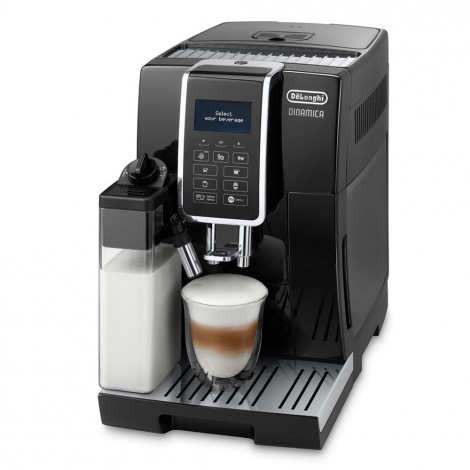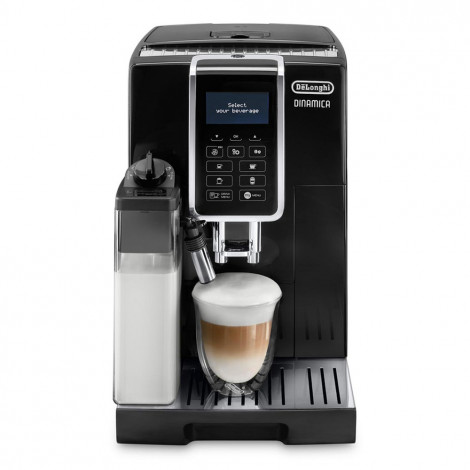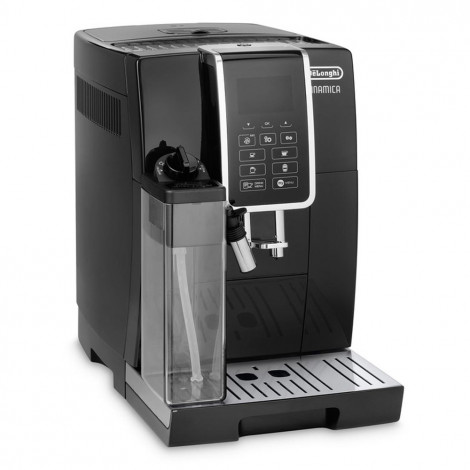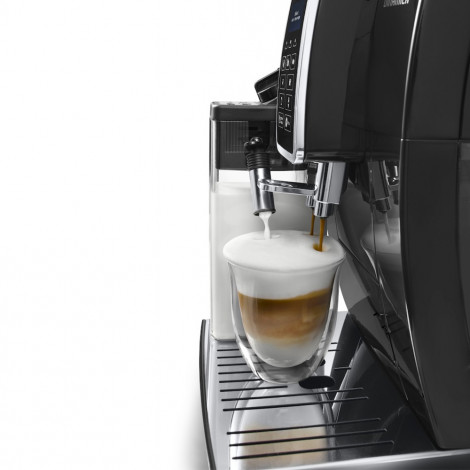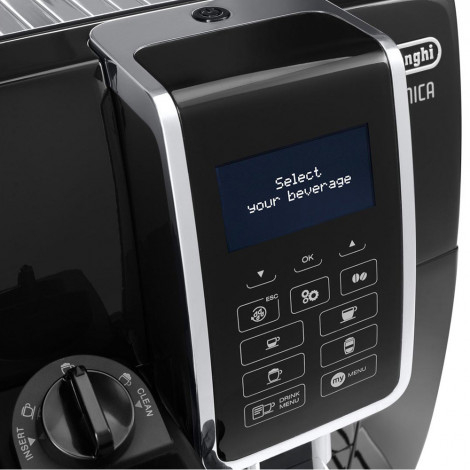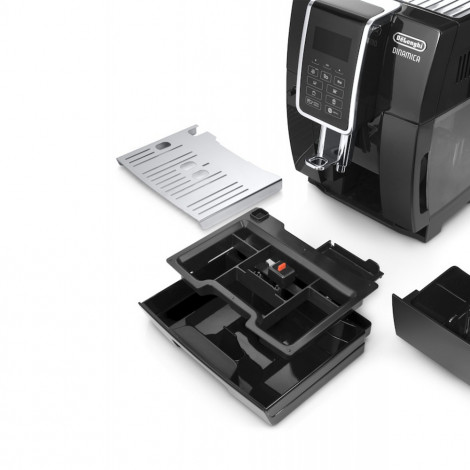 Coffee machine De'Longhi "Dinamica ECAM 350.55.B"
By buying this coffee machine, you become eligible for the VIP membership program and discount vouchers with a total value of £50.
Become a member of COFFEE FRIEND'S VIP program and receive up to 5 vouchers of £10 each for your upcoming purchases at COFFEE FRIEND'S online store. More information will be provided via your personal e-mail address once you've completed your purchase. The offer applies exclusively to natural persons.
Delivery takes 1 - 3 working days * 96% of orders are delivered the next day.
About product
The bean-to-cup coffee machine De'Longhi "Dinamica ECAM 350.55.B" with a modern design freshly grinds coffee beans each time and prepares up to 10 coffee drinks at the touch of a button. Choose from both traditional black coffee drinks and popular coffees with milk. Use the My Menu feature to create and save your own separate menu for all drinks to your liking. Intuitive operation and easy maintenance allow you to enjoy coffee quickly and easily.
10 COFFEE BEVERAGES AT ONE TOUCH
Choose from the main menu four most popular coffee drinks: espresso, black coffee, cappuccino and latte macchiato. Press the Drinks Menu button to select an additional 6 coffee drinks: ristretto, double espresso, lungo, long coffee, latte and flat white, as well as hot milk and hot water.
"MY MENU" FUNCTION
By pressing the "My Menu" button, program all drinks according to your individual taste (it's like a separate individual menu). Change the coffee strength and portion size (amount of coffee and milk).
AUTOMATIC MILK SYSTEM "LATTECREMA"
Dur to the separate milk preparation system, the coffee machine is always ready to make the perfect milk foam. The switch on the integrated milk container allows you to select the desired consistency of milk. The "Clean" function ensures the cleanliness of the milk system. When the milk container is not in use, store it comfortably in the refrigerator. All parts are dishwasher safe.
LCD SCREEN AND TOUCH ICONS
With a clear LCD screen and touch icons, you can conveniently control your coffee machine.
MODERN DESIGN
Due to the modern Italian-style and glowing black body the coffee mahine will fit perfectly into a modern interior.
SIMPLE MAINTENANCE
The automatic descaling program, the possibility to use a water filter, rinsing program for the systems of the coffee brewing and milk preparation, the removable coffee brewing unit ensure the cleanliness of the coffee machine and allows to drink always only a delicious coffee.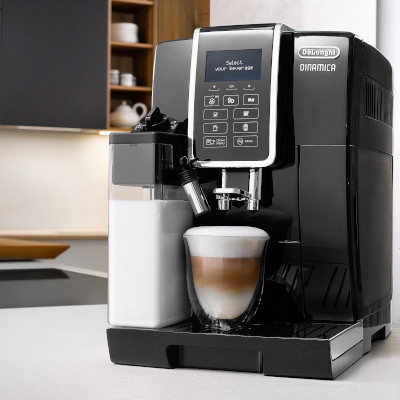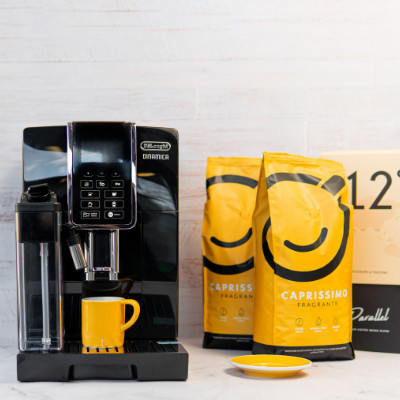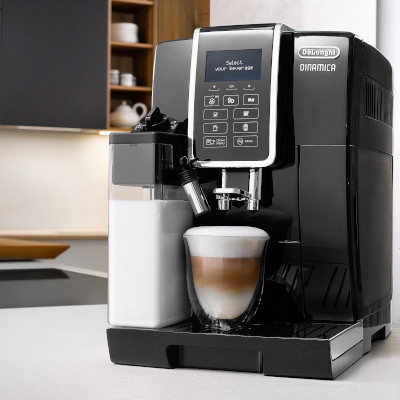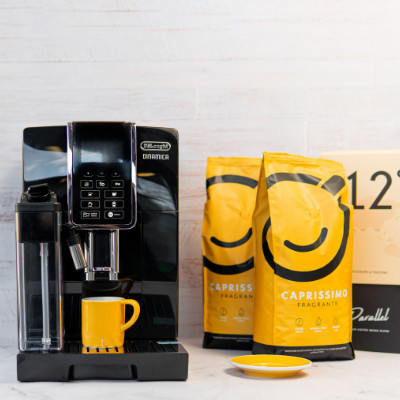 Preparable recipes
Black coffee
Cappuccino
Double espresso
Espresso
Flat white
Latte
Latte Macchiato
Long black
Lungo
Ristretto
Specifications
| | |
| --- | --- |
| Type | Automatic |
| Manufacturer | De'Longhi |
| Color | Black |
| Warranty | 24 months |
| Coffee machine uses | Coffee beans, Ground coffee |
| Milk system type | Integrated milk tank |
| Burr type | Steel |
| User-created recipes | 12 |
| Height-adjustable coffee spout | 135 mm |
| Programmable water temperature | Yes |
| Power | 1450 W |
| Water pump pressure | 15 BAR |
| Country of Origin | Italy |
| EAN | 8004399331167 |
| | |
| --- | --- |
| Coffee machine's screen | Black/White |
| Coffee machine's menu language | Dutch, english, finnish, French, german, Italian, Norwegian, polish, russian, Spanish, Swedish, Turkish, Ukrainian |
| Control type | Touch buttons |
| | |
| --- | --- |
| Water tank | 1.8 l |
| Coffee bean tank | 300 g |
| Coffee grounds capacity (portions) | 14 |
| | |
| --- | --- |
| Number of black coffees prepared at once | 2 |
| Number of coffee with milk recipes prepared at once | 1 |
| Adjustable grinding level | 13 |
| Portion size | Programmable |
| Adjustable milk foam volume | Yes |
| Coffee strength (levels) | 5 |
| Coffee temperature (levels) | 4 |
| | |
| --- | --- |
| Descaling program | Yes |
| Milk system cleaning program | Yes |
| Automatic rinsing | Yes |
| | |
| --- | --- |
| Depth | 42.9 cm |
| Height | 34.8 cm |
| Width | 23.6 cm |
| Weight | 9.5 kg |
| | |
| --- | --- |
| Other | Hot milk, Hot water, Milk foam |
| Coffee | Black coffee, Cappuccino, Double espresso, Espresso, Flat white, Latte, Latte Macchiato, Long black, Lungo, Ristretto |
| | |
| --- | --- |
| Package contains | (*The manufacturer reserves the right to change the items included in the set without prior notice*), Cleaning brush, Descaling liquid, Ground coffee dosing spoon, Hot water tap, Milk container, Water filter, Water hardness test strip |
For the first cup of coffee
Delicious coffees for your new coffee machine! Here are some coffees that will go well with both black and milk-based coffee drinks.
Frequently Asked Questions
Coffee machine signals that the grounds container is full, although it is empty.
This happens when the grounds container was emptied out when coffee machine is switched off. The system doesn't recognise that the grounds were thrown away. Now, when the appliance is switched on, remove the drip tray together with the grounds container and reinsert it.
Is this answer useful?
14
-5
How to regulate the grinding level?
You can find the grinding adjustment knob in the bean container.
For the courser grinding level: while the grinder is in motion, dial it by one notch towards number 7 (at once only by one notch).
For the finer grinding level: whilr the grinder is in motion, dial it by one notch towards number 1 (at once only by one notch).
It is very important to regulate the grinder only when the grinder is grinding, otherwise you can damage the grinding mechanism. Result of your adjustment can be felt only after a few drinks.
Is this answer useful?
3
0
What must be done when the coffee brewing unit is stuck?
This means that the brewing unit has not returned to its original position. Turn off the coffee machine completely (using the button on the back), switch the coffee machine on again and let it run for a full rinsing cycle, and switch it off again. The brewing unit had to return to its place. Now try to remove it.
Is this answer useful?
3
0
The coffee machine doesn't froth a good milk froth anymore.
1. Make sure that milk you are using is fresh and at refrigerator temperature (when the milk is finished and you are pouring the new one, please clean the milk container throughly before adding the new milk).
2. Clean the milk system. Perform milk system cleaning program using milk system cleaning liquid (see user manual). Disassemble the milk system and clean it manually. If needed, soak all parts in the solution with the milk system cleaning liquid.
Is this answer useful?
2
0
I can't find information on how to prepare warm milk or milk foam (without the coffee) in this coffee machine. How can I do that?
Push the Drink menu button and it'll take you to additional drink recipes, which include the recipe of hot milk/milk foam.
Is this answer useful?
0
0
Ask your question about the product