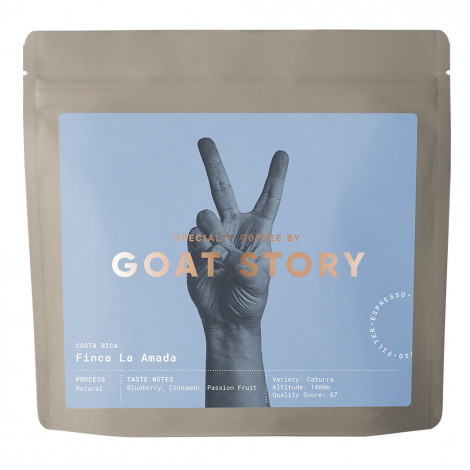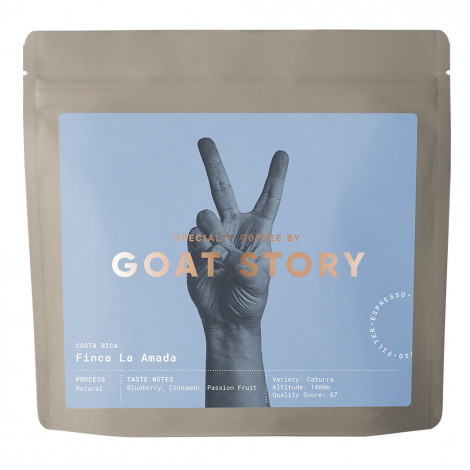 Specialty coffee beans Goat Story "Costa Rica Finca La Amada", 250 g
Coffee passport
Coffee origin region
Costa Rica
Coffee kind
Single origin
Roasting level
Medium light
Taste guide
Biscuit
Blueberry
Cinnamon
Passion Fruit
Sweet Sugary
Winey
About product
Dear oh dear, this coffee… It's as if there's a party in your mouth and everyone's invited! Despite the complexity of its flavour, this coffee is balanced and subtle at the same time. Its popularity should certainly come as no surprise! In the prepared drink, notes of blueberries, cinnamon and passion fruit are unveiled. It's extremely winey, biscuity and sweet.
Perfect for: pour-over (filter) brewing methods
Also great for: espresso, cold brew, French press, Aeropress
Due to its exceptional quality and taste, this coffee is marked as Specialty. The SCA has scored it 87 points out of 100.
COUNTRY: Costa Rica
PRODUCER: Finca La Amada
ALTITUDE: 1400 m
VARIETY: Caturra
PROCESS: Natural
ROAST PROFILE: Light medium
TASTING NOTES: Blueberries, Cinnamon, Passion fruit
Ingredients: roasted coffee beans.
Storage conditions: store in a dry, cool place.
Specifications
| | |
| --- | --- |
| Coffee type | Coffee beans |
| Coffee kind | Single origin |
| Manufacturer | Goat Story |
| Coffee origin region | Costa Rica |
| Roasting level | Medium light |
| Country of Origin | Slovenia |
| EAN | 3830054683129 |
| Coffee beans type | 100% Arabica, Specialty coffee |
Frequently Asked Questions
Ask your question about the product