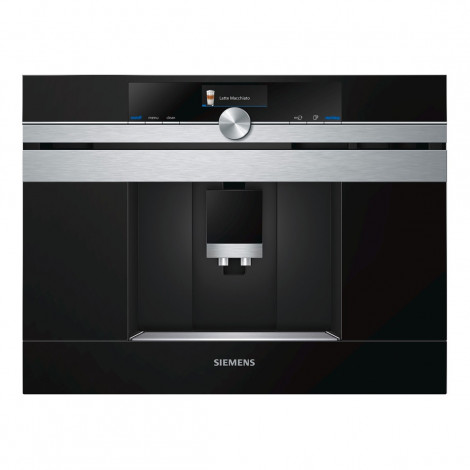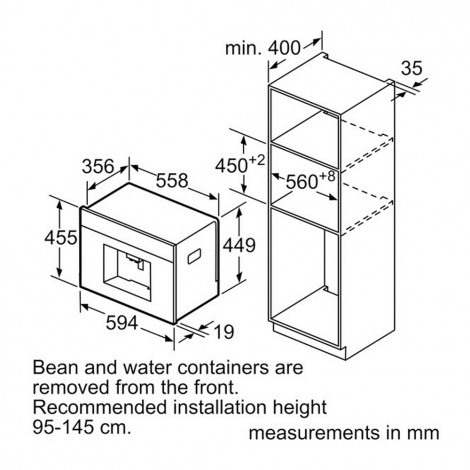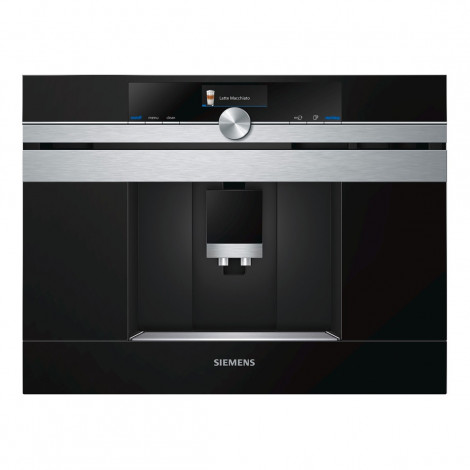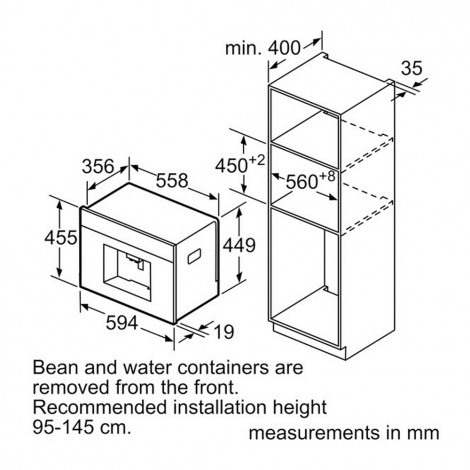 Refurbished Coffee machine Siemens "CT636LES1"
By buying this coffee machine, you become eligible for the VIP membership program and discount vouchers with a total value of £50.
Become a member of COFFEE FRIEND'S VIP program and receive up to 5 vouchers of £10 each for your upcoming purchases at COFFEE FRIEND'S online store. More information will be provided via your personal e-mail address once you've completed your purchase. The offer applies exclusively to natural persons.
This product is out of stock, but you can get in touch to find out when it will be available or get an offer for similar product if interested.
About product
The built-in fully automatic coffee machine "Siemens CT636LES1" not only looks great, but it also prepares all of the most popular coffee drinks with a single touch. The integrated state-of-the-art coffee preparation technologies ensure the highest coffee quality, while a convenient display and an intuitive control menu make the machine extremely easy to use.
THE MOST POPULAR COFFEE BEVERAGES WITH A SINGLE TOUCH
Prepare ristretto, espresso, black coffee, espresso macchiato, cappuccino, latte macchiato and latte with a single touch.
ONE TOUCH DOUBLE CUP FUNCTION
Prepare two servings at once, even if you're making milk-based drinks — latte macchiato or cappuccino!
AUTOMATIC MILK SYSTEM
The coffee machine has a very convenient milk system with an integrated milk tube that can be inserted directly into the milk package (or into the milk container included in the set).
8 PERSONAL RECIPES
Create and save up to 8 personal recipes.
COLOUR TFT DISPLAY
Due to the colour TFT display and conveniently arranged menu, operating the coffee machine is a real pleasure.
AROMADOUBLE SHOT FUNCTION
Thanks to the "AromaDouble Shot" function, you can enjoy a cup of strong coffee that is not at all bitter. Your coffee will be prepared in two stages – the double coffee grinding and the double coffee preparation will give the drink the optimal flavour. This automatic process ensures that there's no unpleasant bitterness in the beverage.
INNOVATIVE SENSOFLOW HEATING SYSTEM
The smart "SensoFlow" heating system ensures an optimal and even coffee brewing temperature. In order for coffee aroma to unfold, water of the right temperature must be used for coffee brewing: 90°C to 95°C. If temperature is lower, some of the aromas are not revealed, and if it's higher, coffee quickly acquires a burnt taste. The "SensoFlow" system ensures the right temperature and maintains it throughout the whole coffee preparation process.
19-BAR PRESSURE
When preparing coffee, this coffee machine uses increased pressure, so the prepared drink is even more aromatic and thick.
QUIET AND LONG-LASTING CERAMIC GRINDER
The exceptionally quiet grinder is made of high-quality ceramic and grinds beans with much less noise.
SIMPLE MAINTENANCE
The integrated automatic maintenance programs for descaling, cleaning and rinsing allow you to simply enjoy your coffee. The removable coffee brewing unit ensures perfect cleanliness inside the coffee machine.
Preparable recipes
Black coffee
Cappuccino
Espresso
Espresso Macchiato
Latte
Latte Macchiato
Ristretto
Specifications
| | |
| --- | --- |
| Type | Built-in |
| Manufacturer | Siemens |
| Warranty | 24 months |
| Coffee machine uses | Coffee beans, Ground coffee |
| Milk system type | Automatic frother |
| Burr type | Ceramic |
| Adjustable beverage amount | Yes |
| Does coffee machine prepare hot water? | Yes |
| Does coffee machine prepare hot milk? | Yes |
| Adjustable coffee strength | Yes |
| User-created recipes | 8 |
| Height-adjustable coffee spout | 15 |
| Programmable water temperature | Yes |
| Power | 1600 W |
| Water pump pressure | 19 BAR |
| Country of Origin | European Union |
| Plug | EU plug (and certified UK conversion plug is included) |
| | |
| --- | --- |
| Coffee machine's screen | Colourful |
| Coffee machine's menu language | english, finnish, german, polish, russian |
| | |
| --- | --- |
| Water tank | 2.4 l |
| Coffee bean tank | 500 g |
| | |
| --- | --- |
| Number of black coffees prepared at once | 2 |
| Number of coffee with milk recipes prepared at once | 2 |
| | |
| --- | --- |
| Descaling program | Yes |
| Milk system cleaning program | Yes |
| Cleaning program | Yes |
| Automatic rinsing | Yes |
| | |
| --- | --- |
| Depth | 385 mm |
| Height | 455 mm |
| Width | 594 mm |
| Weight | 22.72 kg |
| | |
| --- | --- |
| Other | Hot milk, Hot water, Milk foam |
| Coffee | Black coffee, Cappuccino, Espresso, Espresso Macchiato, Latte, Latte Macchiato, Ristretto |
Frequently Asked Questions
Ask your question about the product