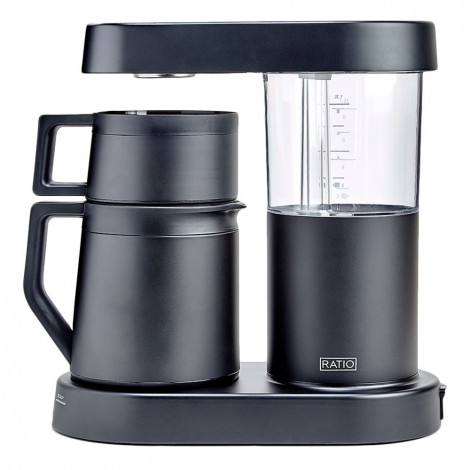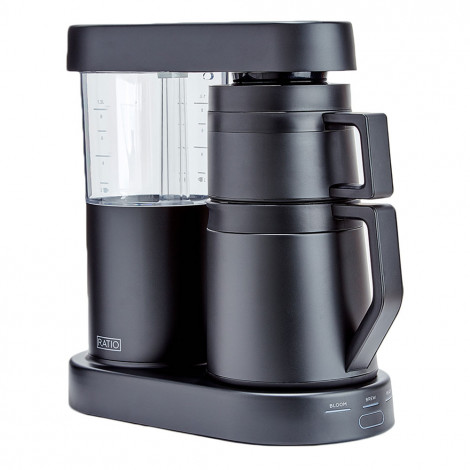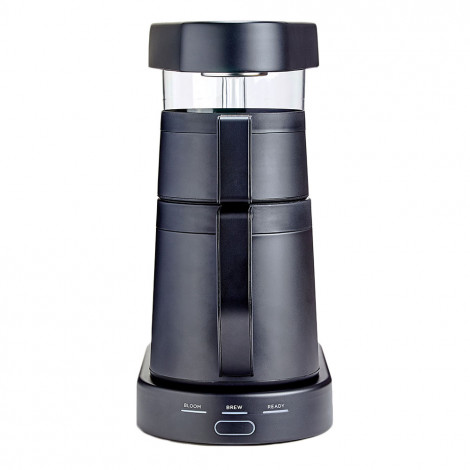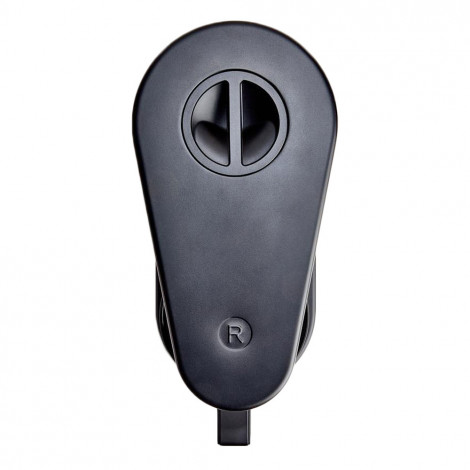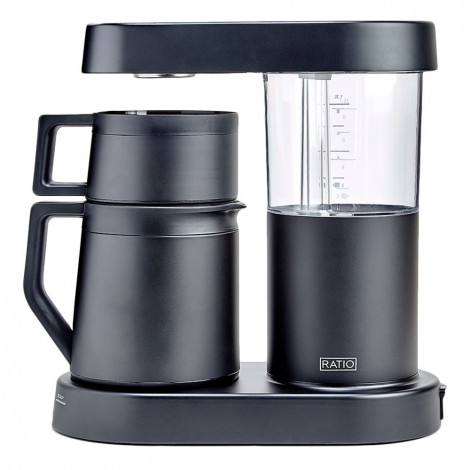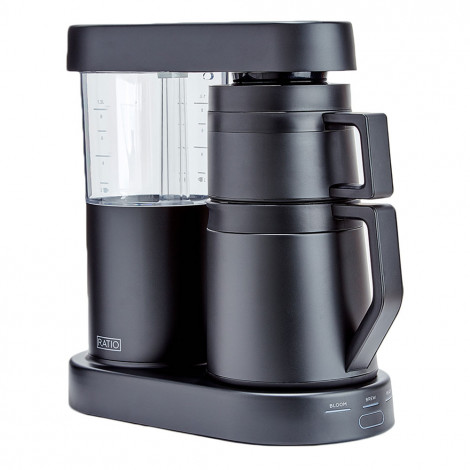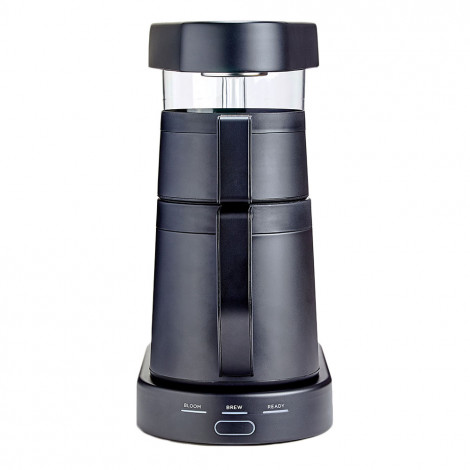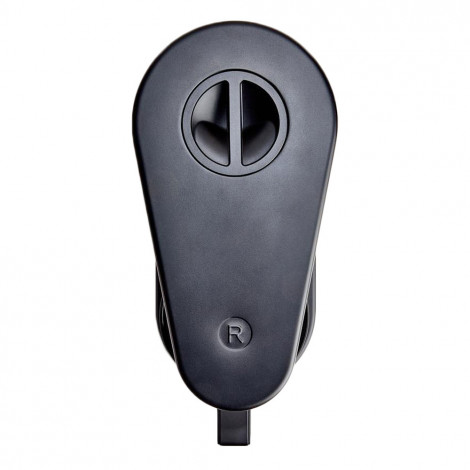 Filter coffee maker Ratio "Six Matte Black"
Delivery takes 2 - 4 weeks
About product
Thanks to "Ratio Six", world-class coffee is now more accessible than ever. The "Six" offers the one-button convenience of its bigger sibling, "Ratio Eight", with a leaner form and lighter price — all of this despite having the same brewing capacity (1.25 liters) and a powerful 1400-W heating element.
ONE BUTTON SIMPLICITY
Sometimes you just want a great cup of coffee without having to think about time, temperature and other variables — which is why "Ratio" has just one button and no complicated programming. The Bloom, Brew and Ready phases run in sequence, delivering a perfect (and easy) cup of coffee every time.
DELICIOUSLY SIMULATED POUR-OVER
After the button is pressed, "Ratio" simulates a skilled barista pour-over process: first, hot water is dispersed through a stainless-steel spiral shower head across the grounds, causing a bubbly interaction called the "bloom". The control board allows the bloom to settle before delivering the rest of the hot water slowly at a nearly ideal temperature (93.3 ºC). The result is more evenly extracted grounds and a more delightful cup of coffee.
MODERN QUALITY
There are coffee machines that make great coffee, and there are coffee machines that look great. "Ratio Six" is both, combining form and function. It was designed in Portland, Oregon, and meticulously assembled by hand. Every inch of this coffee maker is built to last and covered by a 5-year manufacturer's warranty.
A VERY HOT CUP OF COFFEE
The optional heat shield completely surrounds the shower head during brewing, increasing the extraction of your coffee and producing an extremely hot drink, all while keeping within the industry-accepted standards for coffee brewing. For those that prefer their coffee really hot, or add lots of milk or cream, the heat shield is a great brewing accessory.
FLEXIBLE BREWING, EASY MAINTENANCE
This coffee maker has a BPA-free copolymer water tank with water markings from 2 to 8 cups. The tank holds 1.3 liters of water at the full mark, with roughly 10% of that volume absorbed into the coffee grounds. The thermal carafe of "Ratio Six" is designed for flat-bottom basket coffee filters. After brewing, simply discard or compost the used paper filter and rinse out the thermal carafe with hot water. As simple as that!
What's included:
• "Ratio Six" coffee maker
• "Ratio Six" thermal carafe + filter basket
• Lid for the filter basket with a heat shield
• Catcher for the filter basket
• "Ratio" microfiber towel
• Basket paper filters (4 sample filters)
• Operation guide
• Removeable power cord
Specifications
| | |
| --- | --- |
| Type | Filter coffee makers |
| Manufacturer | Ratio |
| Color | Black |
| Warranty | 5 years |
| Coffee machine uses | Ground coffee |
| Power | 1400 W |
| Country of Origin | United States of America |
| EAN | 850017079496 |
| Plug | EU plug (and certified UK conversion plug is included) |
| | |
| --- | --- |
| Water tank | 1.3 l |
| Graduated glass tank | Yes |
| | |
| --- | --- |
| Depth | 34.29 cm |
| Height | 36.2 cm |
| Width | 17.15 cm |
| Weight | 3.63 kg |
Frequently Asked Questions
Ask your question about the product