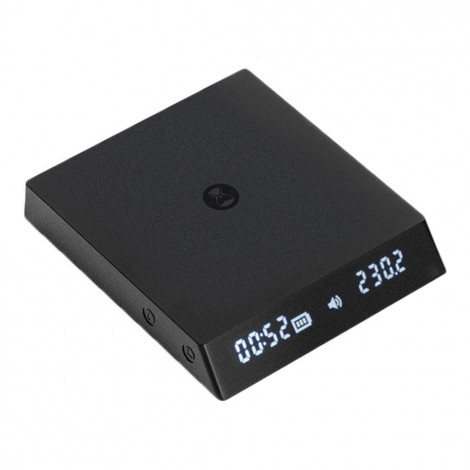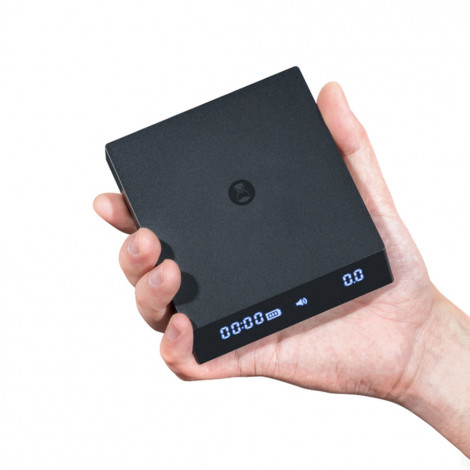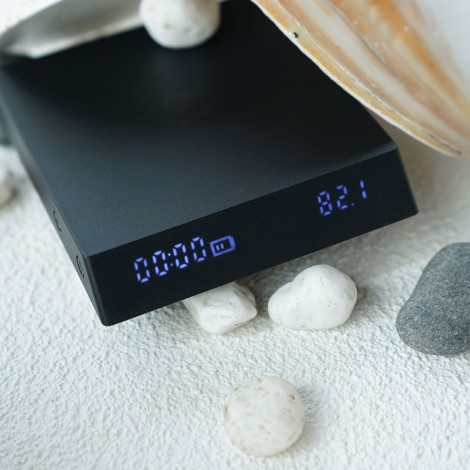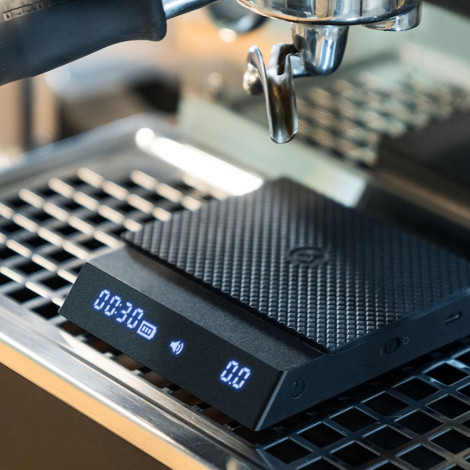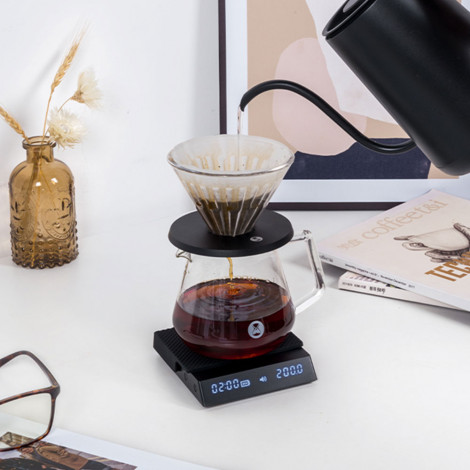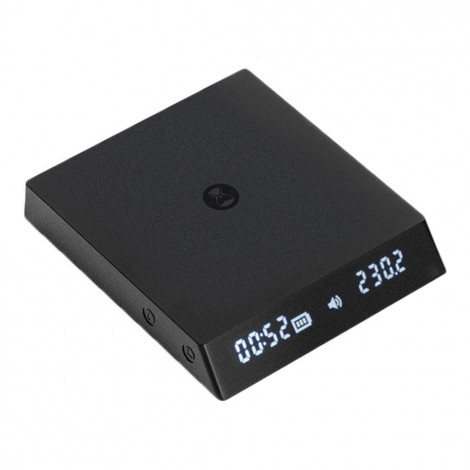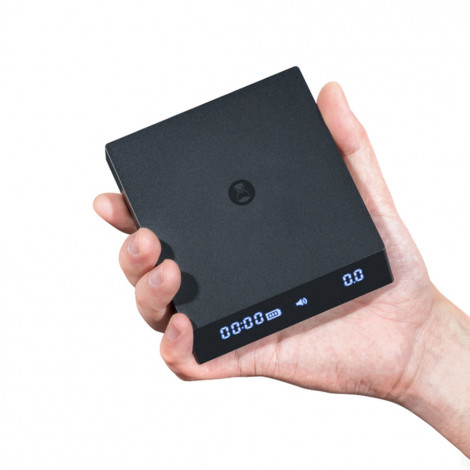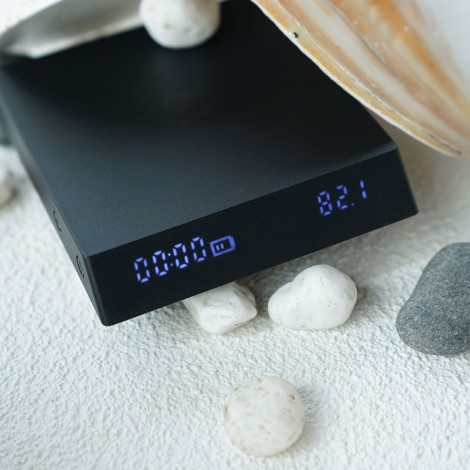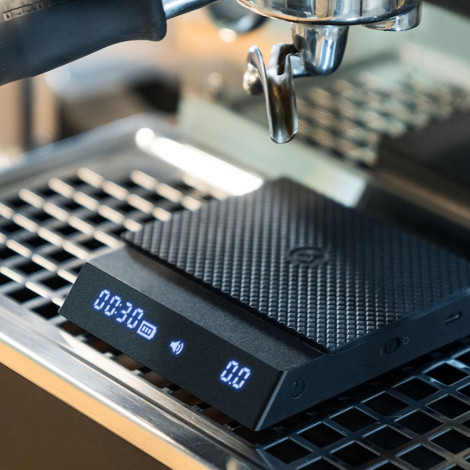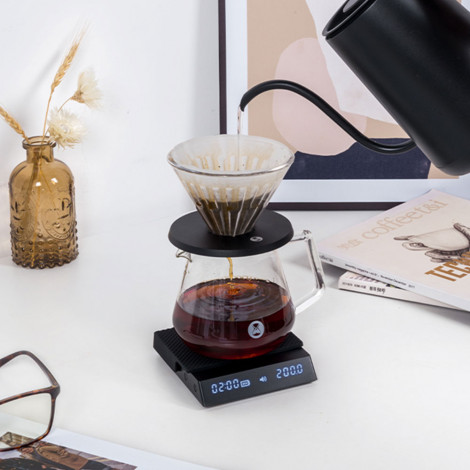 Coffee scale TIMEMORE "Black Mirror Nano"
About product
Smaller and even more responsive, the "Black Mirror Nano" coffee scale from TIMEMORE functions as a full-on brewing assistant! Place your brewer on it, weigh out the required quantity of ground coffee, then use the built-in timer to control the brewing duration and take advantage of the flow rate feature to ensure that your coffee is extracted properly. Once you're finished brewing a delicious cup of coffee, final data is displayed on a convenient LED display: this includes the total brewing time and weight.
COMPACT, LIGHTWEIGHT, EASY TO CARRY
Weighing in at as little as 230 g, "Black Mirror Nano" is small enough to fit in your pocket! The scale is 10-cm-wide, 11.5-cm-long and 2-cm-high. The compact surface area is just right for most pour-over brewers.
CHOOSE FROM THREE DIFFERENT BREWING MODES
Different brewing methods require different flow rates and extraction times. With "Black Mirror Nano", you can easily switch between three unique modes: Espresso, Pour-Over and Regular. Whatever your favourite brewing technique, this smart tool will help you enjoy coffee extracted to perfection!
EASY-TO-READ, ACCURATE DATA
The clear LED display allows you to read data from any angle. You won't have to doubt its precision either: an accuracy of 0.1 g and built-in high-precision sensors result in sensitive, fast feedback. The scale is characterised by a particularly wide range too: from as little as 0.1 g to as much as 2 kg.
SIMPLE AND LONG-LASTING OPERATION
The scale is operated with the help of buttons, so it's easy to figure out, while the built-in 780-mAh lithium battery guarantees continuous use of no less than 15 hours. For even more convenience, there's a standby mode and an automatic shutdown function initiated after 3 minutes of inactivity.
ANTI-SCRATCH SURFACE AND A PROTECTIVE SILICONE PAD
The surface of the scale has a delicate, anti-scratch, matte texture, which ensures pleasant feel and protects the brewing tool from unsightly fingerprint marks. A special heatproof, waterproof, skidproof silicone pad is also bound to come in handy: to avoid cracks or other sorts of damage, it's recommended to use the pad at all times when brewing.
TIMEMORE: GIVING YOU MORE TIME TO ENJOY DELICIOUS COFFEE
Established in 2012 by several coffee lovers, TIMEMORE is a relatively young company based in China that has nevertheless already managed to make waves in the coffee industry. Their products are aimed at fans of specialty coffee who enjoy brewing their drinks manually at home. From hand grinders and brewing scales to kettles and French presses, TIMEMORE combines careful design and thoughtful craftsmanship in every single coffee maker or accessory they produce. To TIMEMORE, this work is an art. Their products help coffee lovers all over the world to slow down for a moment and take some time to enjoy a delicious, expertly prepared drink.
Specifications
| | |
| --- | --- |
| Type | Barista equipment |
| Manufacturer | Timemore |
| Color | Black |
| Warranty | 24 months |
| Extra features | Automatic shut-off |
| Country of Origin | China |
| EAN | 6959493501812 |
| | |
| --- | --- |
| Depth | 11.5 cm |
| Height | 2 cm |
| Width | 10 cm |
| Weight | 230 g |
Frequently Asked Questions
Ask your question about the product