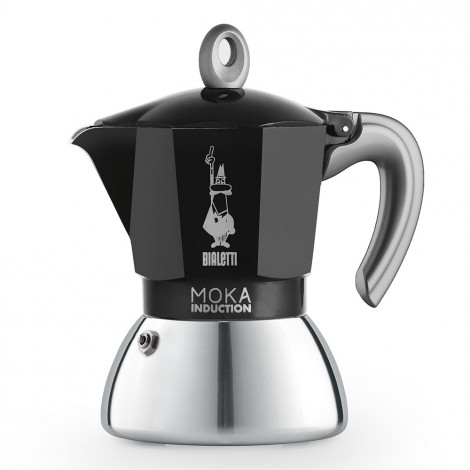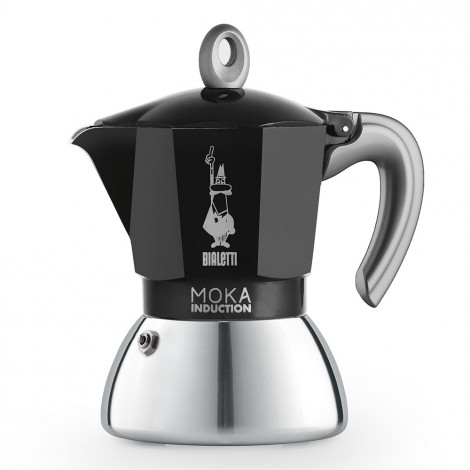 Coffee maker Bialetti "New Moka Induction 4-cup Black"
This product is out of stock, but you can get in touch to find out when it will be available or get an offer for similar product if interested.
About product
This moka pot is suitable with induction hobs!

Bialetti moka pot Moka Induction can be used on induction hobs. It became possible when the bottom container was produced using stainless steel. The upper chamber retains the historical octagonal form and aluminum body of Moka Express – the first moka pot in the world. The knob is made of thermoplastic, while the handle is covered with a soft silicone to make it covenient to serve the coffee into the cups.
Brew 150 ml (or 4 small espresso cups) of coffee at a time.
In 1933, Bialetti created the first moka pot in the world, which became not only the icon of early mornings for Italians, but also became popular all over the world. To prepare coffee with a moka pot is extremely simple and fast: in a few minutes the wonderful coffee aroma spreads around the house and we are ready to enjoy the perfect taste of coffee.
How to prepare coffee with a moka pot?

1. Fill the bottom container with a room temperature water (up to the level of safety valve).
2. Choose your favourite ground coffee (recommended grinding level: suitable for a moka pot and not too fine!). Generously fill the filter with coffee – do not press it.
3. Place the moka pot on the stove (the handle should be beoynd the reach of the heat). Set the low heat level – it is worth to wait a few minutes longer for an even better taste of coffee. When the upper chamber is filled with brewed coffee, switch off the heat.
4. And the most important moment – tasting! Coffee is more delicious if you drink it right away!
– Not dishwasher safe
– Suitable for induction, electric, and gas hobs

Specifications
| | |
| --- | --- |
| Type | Moka pots |
| Manufacturer | Bialetti |
| Color | Black |
| Warranty | 24 months |
| Coffee machine uses | Ground coffee |
| Extra features | Suitable for induction cooker |
| Country of Origin | Italy |
| EAN | 8006363029087 |
| | |
| --- | --- |
| Height | 17.5 cm |
| Weight | 0.6612 kg |
Video
How to prepare delicious coffee in a moka pot?
Frequently Asked Questions
Ask your question about the product