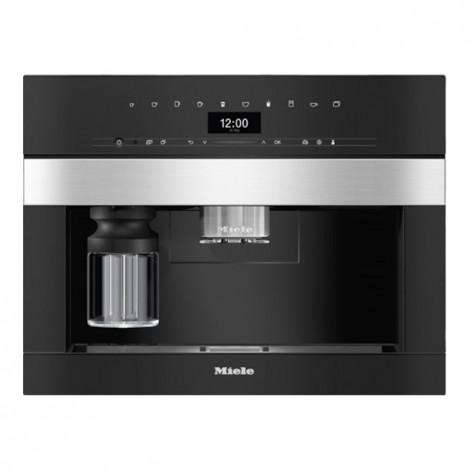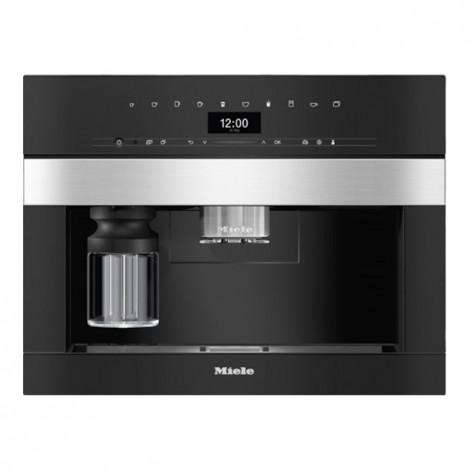 Coffee machine Miele "CVA7440"
EAN: 4002516140030
By buying this coffee machine, you become eligible for the VIP membership program and discount vouchers with a total value of £50.
Become a member of COFFEE FRIEND'S VIP program and receive up to 5 vouchers of £10 each for your upcoming purchases at COFFEE FRIEND'S online store. More information will be provided via your personal e-mail address once you've completed your purchase. The offer applies exclusively to natural persons.
Delivery takes 8 - 12 weeks
Specifications
Coffee machine uses
Coffee beans
Does coffee machine prepare hot water?
Yes
Does coffee machine prepare hot milk?
Yes
Height-adjustable coffee spout
16.5 cm
Country of Origin
Germany
Plug
EU plug (and certified UK conversion plug is included)
Second coffee bean tank
300 g
Coffee machine's screen
Black/White
Coffee grounds capacity (portions)
17
Number of black coffees prepared at once
2
Number of coffee with milk recipes prepared at once
2
Portion size
Programmable
Adjustable milk foam volume
Yes
Milk system cleaning program
Yes
Other
Hot milk, Hot water, Hot water for black tea, Hot water for green tea, Hot water for white tea, Milk foam
Coffee
Americano, Café au lait, Caffè crema, Cappuccino, Cappuccino doppio, Coffee pot, Double caffè crema, Double espresso, Double ristretto, Espresso, Espresso Macchiato, Flat white, Italian cappuccino, Latte Macchiato, Long black, Ristretto
Package contains
(*The manufacturer reserves the right to change the items included in the set without prior notice*), Milk container
Preparable recipes
Americano
Cappuccino
Cappuccino doppio
Double espresso
Espresso
Espresso Macchiato
Flat white
Latte Macchiato
Long black
Ristretto
Caffè crema
Coffee pot
Café au lait
Double ristretto
Italian cappuccino
About product
Produced by one of the world's most well-known manufacturers of household appliances, the built-in coffee machine Miele "CVA7440" is designed for those who want nothing but the best. This model is capable of preparing numerous recipes: from traditional espresso or cappuccino to the fashionable flat white or correctly brewed americano. The machine can also brew 2 portions of any drink at once. Tea connoisseurs will be pleasantly surprised too: while preparing hot water, they'll be able to choose from different temperatures designed specially for different types of tea. A myriad of functions that coffee lovers are bound to appreciate have been integrated in this Miele model — not only do they provide coffee drinkers with numerous opportunities to experiment with various flavours, but they also make the operation of this coffee machine a whole lot easier. If that's not enough, the automatic maintenance programs and dishwasher-safe components ensure particularly simple maintenance.
EXTREMELY WIDE SELECTION OF DRINKS
Enjoy an extremely wide variety of drinks on offer: ristretto, espresso, coffee, long coffee, long black, americano, espresso macchiato, flat white, cappuccino, Italian cappuccino, latte macchiato, latte and café au lait.
A TRUE TASTE SENSATION: ALWAYS FRESHLY GROUND
Taste the difference: the beans are freshly ground by innovative conical grinder for each cup of coffee and then brewed straight away – in a unique aroma-preserving way. This is possible thanks to the new grinder position directly above the brew unit. This ensures that no remnants from a previous brewing process remain in the grinder, guaranteeing unadulterated flavour. The conical grinder is very quiet so you can enjoy your coffee in peace.
ONETOUCH FOR TWO: FOR ENJOYING COFFEE IN COMPANY
Coffee for two: want to catch up with a visitor over a cup of coffee? With the OneTouch for Two function it couldn't be easier: you can prepare two delicious coffee specialities simultaneously at the touch of a button. The relevant programme starts automatically. So you don't need to wait for one coffee to be ready before preparing the second one – leaving more time for chatting.
DOUBLESHOT FUNCTION
This function has been created for the fans of intense flavours. If you choose to select it, the coffee machine will ground two separate portions of coffee into your drink one after the other. Coffee prepared in this way will be strong and aromatic, but not at all bitter.
POT FUNCTION: CONVENIENT WHEN HAVING GUESTS
Making coffee for lots of people? At the touch of a button, the Miele coffee machine dispenses up to eight cups of coffee one after the other into a coffee pot placed under the spout. It can also dispense enough water to fill a teapot. And with the practical insulated coffee pot, available from Miele as an accessory, you can keep your tea or coffee warm for longer.
CUPSENSOR: ALWAYS IN THE RIGHT POSITION
Perfect positioning: thanks to the CupSensor, the height of your cup is detected automatically and the central spout is positioned accordingly. The CupSensor can be lowered to 4 cm and raised to 16.5 cm. This prevents splashes and ensures convenient positioning of large latte macchiato glasses. BrilliantLight places your cups in the spotlight with soft LED lighting.
SAVE SETTINGS FOR A PERSONALISED EXPERIENCE
For a personalised experience: you can save the settings for your favourite drink in the user profiles so you don't have to enter them every time. Up to ten profiles are available. The user profiles contain all the parameters for your favourite drinks: bean type, quantity of coffee, water temperature and quantity and milk/milk froth quantities if applicable.
CONNECTED HOME WITH [email protected]
With innovative [email protected] system, you can exploit the full potential of your Miele appliances and make your everyday life even smarter. All intelligent Miele domestic appliances can be networked conveniently and securely. Operation is simple – whether you use the Miele app, voice control or integration into existing smart home solutions. The appliances are networked via a home WiFi router and the Miele Cloud.
TIMER: ALWAYS AT THE RIGHT TIME
Whenever you want: thanks to the timer function, your Miele coffee machine can be programmed to switch on and off to suit your needs. For example, it can switch itself on so it's ready for breakfast and switch itself off in the evening. The start time for automatic cleaning and descaling can also be set according to your preferences – for more flexibility. The appliance can also switch itself off when not in use for long periods to save energy.
EASYCLICK MILK SYSTEM
The convenient EasyClick milk system simply clicks into place at the front and is as easily removed. The milk container is made from high-quality glass. Apart from easy cleaning, glass has the benefit of being transparent, allowing you to see when milk needs replenishing.
EASY CLEANING
Effortless cleaning: practical functions make your Miele coffee machine extremely easy to clean. The milk pipework and brew unit are cleaned automatically with the AutoClean function – saving you time and giving you more freedom. With the ComfortClean system, many of the components can be cleaned in the dishwasher.
Frequently Asked Questions
Ask your question about the product