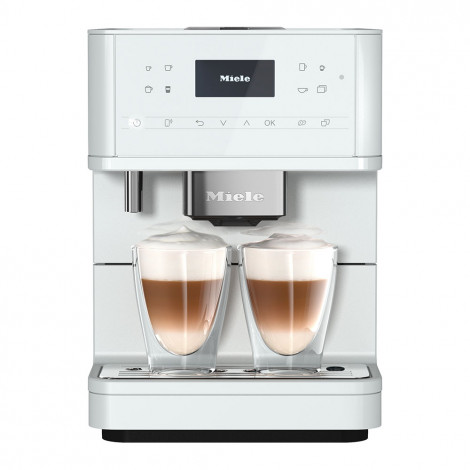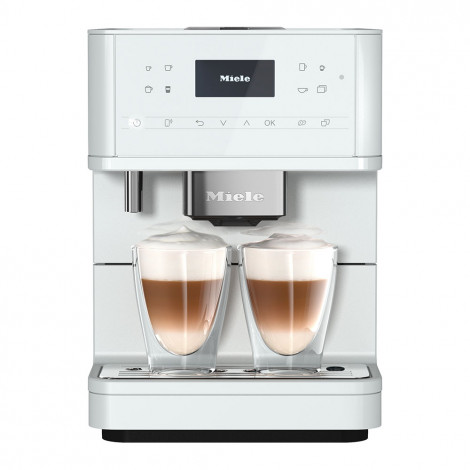 Coffee machine Miele "CM 6160 LOWS"
EAN: 4002516361763
Delivery takes 6 - 8 weeks
About product
Produced by one of the world's most well-known manufacturers of household appliances, the coffee machine Miele "CM 6160 MilkPerfection" is designed for those who love having a variety of drinks to choose from. This model is capable of preparing numerous recipes: from traditional espresso or cappuccino to the fashionable flat white or espresso macchiato. Moreover, it can brew 2 portions of any drink at once. Tea connoisseurs will be pleasantly surprised too: while preparing hot water, they'll be able to choose from different temperatures designed specially for different types of tea. In addition, the "TeaTimer" function will allow them to program and view steeping time. Those who love new, smart technologies can operate this coffee machine straight from their smart device via the "Miele@mobile" app. A myriad of functions that coffee lovers are bound to appreciate have been integrated in this Miele model — not only do they provide coffee drinkers with numerous opportunities to experiment with various flavours, but they also make the operation of this coffee machine a whole lot easier. If that's not enough, the automatic maintenance programs and dishwasher-safe components ensure particularly simple maintenance.
A WIDE VARIETY OF DRINKS TO CHOOSE FROM
Enjoy an extremely wide variety of drinks on offer: ristretto, espresso, black coffee, lungo, espresso macchiato, flat white, cappuccino, Italian cappuccino, latte macchiato, latte and café au lait. If you have guests over or simply want to pamper yourself with a longer coffee break, you can make use of the jug function and prepare 3–8 portions of coffee at once with the touch of a button. There's also an option of preparing milk foam or hot milk (e.g., when you feel like having a cup of hot chocolate or cocoa).
2 CUPS OF LATTE MACCHIATO AT ONCE
The bean-to-cup coffee machine Miele "CM 6160 MilkPerfection" is perfect for those who want to enjoy their coffee in a company of two. You'll be able to forget all about waiting for the second coffee portion to brew — with the help of this machine, you can prepare two drinks at once!
FIT FOR LOVERS OF TEA
This model is particularly tea-friendly! When preparing hot water, you can choose the temperature that suits you best: one that's been created specially for black tea, herbal tea, fruit tea, green tea, white tea or Japanese tea. The "TeaTimer" function will allow you to track the infusion time, which has been pre-programmed for each separate type of tea, as well as change the time that's already been set. Once the infusion period is over, a special sound signal will notify you about this. Moreover, while your tea is infusing, you can use the machine to prepare coffee.
SMART APP "MIELE@MOBILE"
Once you download the "Miele@mobile" app to your smart device, you'll be able to control the machine remotely, prepare drinks, read more about your appliance and change its settings.
DIFFERENT OPERATING MODES BASED ON YOUR COFFEE-DRINKING HABITS
Based on your coffee-drinking habits, you can choose from several different operating modes: the energy-saving "Eco Mode", the "Barista Mode" designed for those who are searching for the perfect flavour, the "Latte Mode", which makes the preparation of milk-based drinks a whole lot faster, and the "Party Mode", which is suited for intense coffee preparation on special occasions, e.g., during large family gatherings.
"EXPERT MODE" OPTION
This mode will enable you to change the quantity of your chosen drink (coffee, milk foam or hot milk) during preparation.
PERSONAL USER PROFILES
In addition to the "Miele" profile, or the "Miele" drink menu, 2 personal profiles can be created, so lovers of different coffee flavours will be able to enjoy coffee just the way they like it. Different drink quantities and parameters involved in the preparation of black coffee drinks, milk-based beverages, tea and hot water can be selected and saved individually on separate profiles.
"DOUBLE SHOT" FUNCTION
This function has been created for the fans of intense flavours. If you choose to select it, the coffee machine will ground two separate portions of coffee into your drink one after the other. Coffee prepared in this way will be strong and aromatic, but not at all bitter.
EXTREMELY CONVENIENT AUTOMATIC MILK SYSTEM
The bean-to-cup coffee machine Miele "CM 6160 MilkPerfection" is equipped with an integrated automatic milk system with a tube. This system is extremely practical: the tube can be immersed straight in a milk packet, as well as any other dish or container. The automatic milk system rinsing program makes everything even easier — after each preparation of a milk-based drink, simply fit the tube to the drip tray and the system will be rinsed automatically. When the milk tube is not being used, you can keep it safely in a special compartment.
AUTOMATED MAINTENANCE
This coffee machine is particularly simple to maintain thanks to the automatic programs for the milk system rinsing and cleaning, brewing system cleaning, as well as descaling. The easy-to-remove components, such as the milk system and the coffee brewing unit, ensure perfect cleanliness. For even more convenience, the drip tray and its lid, the coffee grounds container, the water tank, the main outflow tube (except for its stainless-steel lid), the milk tube with the rinsing nozzle, the milk tube nozzle and the milk container with its lid can all be washed in a dishwasher.
CHILD-PROOF SYSTEM LOCK
To prevent other persons (e.g., children) from using the coffee machine, you can safely lock it.
Preparable recipes
Black coffee
Cappuccino
Espresso
Espresso Macchiato
Flat white
Latte
Latte Macchiato
Lungo
Ristretto
Coffee pot
Café au lait
For the first cup of coffee
Delicious coffees for your new coffee machine! Here are some coffees that will go well with both black and milk-based coffee drinks.
Specifications
| | |
| --- | --- |
| Type | Automatic |
| Manufacturer | Miele |
| Color | White |
| Warranty | 24 months |
| Coffee machine uses | Coffee beans, Ground coffee |
| Milk system type | Automatic milk pipe system |
| Type of coffee grinder | Steel |
| Height-adjustable coffee spout | 14 cm |
| Power | 1500 W |
| Water pump pressure | 15 BAR |
| Country of Origin | Germany |
| EAN | 4002516361763 |
| Plug | EU plug (and certified UK conversion plug is included) |
| | |
| --- | --- |
| Coffee machine's screen | Black/White |
| Control type | Touch buttons |
| Smart app | Yes |
| | |
| --- | --- |
| Water tank | 1.8 l |
| Coffee bean tank | 300 g |
| Coffee grounds capacity (portions) | 10 |
| | |
| --- | --- |
| Number of black coffees prepared at once | 2 |
| Number of coffee with milk recipes prepared at once | 2 |
| Adjustable grinding level | 5 |
| Portion size | Programmable |
| Adjustable milk foam volume | Yes |
| Saved user profiles | 4 |
| Cup lighting | Yes |
| Coffee strength (levels) | 5 |
| Coffee temperature (levels) | 3 |
| | |
| --- | --- |
| Descaling program | Yes |
| Milk system cleaning program | Yes |
| Cleaning program | Yes |
| Automatic rinsing | Yes |
| | |
| --- | --- |
| Depth | 42.7 cm |
| Height | 35.9 cm |
| Width | 25.1 cm |
| Weight | 9.9 kg |
| | |
| --- | --- |
| Other | Hot milk, Hot water, Hot water for black tea, Hot water for green tea, Hot water for white tea, Milk foam |
| Coffee | Black coffee, Café au lait, Cappuccino, Coffee pot, Espresso, Espresso Macchiato, Flat white, Latte, Latte Macchiato, Lungo, Ristretto |
For coffee machine's maintenance
Proper care can increase the lifespan of your coffee machine. You will need these maintenance products to keep your machine preparing the best coffee.
Coffee machine's extras
These accessories will make coffee preparation process even more convenient and pleasant, and prepared coffee will surely be tastier.
Frequently Asked Questions
Ask your question about the product