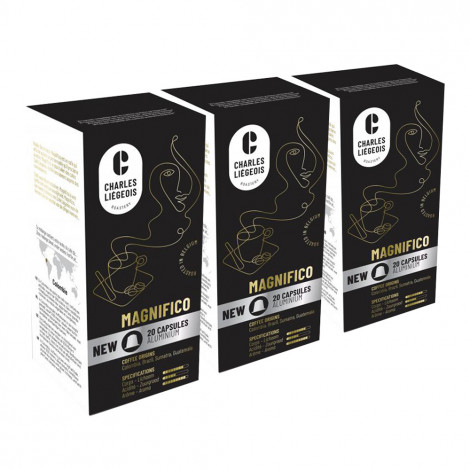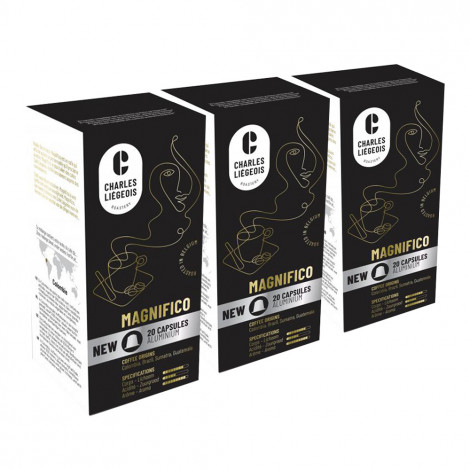 Coffee capsules compatible with Nespresso® set Charles Liégeois "Magnifico", 3 x 20 pcs.
Delivery takes 6 - 10 working days
Specifications
Coffee type
Coffee capsules
Manufacturer
Charles Liégeois
Coffee origin region
Asia, Brazil, Central America, Colombia, Guatemala, South America, Sumatra
Country of Origin
Belgium
Capsules suitable for
Nespresso®
About product
"Magnifico" is one of the bestsellers of Charles Liégeois. Its dominant notes include dark chocolate, wood and toasted cereal. The aroma is strong and the coffee itself is naturally sweet. A long-lasting aftertaste of chocolate lingers on your palate after taking the last sip. It's sure to please those who prefer classic coffee flavours.
This blend offers the perfect combination of coffees originating from different regions — Brazil, Sumatra and Guatemala — while the key tasting notes are the result of a Colombian variety.
In Colombia, coffee is grown at particularly high altitudes — coffee-growing spots are located more than 1200 metres above sea level. The ideal climate conditions lend complexity and richness to Colombian coffee varieties.
These coffee capsules are 100% compostable.
Ingredients: ground roasted coffee in capsules.
Storage conditions: store in a dry, cool place.
Frequently Asked Questions
Ask your question about the product