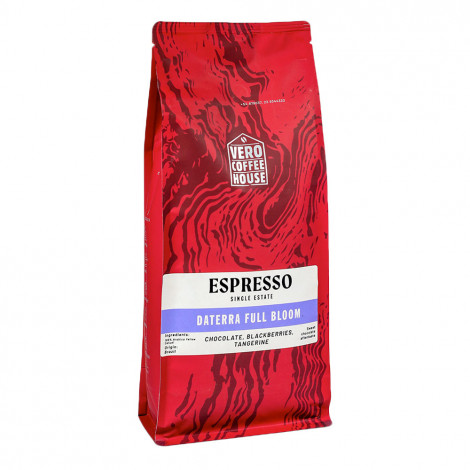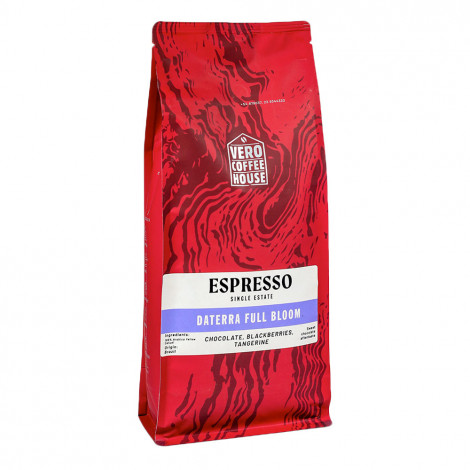 Coffee beans Vero Coffee House "Brazil Daterra Full Bloom", 1 kg
This product is out of stock, but you can get in touch to find out when it will be available or get an offer for similar product if interested.
Coffee passport
Coffee origin region
Brazil
Coffee kind
Single origin
Taste guide
Blackberry
Chocolate
Tangerine
About product
This coffee is extremely elegant, refined and marked by a splendid, sweet aroma. Notes of chocolate, blackberries and mandarin oranges dominate in its flavour.
The journey of this coffee begins during the peak of the harvest season. Coffee cherries are already fully ripened at this time. Once they start to fall off the tree naturally, workers begin picking them. Afterwards, the cherries are left to dry on the farm's patio. To ensure steady moisture content, this process is completed in an automated dryer.
COUNTRY: Brazil
VARIETY: Yellow Catuai
ROAST LEVEL: Espresso
TASTING NOTES: Chocolate, Blackberries, Mandarin Oranges
Ingredients: roasted coffee beans.
Storage conditions: store in a dry, cool place.
Specifications
| | |
| --- | --- |
| Coffee type | Coffee beans |
| Coffee kind | Single origin |
| Manufacturer | Vero Coffee House |
| Coffee origin region | Brazil |
| Roasting level | Medium |
| Country of Origin | Lithuania |
| EAN | 4779036501701 |
| Coffee beans type | 100% Arabica |
Frequently Asked Questions
Ask your question about the product