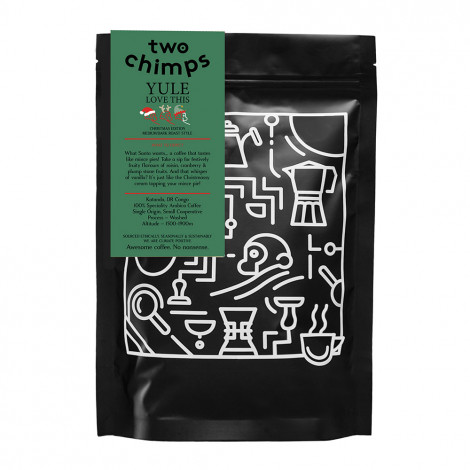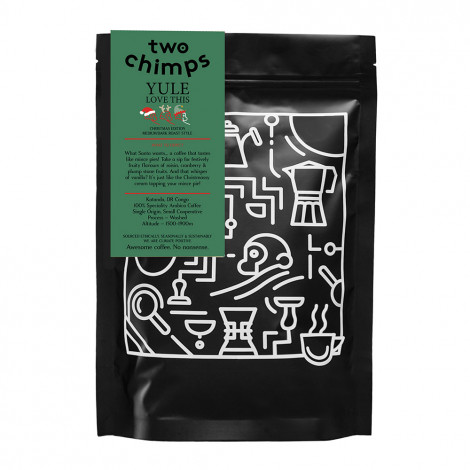 Coffee beans Two Chimps Yule Love This, 250 g

Coffee beans Two Chimps Yule Love This, 250 g
In Stock
Specifications
Coffee kind
Single-origin
Manufacturer
Two Chimps Coffee
Coffee origin region
DR Congo
Roasting level
Medium dark
Country of Origin
United Kingdom
Coffee beans type
100% Arabica, Specialty coffee
About product
On those cold, snowy winter's evenings, you might find yourself craving something extra cosy, delicious and sweet… Luckily, this coffee is exactly it! Whether it's before, during or after Christmas, these festive notes of raisins, cranberries, vanilla and stone fruit are bound to sweep you up and wrap you in Christmassy goodness from head to toe.
Reaching you all the way from the distant lands of Congo, these coffee beans were processed in the Katanda coffee washing station, one of the region's seven stations owned by Virunga Coffee Company. It was established in 2012 as a way to help Virunga go on producing high-quality coffees for the specialty coffee market while at the same time ensuring higher, fairer wages for the thousands of coffee farmers working in the region of Katanda.
What makes the little village of Katanda special, you wonder? Well, with plenty of rain, steep surrounding mountains and fertile volcanic soil, this region offers the ideal conditions for growing specialty coffee. The beans are harvested and processed with extreme care here. Once they've been picked, coffee cherries are transported to the nearby station and carefully sorted to select those of the highest quality. These are then depulped, removing the skin and most (but not all!) of the sugary mucilage surrounding the soon-to-be coffee bean. The coffee is afterwards put onto raised African beds and left to dry out in the sun for around 14 days.
While this festive coffee is bound to make for a great treat regardless of your chosen brewing tool, an espresso machine, moka pot or AeroPress are likely to be some of your absolute best bets.
ORIGIN: DR Congo
FARM: Lubero, Isale, North Kivu
VARIETY: Bourbon
ALTITUDE: 1500–1900 m
PROCESS: Washed
COFFEE TYPE: 100% organic specialty arabica
ROAST PROFILE: Medium dark
FLAVOUR PALATE: Stone fruit, Cranberries, Raisins, Vanilla
Ingredients: roasted coffee beans.
Storage conditions: once opened, keep sealed in a dark, dry and cool place.
Taste guide
Cranberry
Raisin
Stone Fruit
Vanilla
Coffee passport
Coffee origin region
DR Congo
Coffee kind
Single-origin
Roasting level
Medium dark
Frequently Asked Questions
Ask your question about the product