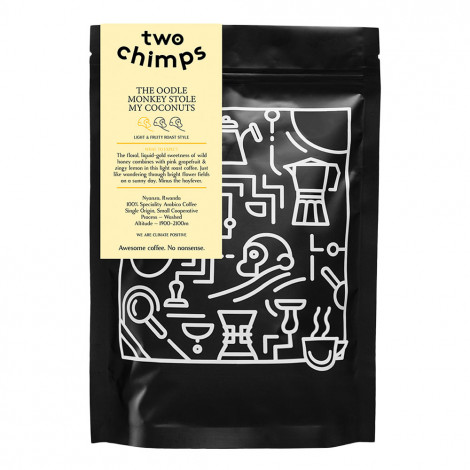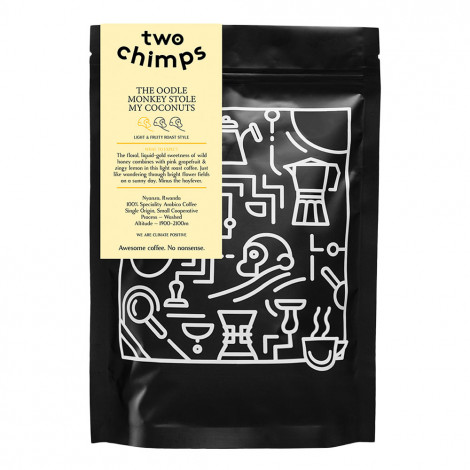 Coffee beans Two Chimps "The Oodle Monkey Stole My Coconuts", 250 g
Delivery takes working 1 - 5 days
Specifications
Coffee kind
Single-origin
Manufacturer
Two Chimps Coffee
Coffee origin region
Rwanda
Country of Origin
United Kingdom
Coffee beans type
100% Arabica, Specialty coffee
About product
Looking forward to the summer? With this coffee, you can enjoy some summery bliss no matter the time of year! A light roast profile is here used to reveal the bright notes of flowers, wild honey and grapefruit hidden in these unique Rwandan beans. A touch of lemon adds some more playful acidity that's bound to cheer you up even on the cloudiest of days. Brew, sip, and think of the sunny season!
Rwanda isn't called "the land of a thousand hills" for nothing. Just like the rest of the country, Nyanza's land is punctuated by hundreds of rugged, beautiful mountains. Thanks to its rich volcanic soil, lots of sun and plenty of rain, the Nyanzan region offers the ideal conditions for cultivating exceptional arabica varieties. The Bourbon sub-species in particular is suited perfectly for the Rwandan highlands.
These beans were gathered exclusively by smallholder farmers before being transferred to the Kibirizi washing station, which boasts one of the highest altitudes amongst Rwanda's wet mills. The unique origin of this coffee is bound to ultimately make for a truly remarkable coffee-drinking experience.
ORIGIN: Rwanda
REGION: Nyanza
VARIETY: Bourbon
ALTITUDE: 1900–2100 m
PROCESS: Washed
COFFEE TYPE: 100% specialty arabica
ROAST PROFILE: Light
FLAVOUR PALETTE: Honey, Pink grapefruit, Lemon, Flowers
Ingredients: roasted coffee beans.
Storage conditions: once opened, keep sealed in a dark, dry and cool place.
Taste guide
Grapefruit
Honey
Lemon
Coffee passport
Coffee origin region
Rwanda
Coffee kind
Single-origin
Frequently Asked Questions
Ask your question about the product