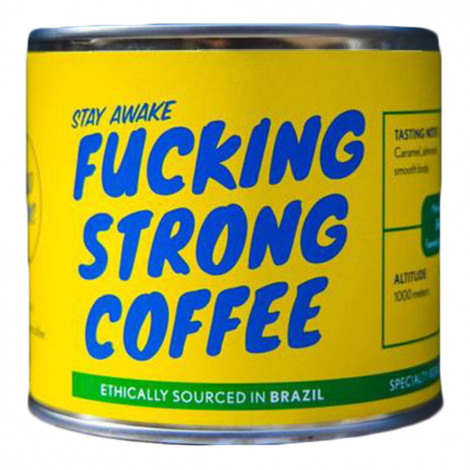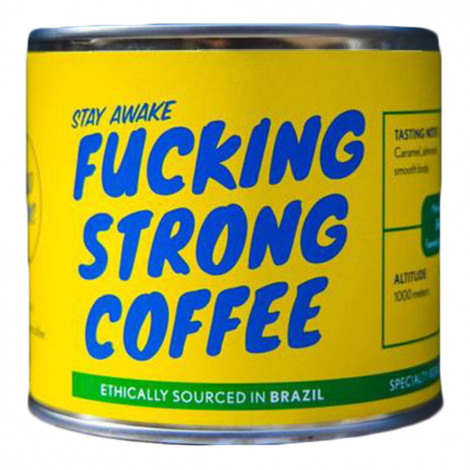 Coffee beans Fucking Strong Coffee "Brazil", 250 g
Coffee passport
Coffee origin region
Brazil, South America
Coffee kind
Single origin
Roasting level
Medium dark
Taste guide
Almond
Caramel
About product
For the lovers of Brazilian coffee varieties and traditional coffee flavours, this coffee is a real treasure! The sweet notes of caramel, almonds and raisins unveiled in the prepared cup are sure to please everyone.
This is one of the most sustainable coffee varieties in the "Fucking Strong Coffee" assortment. It originates from the Fazenda Santa Catarina farm, which is located in the Brazilian region of Minas Gerais. In this farm, special attention is paid to organic farming. The coffee reaches the port by train. The farm also participates in projects related to the reforestation of the Amazon.
Thanks to the omni-roast roasting method, this coffee is suited for various brewing methods: both espresso coffee machines and drip coffee makers work equally well.
COUNTRY: Brazil
REGION: Monte Carmelo
PRODUCER: Luiz Monguilod / Fazenda Santa Catarina
ALTITUDE: 1000 m
PROCESS: Natural
ROAST PROFILE: Medium dark
TASTE PALATE: Caramel, Almond, Smooth body
Ingredients: roasted coffee beans.
Storage conditions: store in a dry, cool place.
Specifications
| | |
| --- | --- |
| Coffee type | Coffee beans |
| Coffee kind | Single origin |
| Manufacturer | Good Beans |
| Coffee origin region | Brazil, South America |
| Roasting level | Medium dark |
| Country of Origin | Netherlands |
| EAN | 7439655719785 |
| Coffee beans type | Specialty coffee |
Frequently Asked Questions
Ask your question about the product