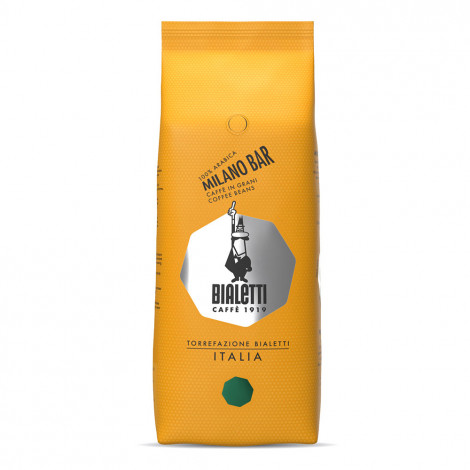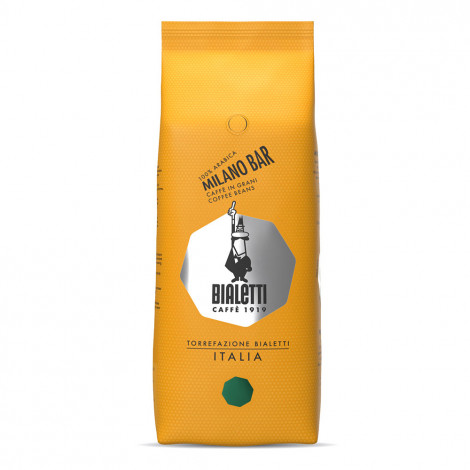 Coffee beans Bialetti "Milano Bar", 1 kg
Fast delivery

E-SHOP ONLY
Delivery takes 1 - 3 working days * 96% of orders are delivered the next day.
Specifications
Coffee origin region
Central America
Coffee beans type
100% Arabica
About product
Inspired by the Italian capital of glamour, "Milano" is a 100% arabica coffee blend, with a delicate aroma and balanced flavour obtained mainly from the fine coffee varieties of Central America. With its floral notes and hints of fresh fruit, it's characterised by a soft taste, ideal for those who love gentle flavours.
The Bialetti method:
Mountain beans. When creating its unique blends, Bialetti prefers coffee beans grown at an altitude of more than 1000 m, where temperature variations ensure that the beans ripen slowly.
Big heart. Bialetti uses big beans to ensure perfectly homogenous roasting.
Triple selection. Each bean is selected through a 3-step process to ensure the highest quality standards.
Traditional roasting. The roasting method employed by Bialetti is traditional and takes advantage of the long-standing expertise of its team.
Ingredients: roasted coffee beans.
Storage conditions: store in a dry, cool place.
Taste guide
Floral
Fruit
Coffee passport
Coffee origin region
Central America
Frequently Asked Questions
Ask your question about the product