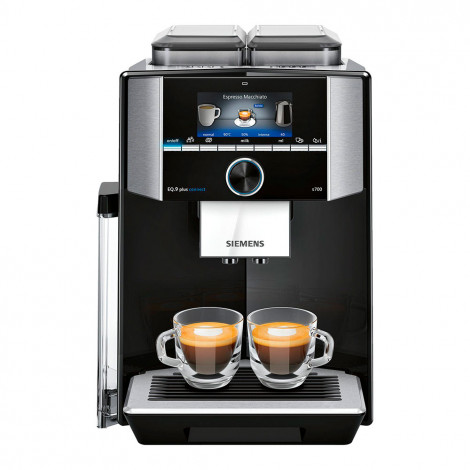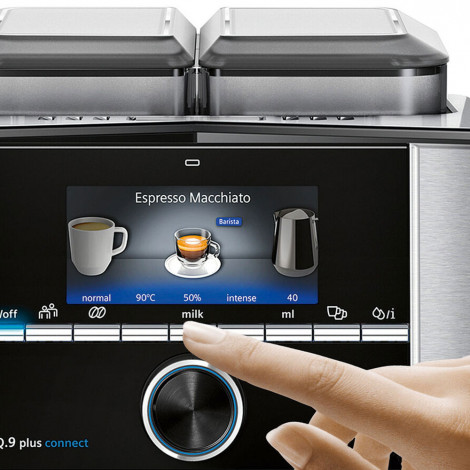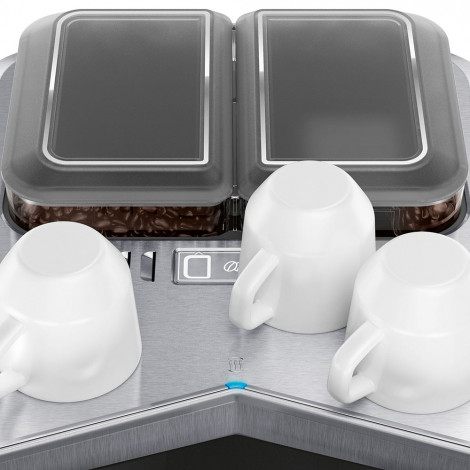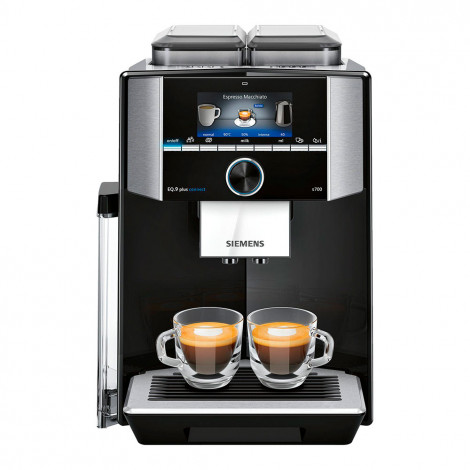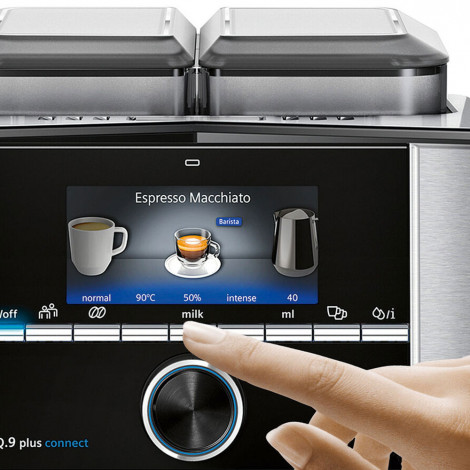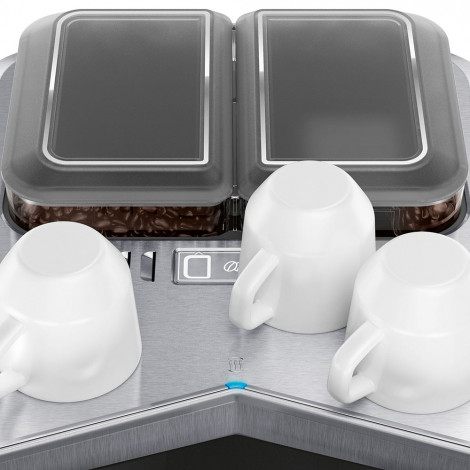 Coffee machine Siemens "EQ.9 plus s700 TI9573X9RW"
By buying this coffee machine, you become eligible for the VIP membership program and discount vouchers with a total value of £50.
Become a member of COFFEE FRIEND'S VIP program and receive up to 5 vouchers of £10 each for your upcoming purchases at COFFEE FRIEND'S online store. More information will be provided via your personal e-mail address once you've completed your purchase. The offer applies exclusively to natural persons.
Delivery takes 1 - 3 working days * 96% of orders are delivered the next day.
About product
This bean-to-cup coffee machine, the unsurpassed Siemens "EQ9 Plus Connect s700", comes with two integrated coffee grinders. Discover and enjoy barista-quality coffee right in your own home. Due to its innovative technologies, you will enjoy an outstanding coffee preparation experience and barista-like results. Explore and enjoy the diverse and rich world of coffee easily from home.

AN INFINITY OF COFFEE POSSIBILITIES
Choose from the integrated suggestions for all the most popular coffee drinks prepared with a single touch: from ristretto or espresso to macchiato, flat white, cappuccino or an entire coffee pot. You will find 17 additional coffee variations in the smart app, and you can prepare them directly from your smart device.
TWO SEPARATE GRINDERS WITH TWO SEPARATE BEAN CONTAINERS
From now on, there's no need to wait for the current beans to run out so that you can enjoy a different flavour. The DualBean system allows you to use two bean containers concurrently for different bean varieties. Two separate grinding units ensure the purest flavour and aroma.

BARISTA MODE FOR TRUE COFFEE CONNOISSEURS
The Barista Mode feature allows you to choose the desired strength, size, temperature, coffee/milk ratio and even brewing speed for every coffee style that you want to prepare. It has never been so easy to enjoy exceptional coffee at home.
HOME CONNECT SMART APP
Discover the world of coffee using the Home Connect app. Make coffee straight from your smart device. Discover 17 additional coffee stylings using the Coffee World feature. You will also find many other recipes that contain coffee, such as crème brûlée. The Coffee Playlist feature allows you to choose several beverages in a row and prepare one after another automatically. The app contains heaps of useful information about coffee, as well as a user manual for your coffee machine. During maintenance programs, you can follow the whole process on your smart device and get a notification when you need to come to the machine. If you encounter any issues, you'll be able to receive a remote consultation immediately.

ONE TOUCH DOUBLE CUP FUNCTION
Prepare two servings of macchiato or two servings of cappuccino at once!
10 USER PROFILES
Ten users can program and save their own individual settings for their favourite coffee styles.
SELF-CLEANING MILK SYSTEM
The coffee machine has an extremely convenient milk system. The integrated milk container can be conveniently stored in the refrigerator when it is not in use. The unique automatic milk system rinsing program autoMilkClean rinses the milk system after each milk-based beverage. It's no longer necessary to do this manually every day.
QUIET AND LONG-LASTING CERAMIC GRINDER
The exceptionally quiet grinder is made of high-quality ceramics and makes much less noise while grinding the beans in comparison to other machines on the market.
19-BAR PRESSURE
When preparing coffee, this coffee machine uses increased pressure, so your drink is as aromatic and dense as it can be.
AROMADOUBLE SHOT FUNCTION
Thanks to the AromaDouble Shot function, you can enjoy a cup of strong coffee without any bitterness. Your coffee will be prepared in two steps: double coffee grinding and double coffee preparation. Together, these will provide optimal coffee flavour.
iAROMA SYSTEM FOR THE PERFECT COFFEE
The iAroma system combines different elements working together so that your coffee has the perfect aroma and taste. The high-performance, reliable ceramic grinder grinds coffee beans to an even consistency, preserving the best of every bean. The SensoFlow intelligent heating system ensures optimal, even beverage temperature. Powerful 19-bar pressure allows for the maximum coffee flavour extraction and density. Not only that: the high-quality brewing unit is quick and easy to clean.
SIMPLE MAINTENANCE
Integrated automatic maintenance programs allow you to forget all of your worries. Simply enjoy your coffee.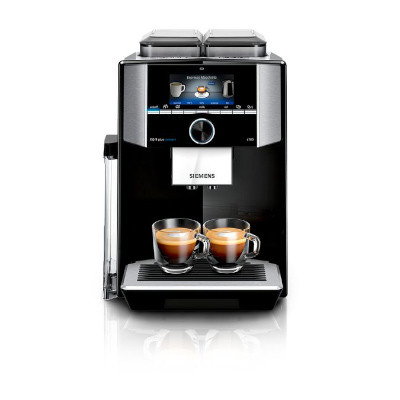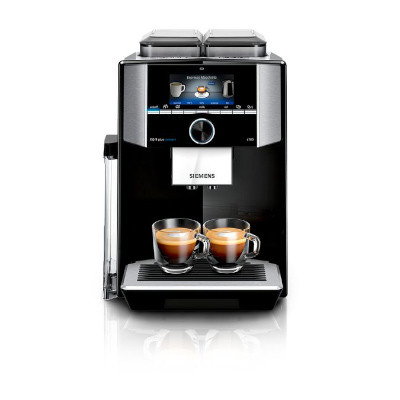 Preparable recipes
Americano
Black coffee
Cappuccino
Double espresso
Espresso
Espresso Macchiato
Flat white
Latte
Latte Macchiato
Ristretto
Coffee pot
Cortado
Black coffee XL
Specifications
| | |
| --- | --- |
| Type | Automatic |
| Manufacturer | Siemens |
| Warranty | 24 months |
| Coffee machine uses | Coffee beans, Ground coffee |
| Milk system type | Integrated milk tank |
| Burr type | Ceramic |
| Height-adjustable coffee spout | 14 mm |
| Programmable water temperature | Yes |
| Power | 1500 W |
| Water pump pressure | 19 BAR |
| Country of Origin | European Union |
| EAN | 4242003832660 |
| Milk container | 0.7 l |
| Plug | EU plug (and certified UK conversion plug is included) |
| Second coffee bean tank | 260 g |
| | |
| --- | --- |
| Coffee machine's screen | Colourful |
| Coffee machine's menu language | Czech, Danish, Dutch, english, finnish, French, Italian, polish, Spanish, Swedish |
| Control type | Touch buttons |
| Smart app | Yes |
| | |
| --- | --- |
| Water tank | 2.3 l |
| Coffee bean tank | 260 g |
| | |
| --- | --- |
| Number of black coffees prepared at once | 2 |
| Number of coffee with milk recipes prepared at once | 2 |
| Adjustable grinding level | 6 |
| Portion size | Programmable |
| Saved user profiles | 10 |
| Cup lighting | Yes |
| Coffee strength (levels) | 15 |
| Coffee temperature (levels) | 3 |
| | |
| --- | --- |
| Descaling program | Yes |
| Milk system cleaning program | Yes |
| Cleaning program | Yes |
| Automatic rinsing | Yes |
| | |
| --- | --- |
| Depth | 47 cm |
| Height | 39.2 cm |
| Width | 31.6 cm |
| Weight | 12.7 kg |
| | |
| --- | --- |
| Other | Hot milk, Hot water, Milk foam |
| Coffee | Americano, Black coffee, Black coffee XL, Cappuccino, Coffee pot, Cortado, Double espresso, Espresso, Espresso Macchiato, Flat white, Latte, Latte Macchiato, Ristretto |
| | |
| --- | --- |
| Package contains | (*The manufacturer reserves the right to change the items included in the set without prior notice*), Ground coffee dosing spoon, Milk container, Water filter, Water hardness test strip |
For the first cup of coffee
Delicious coffees for your new coffee machine! Here are some coffees that will go well with both black and milk-based coffee drinks.
Frequently Asked Questions
After removing the drip tray and before putting it back, water appeared inside the coffee machine.
The drip tray may have been removed too early. After preparing the last drink, wait a few seconds before removing the drip tray.
Is this answer useful?
4
0
The coffee machine prepares hot milk but is not frothing a good milk foam.
1. Rinse the milk system and clean it thoroughly by hand (see user manual).
2. Check that all parts of the milk system are connected correctly.
3. Make sure there is enough milk in the milk container or milk package.
4. Use only chilled milk of suitable fat content (3-3.5%).
5. If the first steps did not work, perform an additional descaling program. The limescale residue may have reduced water/steam supply (this has a direct effect on milk frothing).
Is this answer useful?
3
0
The coffee brewing unit can not be removed.
Possibly the brewing unit has not fully returned to its position where it could be removed. Switch the coffee machine off and on again (via the button on the back of the coffee machine).
Is this answer useful?
1
0
Ask your question about the product