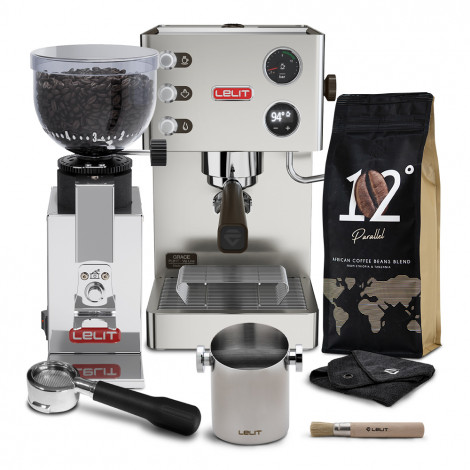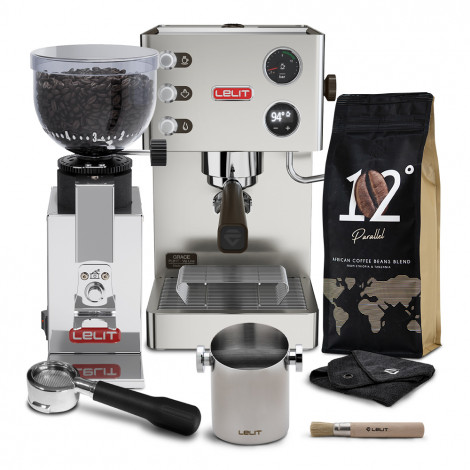 Coffee machine set Lelit "PL81T + PL043MMI + PL108 + XMC013 + Parallel 12"
Delivery takes 2 - 3 weeks
About product
Coffee machine "Lelit Grace PL81T"
The "Grace PL81T" coffee machine, which is part of the "Lelit Vip" line, was designed for those who value not only the latest technologies, but also unique design and attention to detail. Due to the brushed stainless steel and extremely elegant design, this coffee machine looks particularly stylish. The integrated new electronic "Lelit" control system (LCC) allows you to conveniently manage the entire coffee preparation process.
ELECTRONIC CONTROL SYSTEM
The new electronic "Lelit" control system now makes it even easier to manage the entire coffee preparation process. On the LCD graphic display, you can conveniently view and control each coffee preparation setting: temperature in the water heater (boiler), pre-infusion and countdown. Make use of the advice for a delicious cup of coffee offered by the system.
NEW FILTER HOLDER MODEL
The new filter holder model can be placed upright on the table, so there's no need for a separate tamper holder — you can go straight to using the tamper. The filter holder is also equipped with a patented horseshoe-shaped spout for the outflow of coffee. Thanks to its special construction, preparing the perfect espresso is now even easier, and observing the process of coffee preparation is a unique aesthetic experience.
FIT FOR TALL CUPS TOO
The coffee machine is designed in a way that allows you to use tall cups too. A full set includes a raised stand for espresso cups.
DESIGN INSPIRED BY ROYAL ELEGANCE
Due to the extraordinary design and elegance of the coffee machines in the VIP line, each of them was graced with the name of a queen/princess/famous actress. This model received the name of Grace Kelly, a famous actress and Princess of Monaco.
Features:
– Wide cup-warming stand
– Body made from brushed stainless steel
– Broad stainless-steel drip tray with easy-to-clean grate
– Round illuminated control buttons made from stainless steel
– Easily rotated steam/water wand
– Fit for tall cups too (a full set includes a stand for espresso cups)
– Illuminated manometer for measuring coffee pressure
– Electronic "Lelit" control system (LCC)
– 57-mm filter holder equipped with a new outflow spout model and an ergonomic handle
– Anti-drop three-way valve system — you'll be able to prepare multiple drinks in a row
– 250-ml copper water heater for stable water temperature (crucial for good espresso!)
– Graphic icon warning about lack of water in the tank
– Programmable pre-infusion
– Stand-by function
– High resolution LCD graphic display
Professional grinder LELIT "Fred PL043MMI"
Professional tools in your kitchen? It's truly possible. LELIT "Fred" series grinder will serve you well and show high class while grinding your beans and saving the best qualities. Feel the difference in the taste!
SMALL AND RELIABLE
"Fred" series grinders for home guarantee impeccable coffee grinding for many years. Conical steel millstones and great adaptation will allow you to grind the beans perfectly, which is crucial when preparing a true, high quality espresso. This machine is also very compact, which makes it perfect for home.
PROFESSIONAL MACHINE
All LELIT coffee machines have steel millstones, which can grind the means ideally. Stainless steel body will guarantee long serving time.
GRINDER ADVANTAGES
If you prioritize the taste of your coffee drinks, then make sure your machine has highest quality grinder. Some notes about coffee: ground coffee quickly loses its qualities. If you have an espresso machine without the integrated grinder, you have to grind the beans yourself, but if they stay put for longer than a few minutes, they will surely lose all the valuable qualities. Without the integrated grinder you will not prepare impeccable espresso – not at home and not in any café.
More specifications:
Compact;
Matte stainless steel body;
38 mm conical millstones;
Stepless grinding customization;
Coffee tray, filter holder, grinding lever made from stainless steel.
Knock box LELIT
Everything you need so your portafilter would be perfectly clean after each coffee preparation: strong and solid stainless steel knock box for coffee grounds, microfiber cloth and brush.
Bottomless coffee handle Lelit 57 mm
This bottomless coffee handle is ergonomically designed, so it will serve every professional barista needs and those who just started learning all about coffee preparation.
Warranty: 24 months for home use and 12 months for commercial use.
Coffee beans "Parallel 12", 1 kg
Feel the exotic flavours of Africa inside your cup! "Parallel 12" is a blend of arabica beans grown in Ethiopia and Tanzania regions. Coffee from these regions is characterised by lightness, which is complemented by tropical aromas of berries, fruit, flowers and delicately scented wine.
"Parallel" coffee beans are made from specialty coffee beans that are mixed in a way to maintain the same wonderful taste every time. No added flavours.
The Coffee Belt, or the Bean Belt, is a horizontal strip of land between the Tropics of North and South. Located between 25°N and 25°S, the Coffee Belt surrounds the Equator, passing through Central and South America, Asia, and Africa.
Countries that lie within the belt are characterised by ideal for coffee plantations. Which is why, we created the coffee bean blend from specialty coffee beans by Parallel – for an always perfect coffee taste.
Depending on the continent, we took a subtraction of the highest north and the lowest south parallel of the coffee belt and obtained new coffee blends by Parallels – 12 Ethiopia and Tanzania, 17 India and Papua New Guinea, and 36 El Salvador and Brazil.
Specifications
| | |
| --- | --- |
| Type | Semi-automatic |
| Manufacturer | Lelit |
| Color | Stainless steel |
| Warranty | 24 months |
| Coffee machine uses | Coffee pods, Ground coffee |
| Milk system type | Manual frother |
| Adjustable beverage amount | Yes |
| Does coffee machine prepare hot water? | Yes |
| Adjustable coffee strength | Yes |
| Programmable water temperature | Yes |
| Control | Manual |
| Diameter of filter handle basket | 57 mm |
| Adjustable amount of coffee | Yes |
| Power | 1000 W |
| Water pump pressure | 15 BAR |
| Country of Origin | Italy |
| Plug | EU plug (and certified UK conversion plug is included) |
| | |
| --- | --- |
| Coffee machine's screen | Black/White |
| | |
| --- | --- |
| Number of black coffees prepared at once | 2 |
| | |
| --- | --- |
| Depth | 27 cm |
| Height | 38 cm |
| Width | 22.5 cm |
For coffee machine's maintenance
Proper care can increase the lifespan of your coffee machine. You will need these maintenance products to keep your machine preparing the best coffee.
Frequently Asked Questions
Ask your question about the product