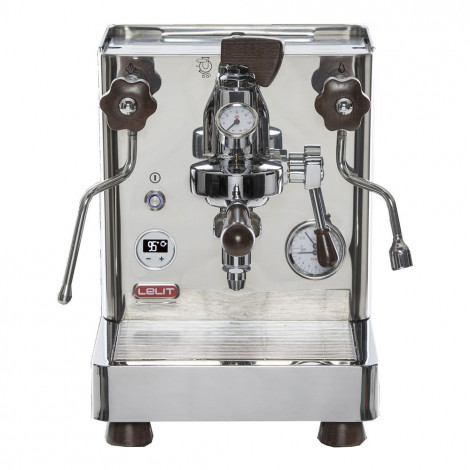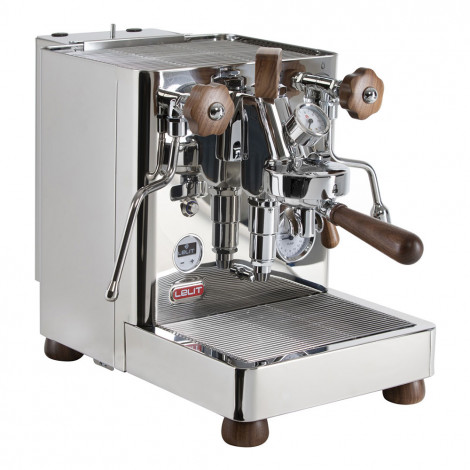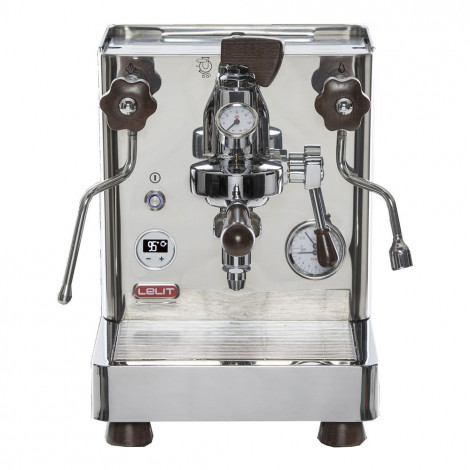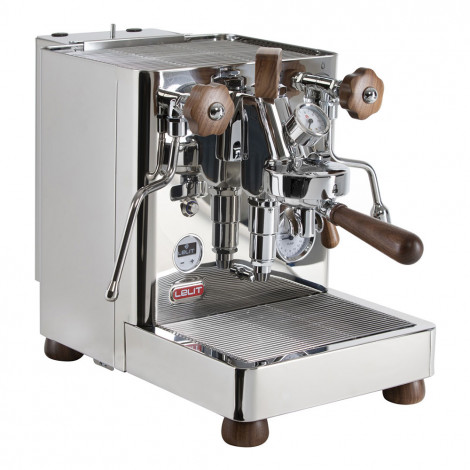 Coffee machine "Lelit Bianca PL162T"
This product is out of stock, but you can get in touch to find out when it will be available or get an offer for similar product if interested.
About product
The "Lelit Bianca PL162T" coffee machine is a true star among the "Lelit" espresso coffee machines. It is created for professional baristas who know how to and want to control the coffee preparation process from start to finish. Baristas and true coffee connoisseurs will appreciate the legendary E61 group with a wooden lever, which allows you to manually adjust water flow, as well as the electronic control system (LCC) and two separate heaters (boilers) for coffee and steam. This coffee machine is designed for those who know the meaning of true espresso!
LEGENDARY E61 COFFEE PREPARATION GROUP WITH A LEVER FOR REGULATING PRESSURE
Ever since its invention in 1961, the E61 group became the classic feature of espresso coffee machines. With the help of a special wooden lever, you can regulate the speed of water flow. The manometer installed on the E61 group allows you to see the exact pressure built up inside the coffee preparation group. All of this provides you with an opportunity to control every coffee preparation stage and, ultimately, prepare the perfect coffee (regardless of your chosen coffee blend).
58-MM FILTER HOLDER WITH A UNIQUE SHAPE
The new 58-mm "Lelit" filter holder with a luxurious wooden handle has a unique horseshoe-shaped outflow spout. The singular construction of this spout — the inclination angle and length — allows you to prepare the perfect coffee.
ELECTRONIC CONTROL SYSTEM (LCC)
The integrated electronic Lelit Control Centre (LCC) allows you to manage all the parameters of the coffee machine: water temperature for coffee and steam, pre-infusion time, stand-by time, deactivation or activation of the steam heater (boiler).
TWO WATER HEATERS (BOILERS)
Two separate boilers — one for steam and hot water, and another for coffee — ensure greater temperature stability (which is crucial for good espresso) and allow you to prepare coffee and steam at the same time.
WATER TANK WHERE IT'S CONVENIENT FOR YOU
The water tank of the coffee machine is placed in a separate stainless-steel box, which can be fitted on various sides of the coffee machine. A separate water tank ensures that the water is not heated prior to the beginning of the coffee preparation process.
STAINLESS-STEEL BODY AND DETAILS
The body and drip tray of the coffee machine are made from polished stainless steel. Such steel is not only extremely durable, but also aesthetically pleasing and easy to clean.
HEAT-RESISTANT STEAM AND WATER WANDS
All wands are protected with a special heat-resistant coating, so they don't heat up and remain cool.
ADJUSTABLE FEET
The feet are made from the same wood that has been used in other details of the coffee machine. Feet height can be adjusted.
HANDLES, FEET AND LEVER MADE FROM LUXURIOUS NUTWOOD
The handles, knob of the filter holder, feet and lever of this coffee machine are all made from luxurious nutwood. These details are not only aesthetically pleasing, but also extremely pleasant to touch.
ENERGY SAVER MODE
A complex energy saving system is installed in the coffee machine. It allows you to program stand-by time — at the end of your chosen period, the steam boiler is switched off. A temperature of 70°C is maintained in the coffee boiler, while the effectiveness of the cup-warming stand is reduced by 20%. The coffee machine can return to the regular energy mode in no more than 10 minutes. This can help you save a significant amount of power.
Features:
– Cup-warming stand
– Drip tray made from brushed stainless steel
– Double manometer for measuring pump/steam pressure
– Double manometer for measuring coffee pressure
– Easily rotated steam and hot water wands with heat-resistant coating
– Handles, knob of the filter holder and feet made from wood
– PID regulator for controlling the temperature of the water heaters for coffee and steam
– Traditional E61 coffee preparation group with a lever for regulating pressure
– 800-ml stainless-steel water heater for coffee
– 1.5-l stainless-steel water heater for steam
– Illuminated on/off button made from stainless steel
– Pre-infusion programmable via the electronic control system (LCC)
– High resolution LCD graphic display
– 58-mm filter holder with a wooden handle and a unique horseshoe-shaped spout
– Possibility of connecting the machine directly to the water supply
– Possibility of disconnecting the steam heater (boiler)
– Programmable Stand-by function
– Portion counter
– Possibility of fitting the water tank to one of the three sides of the coffee machine
– Fit for tall cups too, a raised stand for espresso cups is included in the set
Warranty: 24 months for home use and 12 months for commercial use.
Specifications
| | |
| --- | --- |
| Type | Semi-automatic |
| Manufacturer | Lelit |
| Warranty | 24 months |
| Coffee machine uses | Coffee pods, Ground coffee |
| Milk system type | Manual frother |
| Does coffee machine prepare hot water? | Yes |
| Control | Manual |
| Pressure gauge | Yes |
| Diameter of filter handle basket | 58 mm |
| Power | 1400 W |
| Country of Origin | Italy |
| EAN | 8009437000326 |
| Plug | EU plug (and certified UK conversion plug is included) |
| | |
| --- | --- |
| Depth | 40 cm |
| Height | 40 cm |
| Width | 29 cm |
| Weight | 22 kg |
For coffee machine's maintenance
Proper care can increase the lifespan of your coffee machine. You will need these maintenance products to keep your machine preparing the best coffee.
Frequently Asked Questions
Ask your question about the product